Bridgestone Announces New Battlecruise H50 Motorcycle Tires For American V-Twins
Chaparral Motorsports
|
October 24, 2016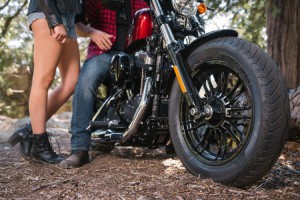 Bridgestone recently announced the launch of its new line of motorcycle tires engineered exclusively to fit many popular and iconic American V-twin motorcycles. The Battlecruise H50 tire, the first of its kind from Bridgestone, expands the company's motorcycle tire portfolio with a performance tire offering that is specially designed for large displacement, cruiser-style bikes, which account for 50 percent of motorcycles on U.S. roadways.

Bridgestone has a long history of developing high-performance motorcycle tires, and it has applied that expertise to the new Bridgestone Battlecruise H50 tire, which delivers the performance and attributes that meet the needs of riders of American cruisers. Engineered using the company's proprietary optimization process and indoor testing facility, ULTIMAT EYETM, the Battlecruise H50 tire was designed to provide: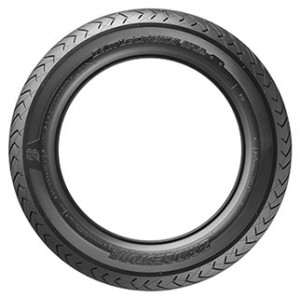 · Superb handling with reduced steering effort: The Battlecruise H50 tire offers a large contact patch and uniform contact pressure, creating high cornering force and resulting in less steering effort and light linear handling.



Strong wet and dry traction: Proven best-in-class tread pattern features central grooves that run circumferentially around the tire to evacuate water and provide enhanced grip, similar to the class-leading Bridgestone [mageProductLink sku="330-0610" title=""]EXEDRA MAX[/mageProductLink] metric cruiser touring tire.

Long tread wear: Optimized profiles coupled with newly developed compounds and constructions provide long wear life and lower handlebar vibration to reduce rider fatigue.

"We've extended our influence into one of the most important motorcycle segments in America, and we're excited to bring our deep industry expertise and Bridgestone-brand motorcycle tires to this group," said Kevin Hunley, senior manager, motorcycle and kart products, Bridgestone Americas Tire Operations. "Riders of today's cruisers look for a tire that can provide exceptional grip and longer treadwear while enhancing their riding experience. We've accomplished that with the Battlecruise H50 motorcycle tire as it brings ultimate performance, ride comfort and traction in all conditions."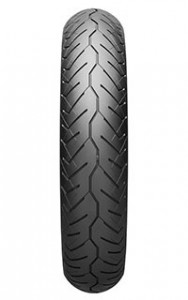 Additionally, the Battlecruise H50 is the only Bridgestone brand motorcycle tire that offers the peace of mind of a road hazard warranty* that covers eligible tires that may become damaged or unusable from a puncture, impact, bruise, cut or snag.

Beginning January 2017, the Bridgestone Battlecruise H50 motorcycle tire will be available in eight sizes for select American V-twin cruiser models. Riders can expect 14 additional sizes for touring-oriented models to come available in early 2018.

Chaparral Motorsports carries a wide variety of Bridgstone dirt bike tires, street bike tires, cruiser tires and scooter tires.

Source: bridgestoneamericas.com