2017 And 2018 Suzuki GSX-S
Chaparral Motorsports
|
October 5, 2016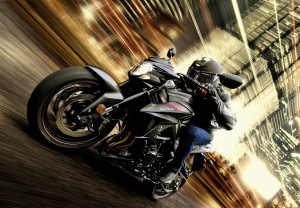 Brea, Calif, (October 4, 2016) - Suzuki continues to roll out improvements and updates to its line of standard-class streetbikes, and now announces the 2018 Suzuki GSX-S750 and GSX-S750Z to go along with the 2017 GSX-S1000/F. Featuring significant engine and chassis advancements, these performance-focused street bikes deliver the energetic power that could only come from the GSX-R lineage. Suzuki offers this 750 in two striking styles, the original GSX-S750 and the GSX-S750Z which features Suzuki's Anti-lock Brake System and dramatic matte black body work.

2018 GSX-S750 & GSX-S750Z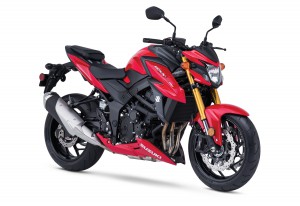 The new 2018 GSX-S750 brings significant engine and chassis advancement over the prior version to firmly establish itself as the second model in Suzuki's innovative lineup of performance street machines. As with the GSX-S1000, this new GSX-S750 inherits its heart and soul from the 30-year racing heritage of the GSX-R750. With boosted engine power and a suite of new rider-friendly features, this restyled GSX-S750 is ready to capture hearts and turn heads as the new leader in its class.

With styling influenced by its bigger stablemate, but with its own aggressive turn, the GSX-S750 new bodywork looks wild and forceful, yet keeps the rider comfortable at all times. The new headlight nacelle houses provides a visual focal point while the under cowl connects the chassis styling to the engine and new exhaust system.

Nestled in the headlight nacelle like the GSX-S1000, the new lightweight and compact instrument panel uses a LCD display that includes speedometer, tachometer, odometer, dual tripmeters, a clock and a variety of other functions that can be controlled via the rocker switch on the left-hand handlebar. Below the panel are new, large-diameter, matte-black tapered handlebars that damp vibration while adding style and good control leverage for the rider.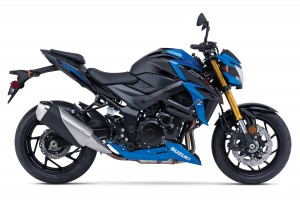 The potent 749cc 4-cylinder fuel-injected engine uses 2005 GSX-R750 architecture so the power delivery is an excellent bled of strong low-end and a muscular top end. This also permits a shorter chassis which greatly enhances handling and makes the GSX-S750 the only motorcycle in its class with an engine with SuperSport lineage.

Suzuki's advanced traction control system* lets the GSX-S750 rider control the throttle with more confidence in various riding conditions. As a result, the rider can enjoy sport riding with less anxiety. There are four traction control modes (1, 2, 3, and OFF) that the rider can easily adjust at rest or on-the-fly via a handlebar-mounted control. The difference between the modes are their sensitivity to road conditions.

This new GSX-S750 is equipped with Suzuki's Easy-start System that requires just a simple touch of the starter button to fire up the engine (without pulling the clutch lever if the transmission is in neutral). Suzuki's patented, Throttle-body Integrated Idle Speed Control (TI-ISC) stabilizes the engine idle speed and includes Suzuki's Low RPM Assist feature that seamlessly adjusts engine speed during take-off and low-speed riding to smooth the power delivery and to help reduce the possibility of the rider stalling the motorcycle.

The unique chassis integrates the best qualities of a tubular girder streetbike frame and a twin-spar sportbike frame with a new trapezoidal, beam-type swingarm that tapers down to new chain adjusters adding strength and style. Controlling the road is a KYB pre-load adjustable shock and inverted fork with gold anodized outer tubes. Radially mounted to the fork are new, four-piston Nissin Monobloc brake calipers squeezing twin, 310mm wave style brake rotors with a single-piston caliper and wave-rotor out back to help deliver controlled stops.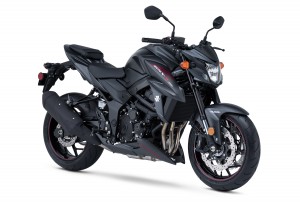 For an additional injection of technology and style, there's the GSX-S750Z. This bike includes the Suzuki Anti-lock Brake System** plus aggressive blacked-out styling that surrounds the ergonomically comfortable, yet sporty riding position.

Choosing the GSX-S750, or the dark personality of the GSX-S750Z delivers discriminating riders the perfect sportbike balance of engine punch, chassis response, great looks and smart value. This new GSX-S750 looks better and outperforms its popular predecessor - and other entries in the class. It is nimble, comfortable, and an exhilarating, fun ride. Color and Pricing for the GSX-S750 and GSX-S750Z are TBA with units hitting dealership floors on March 2017.

* The Traction Control System is not a substitute for the rider's throttle control. It cannot prevent loss of traction due to excessive speed when the rider enters a turn and/or applies the brakes. Neither can it prevent the front wheel from losing grip.

** Depending on road surface conditions, such as wet, loose, or uneven roads, braking distance for an ABS-equipped vehicle may be longer than for a vehicle not equipped with ABS. ABS cannot prevent wheel skidding caused by braking while cornering. Please drive carefully and do not overly rely on ABS.

2017 GSX-S1000 & GSX-S1000F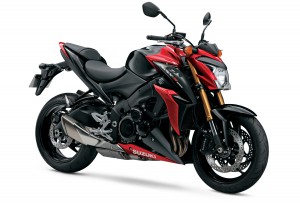 Suzuki has built the most dynamic and diverse line of standard-class motorcycles available today. Leading that lineup is the GSX-S1000 family that includes three focused high-performance streetbikes: the GSX-S1000, GSX-S1000 ABS and GSX-S1000F ABS. Whether you want a naked-style street dominator or the fully faired GSX-S1000F ABS model, these sporty streetbikes include Suzuki's Advanced Traction Control along with GSX-R-bred technology that puts Suzuki's competition DNA into the standard class.

All three GSX-S1000 models are powered by a 999cc inline-four-cylinder engine that is based on the long-stroke "K5" generation GSX-R1000 engine; which has long been a favorite with riders for its power and torque delivery that is ideal for street riding performance. Making big power through the low-end and mid-range, this engine uses cams optimized for street domination. The three 2017 bikes also feature the Suzuki Advanced Traction Control System, Brembo monobloc brakes, a six-speed transmission, and a chassis designed for street-riding comfort.

The three-mode traction control system lets the rider control engine performance for more confidence in a variety of street conditions. Using a handlebar-mounted switch, the rider can easily choose among the three modes, or turn off the system completely.

Each bike's suspension setup consists of 43mm KYB inverted front forks and link-style single-shock rear shock absorber for that balances sport-performance and road-going comfort. The forks feature adjustable rebound and compression damping plus spring preload, and the shock is completely tunable using a cam-style preload adjuster plus adjustable compression damping.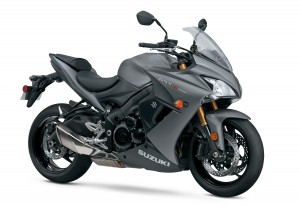 Renthal Fatbar handlebars add to the comfort, and the rider stays informed through a comprehensive instrument cluster featuring an LCD with adjustable illumination levels.

The naked-style GSX-S1000 sets a striking pose with angular radiator shrouds that enhance its aggressive image and aid cooling performance. It features a single headlight. Sport-Street enthusiasts can also choose the GSX-S1000 ABS featuring Suzuki's digital Antilock Brake System (ABS) that monitors wheel speed and matches stopping power to available traction.

For riders who desire a full fairing on their street sportbike, Suzuki also offers the 2017 GSX-S1000F ABS, which takes the performance of the GSX-S1000 and adds a fairing, a short windscreen, a dual-headlight face, and Suzuki's digital Antilock Brake System (ABS) that monitors wheel speed and matches stopping power to available traction.










































| | | | |
| --- | --- | --- | --- |
| Suzuki Street Bikes | Color(s) | Price | Available |
| GSX-S1000 | Red/Black | $9,999 | Nov 2016 |
| GSX-S1000 ABS | Gray | $10,499 | Nov 2016 |
| GSX-S1000F ABS | Gray | $10,999 | Nov 2016 |
| GSX-S750 | TBD | TBD | Mar 2017 |
| GSX-S750Z | TBD | TBD | Mar 2017 |


Chaparral Motorsports is an authorized Suzuki dealer