Storage Wars: UTV Bags And Storage Options
Chaparral Motorsports
|
August 25, 2016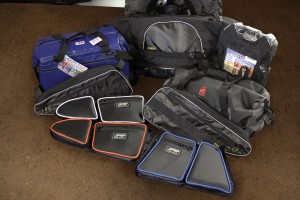 There's a lot you can do with a sport oriented side-by-side: rip dunes, trail hop, rock crawl, mud bog, or just load up the family in the four-seater and go for an afternoon putt. One thing these vehicles aren't really known for however is having a copious amount of on-board storage. Whether it's the Can-Am Maverick, Polaris RZR, or Yamaha YXZ, you might find a small center console with a couple cup holders, a cubby or two, and a small glove compartment but that's about it.

These vehicles aren't intended to haul around a ton of stuff, but a few extra pockets here and there would be great; thankfully there are plenty of storage solutions that can easily be installed/fitted to your ride and provide convenience and peace of mind. Below is a few of our favorite bags and storage options for UTVs.

Knee Saver
You may be familiar with PRP Seats and their high-quality UTV seats, but did you know the company also has as line of storage bags as well? One of their most popular bags is the [mageProductLink sku="098-e36-x" title=""]Front RZR Stock Door Bag with Knee Pad[/mageProductLink] ($65.00). As the name implies it fits the stock half doors found on the two- and four-seater RZRs XP1000, 900XC, and S 900 models. The bags are made from durable vinyl coated polyester with a carbon fiber pattern exterior. With their angular shape the bags fit perfectly on the inside of the stock door frame and mount in place using the stock bolts that secure the door skins to the frame and a strip of Velcro. You can use these bags with the stock half door skins or the full-length door skins. The zippered pocket keeps all your items secure and the padded portion sits in the perfect spot to protect your knee from banging against the door. The bags are available with blue, red, white, black, orange, or yellow piping. If you own a 4-seater PRP offers Passenger Door Bags ($65.00, part# 098-e40-x) that also come with a knee pad. The front and rear bags are available in left or right side and are sold separately. PRP makes door bags to fit other RZR models and certain Arctic Cat models as well.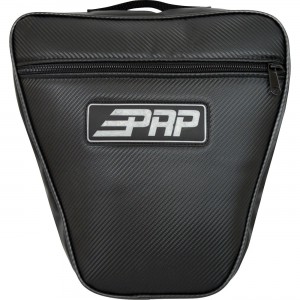 A lot of people add aftermarket doors to their RZRs and to accommodate those people there's the RZR Universal Door Bag ($55.00, part# 098-e31) from PRP. Made from the same materials as the other door bags, these bags offer a much larger storage capacity than the Stock Door bags and feature a smaller pocket on the inside for your keys, wallet or cell phone. They come with adjustable straps that have grommets mounted in the ends so that you can tailor them to fit the inside of your door frame. Once you determine where the straps will route to they are secured in place with the door skin bolts. While there's no dedicated knee pad, there is a thin layer of padding backing the carbon fiber front. If you've installed the PRP RZR Doors you can pick up the Door bag with Knee Pad for PRP Doors ($85.00, part# 098-E38-X).

Leave your Baggage at the Door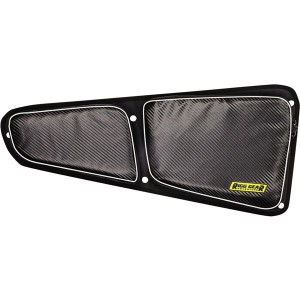 Nelson Rigg has recently entered the UTV storage market with its Rigg Gear Adventure line of products and they too have door bags for the RZRs. They offer [mageProductLink sku="204-rg-001" title=""]Upper Front Door Bags[/mageProductLink] ( $99.95), Upper Rear Door Bags ($89.95, part# 204-rg-002), and[mageProductLink sku="204-rg-001l" title=""] Lower Door Bags [/mageProductLink]($89.95) to fit a variety of RZR 900 and XP 1000 models. The bags are made from top quality UV treated, water resistant Tri-Max® Ballistic Nylon with Fibertech accents, and feature reverse coil, oversized, rubber coated zippers. The bags are quick and easy to mount/dismount via the attached Velcro straps and Velcro strip secured to the backside. What many people will appreciate about these bags is that unlike the PRP bags, these are sold in sets, making them much more budget friendly.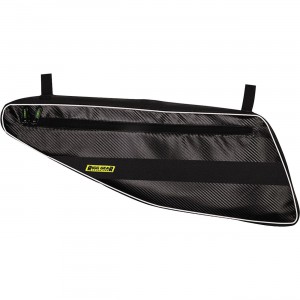 The Upper Front Door Bags measure: 23 ½" L x 11" W x 2" D and hold three liters per side. The Upper Rear Door Bags measure: 20 ½" L x 11" W x 2"D and also hold 3 liters per side. If you've got the Polaris Lower Door Inserts installed on your RZR then you'll definitely want to pick up the Lower Door Bags. The nice thing about these bags is that they can mount to either the front or rear door lowers. They measure 24" L x 9" W x 2.5"D and are very spacious with 7 liters of storage capacity per side.

All Rigged up
Another great piece of luggage from the Rigg Gear Adventure series is the [mageProductLink sku="204-rg-004" title=""]Rear Cargo Storage Bag[/mageProductLink] ($129.95). Made from the same materials as the door bags, this bag is designed to fit in most RZR cargo beds and measures 41 1/2"L x 8"W x 20"H. There are four zippered storage areas, one on each side and two in the center. The center/main area provides 58 liters of storage and features a flip down shelf to create two individual sections (upper and lower storage compartments) to keep your gear separated if needed. Even though the bag spans the length of the cargo bed there's still plenty of room to carry additional gear. The bag can be secured to the rear of the roll cage or the cargo bed via the adjustable straps and various D-rings. As with the other Rigg Gear accessories this bag comes with a lifetime warranty.

Lock it up
If you want to get serious about storage for your RZR and want something extremely rugged then you may want to opt for Polaris' [mageProductLink sku="2876439-070" title=""]Lock and Ride Cargo Box [/mageProductLink]($249.99). The box is made from injection-molded, UV resistant, polyethylene and has a storage capacity of 65 liters. Basically this piece is like adding a trunk to your RZR. The box features weatherproofing under the lid to keep all your gear dry and you can use a pad lock to help keep your items safe from nefarious hands. The Lock and Ride Cargo Box fits in most RZR cargo beds and even though it takes up the entire bed space, the unit can quickly and easily be removed/installed.

Pack it in
Rotopax is well known in the offroad industry for its various fluid containers and mounting systems. Many people don't realize aside from fuel storage, Rotopax also offer dry storage options like its [mageProductLink sku="049-451-2112s" title=""]2-gallon Storage Pack[/mageProductLink] ($84.95). The heavy-duty plastic container measures 17 3/4" L x 13 1/4" W x 3" H and with its clam shell design and secure hinges you can carry quite a bit of gear. Convenient carry handles make it easy to carry the storage pack to and from your UTV and with the unique molded design you can stack multiple Rotopax on top of one another. Rotopax offers a variety of mounting accessories giving you several options when it comes to securing the pack to your UTV.

Corner Pocket
Make use of the wasted space in the rear corners of your stock RZR XP1000 roll cage with the Polaris Side Bag ($129.99 each, part# 2879518). The bag mounts to the interior rear of the cab frame with Polaris' Lock and Ride technology and four Velcro straps. Zippers on each side of the bag allows for the bags to be mounted on either the left or right side of the vehicle. On the inside is a zippered interior pocket to keep smaller items secure and elastic straps to hold a few tools.

Stay Dry
A dry bag is a great solution if you want a simple storage solution that can be tossed into the back of your UTV and quickly secured. Firstgear recently came out with a line of dry pak duffle bags in various sizes that could come in very handy in a pinch. There's the Firstgear Torrent 25 Liter [mageProductLink sku="310-7279" title=""]Waterproof Duffle Bag[/mageProductLink] ($59.95), Torrent 40 Liter Waterproof Duffle Bag (79.95), and Torrent 70 Liter Waterproof Duffle Bag ($89.95). The bags are constructed out of extremely durable PVC (Polyvinyl Chloride) tarpaulin fabrics and that have been precision cut and sonically welded to ensure optimal seam integrity, strength and durability for the rigors of offroading. There are D-rings and webbing straps scattered throughout the bags that make it easy to secure the bags to the bed or passenger areas of your UTV.

Cooler Cooler
If it's frosty trailside beverages you seek then look no further than the 30 quart Polaris Northstar Cooler ($279.99) The cooler measures 18.3"L x 17.3" W x 24.4" H, is made from UV resistant polyethylene, and features 2" thick insulation to keep your food and beverages cold for hours on end. Sturdy rubber latches and aluminum hinges ensure the lid stays sealed closed, molded tie-down points make it easy to safely transport the cooler in the cargo bed of your UTV, and easy grip handles enable you to lift and carry the cooler from place to place.

A-Yo
AO Coolers offers a great selection of ice chests that can be tossed into the back of a side-by-side. The nice thing about these coolers is that even the largest one, the 48 Pack, still leaves plenty of room in the bed of your UTV to carry other items. The soft-sided coolers are great for taking with you on offroad excursions or camping trips because when you're done using them, they can be packed away. AO Coolers are available in a variety of sizes: 12 pack, 24 pack, 36 pack, and 48 pack in an assortment of colors (royal blue, silver, black, and camo, carbon silver and carbon black). AO Coolers states that these ice chests have twice the insulation as standard soft-sided coolers and hold ice for 24 hours in 120-degree heat. The bags have removable shoulder straps and have clip down ends for securing the coolers in place. Besides the main cooler compartment the bags also have a zippered side pocket to store things like keys, wallet, and other items. The[mageProductLink sku="272-0048-b" title=""] 48 Pack AO Cooler[/mageProductLink] ($89.95) measures 21" l x 13" W x 13" H and can store 48 cans along with 15-20 pounds of ice.