Product Spotlight: Ocelot ATV Tire
Chaparral Motorsports
|
August 25, 2016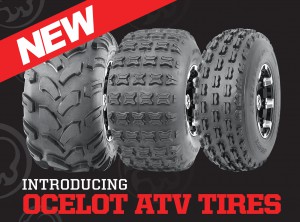 The most important things keeping you from eating a mound of dirt when riding your ATV are your tires. They are also consumables, meaning that they wear with use and have to regularly be replaced. You want to get the best performance out of your ATV tires but the more you use your four wheeler, the more money you'll be spending on tire replacement. Obviously this can get pretty costly. That's where Chaparral Motorsports' new line of ATV tires, Ocelot Tires, comes into play. New to the ATV tire market, Ocelot Tires offers great quality and even better value.

While Ocelot Tires may be the new kid on the block, the Ocelot brand has been around since the '60s and was the first to bring value based, entry-level offroad riding gear for younger riders to the market back in the mid '80s. Also not new, is the manufacturer that makes the exclusive, private label Ocelot Tires. The manufacturer has been in the business for nearly 30 years, is one of the largest tire makers in China, and makes tires for some of the more notable brands in the industry.

Most companies that sell tires to the public have to work through a supply chain that starts with the manufacturer, then the tires get shipped to a distributor, and then they're shipped to the dealer/store. Chaparral has cut out the middle man and receives its Ocelot Tires directly from the manufacturer. By reducing the number of links in the chain Chaparral is able to get its Ocelot Tires into the hands or onto the vehicles of its customers faster and at an extremely affordable price. Another benefit is timing; many enthusiasts are concerned with the code on the sidewall of tires indicating when they were manufactured, by getting their tires directly from the manufacturer Chaparral can offer tires that haven't been sitting around in a warehouse and are therefore extremely "fresh."

Knowing that ATV riders preferences of terrain are as varied as the machines they ride, Ocelot Tires can be found in a variety of styles from mild to extremely aggressive tread patterns. There are more than 20 different tires models to choose from with the line covering a gamut of sizes from 6" (4-ply) for the smaller 50- and 80cc displacement ATVs to 12" (6-ply) for the heavier 800cc quads and some lightweight UTV applications.

Serving as a cost effective solution to the higher prices of the major brands, Ocelot Tires are right in line in regards to quality, style, and performance when compared to some of the most popular ATV tire models. Below is just a small sampling of some the tires available in the Ocelot line.

Ocelot P350 Offroad Tire
With its rugged tread pattern and thick lugs the [mageProductLink sku="748-p350-0005" title=""]P350[/mageProductLink] ($115.99) is a great alternative to the Maxxis Big Horn. A 6-ply, non-directional tire, large shoulder lugs are incorporated to help protect the rim and sidewall from punctures and to deliver superb durability. Ideal for utility use the 20mm tread depth and lug pattern ensure top notch handling and traction.

Ocelot P341 Offroad Tire
For those that are fans of the [mageProductLink sku="328-5040" title=""]Kenda Bearclaw[/mageProductLink], the Ocelot P341 ($72.99) may look rather familiar. Available in 10 sizes ranging from 25x12-10 to 25x10-12, this 6-ply tire features a prominent V-shaped tread design with up to 20mm of tread depth. The V design offers plenty of spacing between the lugs to promote cleaning and to prevent rocks and debris from lodging in the tires.



Ocelot's P373 Offroad Tire
Another option for the Bearclaw is [mageProductLink sku="748-p373-0010" title=""]Ocelot's P373[/mageProductLink] ($81.99). Similar to the P341 this tire has a V-shaped tread pattern. With slightly shorter lugs (15.2mm tread depth) this tire is a little lighter to offer quicker acceleration and better braking performance. A perfect replacement for your O.E.M. tires, you'll get a smooth ride in both soft and hard pack terrain as well as good traction in mud or rocky situations.

Ocelot P357 Offroad Tire
Are you into GNCC racing or like to spend a lot of time cruising open terrain? With its flat profile the [mageProductLink sku="748-p357-0010" title=""]P357[/mageProductLink] ($70.99,) is very similar to both the ITP Holeshot and Maxxis Razr. The P357 is a non-directional, 4-ply tire, and is available in sizes ranging from 22x11-9 to 22x10-10. As quad sport tire it features a very dynamic tread pattern that provides exceptional traction via its split knob design and 18mm tread depth. The flat and broad design of the tread pattern increases the footprint, reduces slipping, and aids in tight and precise turns.