Two Recalls Issued For Yamaha YZF-R3
Chaparral Motorsports
|
July 22, 2016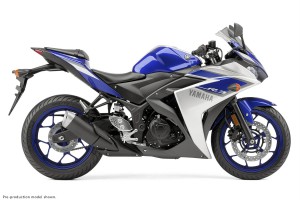 Yamaha's
YZF-R3 has been hit with back to back recalls filed with the National Highway Traffic Safety Administration (NHTSA). Both recalls affect certain model year 2015-2016 Yamaha YZ-R3 F/G motorcycles manufactured between January 1, 2015 and April 15, 2016. A total of 11,280 units are affected by the recalls.

The first recall was issued on July 5th and pertains to the oil pump and improper oil pressure. Lack of proper oil pressure could result in the oil pump drive gear failing causing the engine to seize and the rear wheel suddenly locking up. To resolve the issue owners are to take their bikes to a dealer where the oil pump will be replaced free of charge.

The second recall began on July 11th and is in regards to the clutch pressure plate bearing. The bearing has an sufficient load rating and could result in the the clutch not disengaging and preventing the transmission from shifting properly. If the clutch doesn't disengage it may prevent the rider from being able to safely stop the bike. Owners are to take their bike to a dealer where a tech will replace the clutch bearing free of charge.

For further questions regarding either recall owners are asked to call Yamaha customer service at 1-800-962-7926, or they can visit safercar.gov.

Chaparral Motorsports is an authorized Yamaha dealer.