Suzuki Introduces 2017 Offroad Motorcycles
Chaparral Motorsports
|
July 7, 2016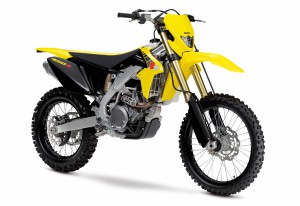 Engineered from championship-winning lineage, the all-new 2017 Suzuki RMX450Z is the enduro motorcycle for serious off-road riders. Suzuki has taken the best of the RM-Z450 and added trail-mastering features such as electric start, full-function instrumentation, 18-inch EXCEL rear wheel, and enduro lighting to create the new RMX450Z.


2017 RMX450Z
"The 2017 RMX450Z delivers renowned Suzuki handling, power and reliability to off-road riders," said Kerry Graeber, Vice President, Sales and Marketing for Suzuki Motor of America, Inc. "Suzuki has established a performance edge with the RM-Z family of competition bikes, and we are excited to introduce an off-road-focused motorcycle derived from that family. This expansion of the Suzuki line gives riders who grew up with smaller Suzuki off-road bikes a new model to step up to."

The new 2017 Suzuki RMX450Z delivers an enduro punch for trail riders who want a higher level of performance. This new off-road achiever shares core componentry with the championship-winning RM-Z450 motocross bike. It begins with a 449cc four-stroke, four-valve engine featuring Suzuki fuel-injection technology that delivers smooth power, trusted reliability and high fuel efficiency. For off-road uses, Suzuki engineers modified the engine's intake, added an easy-access hinged airbox, and revised the cam profiles for improved low- to mid-range power delivery. The package also includes a larger magneto-generator for battery charging and headlight power. A wide-ratio, five-speed transmission helps riders power through a variety of conditions.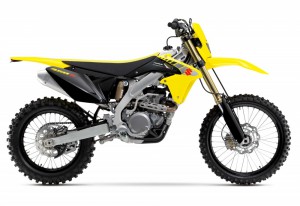 The RMX uses an aluminum-alloy twin-spar frame that is lightweight and provides the needed rigidity and durability to triumph over tough trails. Fully adjustable SHOWA forks and piggyback-reservoir-style shock are off-road focused, delivering the handling edge that makes the RM-Zs famous. The RMX runs on trail-ready, black-anodized Excel aluminum rims, 18-inch rear and 21-inch front.

A bright 35W headlight is well-integrated into this enduro's front number plate. Rear illumination is handled by a small, low-draw LED taillight tucked under the fender. The bike's frame gets needed protection items such as high-impact guards for fork legs, rear brake rotor and caliper. A full-function instrument panel features sport and standard-mode operation to provide riders with just the information needed for the ride. The instruments rest on the standard-equipment Renthal Fatbar handlebars - the strong and vibration-reducing choice for high-performance riders. The new RMX450Z is ready to give trail riders the high-performance edge they desire.

2017 Suzuki DR-Z125L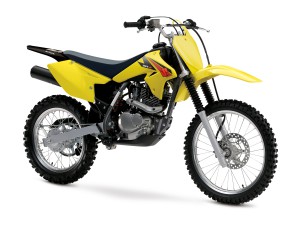 The 2017 Suzuki DR-Z125L serves a range of off-road interests. Its compact, air-cooled four-stroke engine produces ample power that is easy to access, and meets today's tough emissions standards. This off-roader's 19-inch front tire and 16-inch rear tire contribute to agile handling on a variety of terrain, and work well with the bike's smooth suspension action. The DR-Z125L is styled in Champion Yellow and Black, just like the race-focused RM-Z models.

2017 Suzuki DR-Z70
The Suzuki DR-Z70 returns to the off-road lineup in 2017, ready to perform for off-roading youth, from first-time dirt bikers to young riders moving up the performance curve. This off-roader features a 67cc air-cooled four-stroke engine with twin valves and a three-speed auto-clutch transmission. The bike's 10-inch front and rear wheels are sized right for young riders. This DR-Z's chassis is designed with child-friendly dimensions, with emphasis on weight savings, and a 22-inch seat height. Parents will appreciate the keyed ignition.
RMX450Z Champion Yellow/Solid Black $8,999
DR-Z125L Champion Yellow/Solid Black $3,199
DR-Z70 Champion Yellow/Solid Black $1,799

Source: Suzuki

Chaparral Motorsports is an authorized Suzuki dealer.