2017 Suzuki Motocross Lineup
Chaparral Motorsports
|
July 7, 2016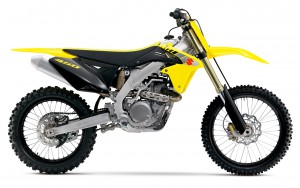 The 2017 Suzuki RM-Z450 returns with the technology, features and proven performance heritage that make it the choice of champions. A robust yet compact 449cc liquid-cooled four-stroke engine features Suzuki fuel-injection designed especially for motocross use. Racers can choose from different fuel couplers included with the bike to easily tune the system's fuel mapping trackside, no tools needed.

The RM-Z's Suzuki Holeshot Assist Control system (S-HAC) lets the rider choose one of three modes for the best launch from the starting gate, helping any rider earn the holeshot. Derived from the factory race bikes, the system's unique modes deliver specific performance depending on the rider's skill and the gate conditions.

The RM-Z450 uses the Showa SFF-Air suspension to deliver reduced weight, increased inner tube diameter, and increased damper rod/piston size. The SFF-Air is made of three chambers, and riders easily change the spring rate with an air pump instead of changing out the coil springs.

2017 RM-Z250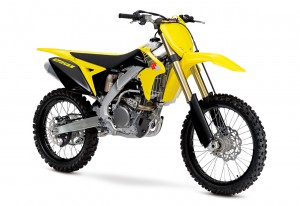 The 2017 RM-Z250 received critical praise following all the updates it received for 2016, including the Suzuki Holeshot Assist Control (S-HAC), a selectable launch mode system that helps riders launch from the starting gate no matter the gate conditions.

This RM-Z250 also features the KYB PSF2 Pneumatic Spring Fork that delivers improved performance, simplified tuning adjustments, and reduced weight compared to the traditional spring fork. With no coil spring, this fork uses a larger damper cylinder for greater response and more stable performance, plus a weight reduction. The bike's KYB shock absorber is connected link style to the swingarm via re-shaped cushion rods and spacers. The nitrogen-charged, piggyback style shock features a new top-mounted integral adjuster system for easy adjustment of the high- and low-speed rebound, and high- and low-speed compression damping force adjusters.

Razor-sharp handling is an RM-Z strongpoint, and this bike's frame delivers improved control through braking bumps, has a lighter feel, and maintains the RM-Z's cornering mastery.

2017 Suzuki RM85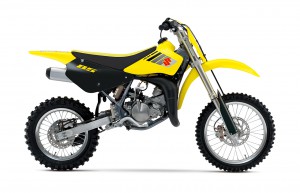 Just like its larger siblings, the RM85 delivers class-leading handling for both experienced racers and rookie riders. The bike's 84.7cc liquid-cooled two-stroke engine produces smooth power at any rpm, with an emphasis on low to mid-range performance. Power is delivered through a six-speed manual transmission.

The RM85's Showa 37mm inverted front forks are completely adjustable for rider weight, style and ability, and offers 10.8-inches of travel. The Showa rear shock absorber, with large diameter shock body, is calibrated to produce a plush feel and increased resistance to bottoming, and provides 10.9-inches of wheel travel.

As part of the 2017 RM, RM-Z and RMX launch, Suzuki is excited to announce our 2017 Contingency program. Starting on Nov 1, 2016, Suzuki will have over 6 million dollars in contingency available to both professional racers contesting the national Supercross/Motocross series and amateurs racing on weekends around the United States of America. There has never been a better time to race a Suzuki.

RM-Z450 Champion Yellow/Solid Black $8,749
RM-Z250 Champion Yellow/Solid Black $7,699
RM85 Champion Yellow/Solid Black $4,099

Source: Suzuki

Chaparral Motorsports is an authorized Suzuki dealer