California Is One Step Closer To Legal Lane Splitting
Chaparral Motorsports
|
June 16, 2016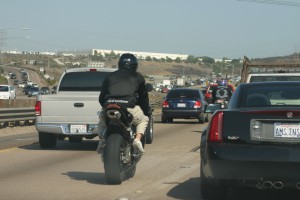 Motorcycle riders have a reason to rejoice this week with the unanimous vote of 11-0 for A.B. 51 (the Lane Splitting Bill) by the California state senate committee on transportation and housing. This takes the practice of lane splitting one step closer out of the grey area/underground activity it has been in for decades and to moves it towards being a legal act.

While lane splitting isn't illegal in California, there's no laws regulating it to make it legal either--only recommendations how to do it safely (well at least there were guidelines supported by the CHP until the pulled them from their website).

With A.B.51 passing this latest vote it move to the Senate Appropriations Committee. According the American Motorcyclists Association A.B. 51 provides a definition for lane splitting and authorizes the California Highway Patrol to develop educational guidelines for safely splitting lanes. In developing those guidelines, the CHP would work with the state Department of Motor Vehicles, the Department of Transportation, the Office of Traffic Safety and a motorcycle organization focused on motorcycle safety.

Passage of A.B.51 would make California the first state to legalize lane splitting.