Yamaha Introduces New YXZ1000R SS With Sport Shift Technology
Chaparral Motorsports
|
June 8, 2016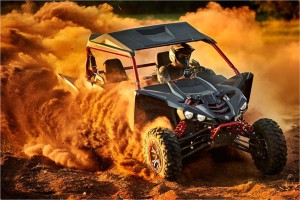 KENNESAW, GA
--(Marketwired - June 08, 2016) - Yamaha Motor Corp., USA, introduces the new 2017 YXZ1000R SS (Sport Shift), the first and only Side-by-Side (SxS) vehicle to combine pure-sport performance with an exciting and high-tech paddle shifting driving experience.

Boasting the same industry-first 3-cylinder 998cc engine and unparalleled direct-connection feeling as the original YXZ, the YXZ1000R SS features Yamaha's all-new confidence-inspiring Sport Shift technology. The SS technology is defined by a 5-speed sequential shift manual transmission boasting an advanced automatic clutch system and pure-sport inspired paddle shifters -- eliminating the need for both a clutch pedal and taking your foot off the gas during shifting.

"The YXZ1000R redefined the sport Side-by-Side category last year solidifying Yamaha as the leader in powersports performance," said Mike Martinez, Yamaha's vice president of ATV / SxS operations. "The new YXZ1000R SS, equipped with the Yamaha exclusive Sport Shift technology, delivers the unequaled direct-connection sport performance of the YXZ1000R to a wide range of enthusiasts."

All-New Sport Shift Technology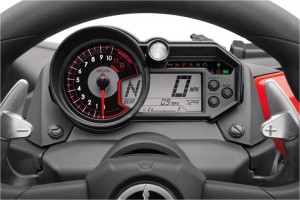 The 5-speed sequential shift manual transmission YXZ1000R SS with new Sport Shift features pure-sport inspired paddle shifters mounted to the steering column for ultimate driver control and connection. The paddle shifters are synched to Yamaha Chip Controlled Shift (YCC-S) technology, an advanced automatic clutch system, eliminating the need for the clutch pedal. This allows a wide range of enthusiasts on a variety of off-road terrain to enjoy the pure sport performance and direct connection of the YXZ manual transmission.

The shift sequence -- shift up with the right paddle and shift down with the left paddle -- is designed to be highly intuitive for drivers, even if they are not familiar with operating a manual transmission. The Sport Shift system incorporates features that complement the paddle shifting variation and overall pure sport experience. An automatic downshift feature assists by automatically downshifting to first gear when the vehicle comes to a stop, even if the driver has not done so manually.

Another exciting and innovative feature on the YXZ1000R SS is the all-new "Launch System," which is exclusive to the Sport Shift experience and provides an exciting high-acceleration feeling from stop -- similar to "dropping the clutch" in a manual vehicle with a clutch pedal.

Uncompromising Suspension
The YXZ1000R SS models boast fully adjustable long travel FOX® 2.5 Podium Shocks with 16-inches of travel in front and 17-inches out back. The piggyback reservoir shock absorbers provide confidence and comfort through tough terrain, over deep whoops, and throughout all-day off-road punishment.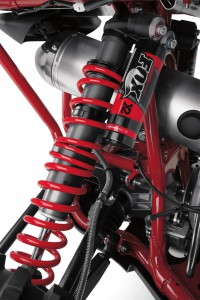 New for 2017, the Special Edition (SE) YXZ1000R and YXZ1000R SS acquire industry-first twin-wall FOX® 2.5 Podium X2 Shocks®. These unparalleled shocks were developed in tandem with Yamaha specifically and exclusively for the new Special Edition YXZ models, providing ultimate slow speed comfort without sacrificing performance during aggressive driving situations combined with unprecedented adjustability to suit a variety of driving types and preferences. A new level of performance and comfort are achieved by creating completely independent high and low speed compression and rebound adjustment, combined with huge 16.2-inches of front and 17.0-inches of rear travel. Additional features of the X2 shocks include dual adjusters on the upper cap and twin tube structure, dual springs with coupling and crossover adjustment, position sensitive damping, and more.

Pure Sport Power and Performance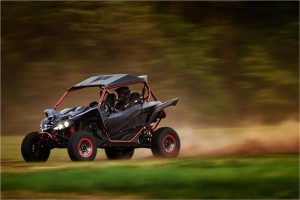 The YXZ1000R SS brings the pure sport power and performance of its predecessor with the same industry-exclusive 3-cylinder, 12-valve, DOHC, liquid cooled, 998cc engine, which delivers the most reliable and durable power of any 1,000cc-class machine. It boasts an aggressive 11.3:1 compression ratio and 10,500 RPM redline to facilitate the only pure sport SxS experience in the industry.

Yamaha's proven On-Command® system provides 2WD, 4WD and 4WD full diff-lock options in a driver-controlled system, eliminating any computer generated hesitation or slipping common in some competitive models.

The YXZ1000R SS also employs Yamaha's proven Electric Power Steering (EPS). Set in a compact and lightweight EPS unit, the optimized steering ratios provide precise handling through the best balance of assist and positive feedback from the terrain. This combination creates maximum comfort and confidence in off-road conditions.

Critical to superior handling is strong, smooth and predictable stopping power, and the YXZ1000R SS accomplishes this by featuring four-wheel hydraulic disc brakes with twin piston calipers. The resulting unmatched brake feel delivers added confidence during aggressive driving. Large 245mm rotors were adopted for enhanced cooling and reduced brake noise.

Superior Cab Ergonomics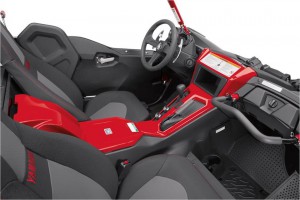 The sporty cockpit-like cab in the YXZ1000R SS incorporates comfortable and convenient ergonomics, newly embroidered plush contoured high-back, cut-and-stitch seats, sliding adjustable driver's seat, a soft grip over-mold, tilt adjustable steering wheel with 147mm of vertical travel, and uprated cabin insulation helping to keep the cabin cooler, even when the engine is working its hardest.

Providing detailed information to the driver, the YXZ1000R SS features a new hybrid digital-analog multifunction meter with digital speedometer, analog tachometer, programmable shift light, readouts for 4WD mode, gear position, fuel level, trip meters, hour meter, coolant temperature warning and a clock. A new Launch System activation and other indicator lights are also adopted.

Industry Leading Durability and Reliability

Yamaha SxS vehicles have a reputation of being the most durable and off-road capable in the industry, and the YXZ1000R SS continues this tradition, bringing Yamaha reliability to the sport SxS segment.

The sport-inspired frame of the YXZ1000R SS was engineered to provide the industry's most durable and reliable performance with nimble handling and a comfortable, secure-feeling pure sport SxS experience. Optimized frame dimensions result in the best handling sport SxS ever.

Full under-frame protection covers the bottom of the vehicle from front-to-back and side-to-side while still incorporating easy access to service points. The under-frame protection employs lightweight and extremely durable Thermoplastic Olefin to provide the best impact resistance, flexibility and wear reduction, while simultaneously allowing the vehicle to easily glide over obstacles encountered on the trail.

The new 2017 YXZ1000R SS is assembled at Yamaha's U.S. factory in Newnan, Georgia, for worldwide distribution. All YXZ1000R SS models come with a suntop and now feature colored seat stitching and embroidered seats at an MSRP starting at $20,599. Color options include Team Yamaha Blue / White with a color-matched Team Yamaha Blue suntop and race-inspired decals, Blaze Orange / Black, and the new special edition Matte Black additionally featuring painted bodywork, cast aluminum beadlock wheels and all-new FOX 2.5 Podium X2 Shocks designed exclusively for YXZ SE models.

Every Yamaha SxS and full-size ATV is Assembled in the USA at Yamaha's state-of-the-art manufacturing facility in Newnan, Georgia, for worldwide distribution.

Chaparral Motorsports is an authorized Yamaha Dealer