Honda Gold Wing Motorcycles Added To Takata Air Bag Recall
Chaparral Motorsports
|
June 1, 2016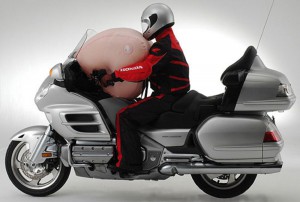 For more than a year now every time you turn on the news there's one story that continues to get coverage, the Takata Air bag recall. Up until last month, what's become the largest recall in history only affected automobiles, however, now it has carried over into the motorcycle segment with Honda Motorcycles issuing a recall on a number of its Gold Wing GL1800 motorcycles that have been outfitted with Takata air bag systems.

Honda has acknowledged that certain Gold Wing models built from 2006-2010 were outfitted with Takata airbags and therefore have issued a recall of 2,701 motorcycles. Honda was the first motorcycle manufacturers to incorporate an airbag system into a production motorcycles as a safety measure to protect the rider in the event of a severe head-on crash.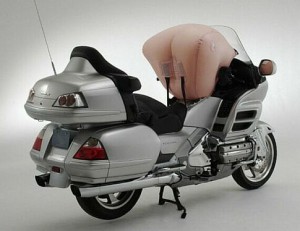 First introduced on the 2006 Honda GL1800 Gold Wing, the airbag safety feature is housed in the area between the front/top of the gas tank and below the handlebars. Deployment of the airbag is determined by sensors on the fork legs, with only .06 seconds elapsing before the airbag is inflated once the frontal impact is registered. The airbag is designed to reduced the speed and possible trajectory at which the rider is flung forward in a head-on accident; to help reduce injuries the rider may incur when hitting another vehicle, the pavement or the motorcycle itself.

According to the notice filed with the NHTSA (campaign number: 16V347000) the recall affects certain model year 2006-2010 Honda GL1800 (Gold Wing) motorcycles manufactured February 8, 2006, to May 14, 2009 originally sold, or ever registered, in Alabama, California, Florida, Georgia, Hawaii, Louisiana, Mississippi, South Carolina, Texas, Puerto Rico, American Samoa, Guam, the Northern Mariana Islands (Saipan), and the U.S. Virgin Islands, or "Zone A." Additionally, unless included in "Zone A" above, Honda is recalling certain model year 2006-2008 Honda GL 1800 (Gold Wing) motorcycles manufactured May 10, 2007, to May 14, 2009 originally sold, or ever registered, in Arizona, Arkansas, Delaware, District of Columbia, Illinois, Indiana, Kansas, Kentucky, Maryland, Missouri, Nebraska, Nevada, New Jersey, New Mexico, North Carolina, Ohio, Oklahoma, Pennsylvania, Tennessee, Virginia, and West Virginia, or "Zone B." Motorcycles not originally sold or ever registered in either Zones A or B are not subject to this safety recall.

Honda will notify owners, and dealers will replace the air bag module containing the inflator, free of charge. The manufacturer has not yet provided a notification schedule. Owners may contact Honda customer service at 1-866-784-1870. Honda's number for this recall is KA8.

As it stands now nearly 80 million airbag units are included overall in the Takata airbag recall, making it the largest recall in history. According to consumer reports, not only have the airbags and their inflators been linked to 10 deaths and more than 100 injuries, but these air bag systems have been used by more than a dozen automotive manufacturers from 2002 to 2015. The problem with the airbag system is the potential for the airbag's metal inflator housing to explode, sending pieces of metal back at the vehicle occupants with extreme force potentially killing or severely harming the occupants.