ChapMoto MX Ride Day & Hangout
Chaparral Motorsports
|
May 25, 2016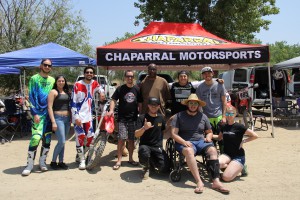 Even though a good portion of the employees at Chaparral Motorsports ride dirt bikes, and a few often ride together, we had never really organized a day where we could get a good size group together to enjoy a day at the track. It was one of those ideas that pretty much all of the staff at Chaparral had all discussed at one point or another but nobody had actually acted on it. Then one day someone finally made a phone call, locked in a date, and a ChapMoto MX Ride Day/Hangout was set for May 19, 2016.

We love talking about motorcycles, looking at motorcycles, and helping our customers rebuild, repair, and modify their motorcycles so it only made sense to invite our customers, fans, family, friends, and anyone else who just wanted to hang out at the local track.


If you've ever been to Chaparral then you most likely know we are centrally located to all the best tracks southern California has to offer-there are six tracks that are within an hour or so drive. Actually, the shop sits directly between two of the more popular tracks in Southern California. The famed Glen Helen Raceway is only 15 miles away to the north and Milestone MX Park is less than ten miles away to the south. We have plenty of great options when it comes to getting some track time, however, since some people would be leaving the track early to put in a few hours of work back at the store we decided to make it easy on everyone and keep it local and roll out to Milestone.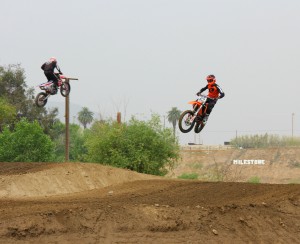 Located in the northern part of Riverside along the Santa Ana "River", Milestone has become the hometown track for many MX riders in the Inland Empire. With five tracks of varying difficulty ranging from entry level to veteran, Milestone was the perfect spot to accompany the myriad riding skills of all the riders that had shown interest in attending the ChapMoto Ride Day. With a little coaxing from Travis Snyder (number 599) our Offroad Products Manager, the night before the event, the Milestone crew had the track perfectly prepped and dialed in when we showed up first thing Thursday morning.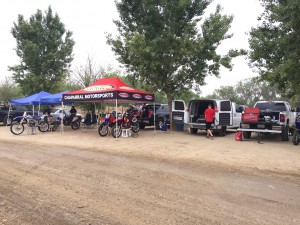 Not only was the track pristine when we showed up, but the weather was ideal as well. The cool overcast sky helped keep the track moist and tacky while also helping everyone stay cool themselves. The first few to arrive grabbed a spot right along the back stretch of the track and immediately popped up the Chaparral canopy to let everyone know where we were located. Over the next hour-and-half as the early birds were unloading their bikes and setting up "camp" more and more riders and spectators began to arrive.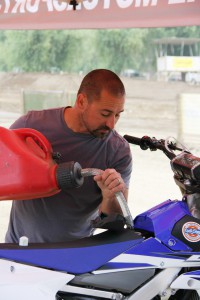 By 10am there was a good size group of people mingling about and checking out each other's bikes as they changed into their riding gear or made final preparations to their bike. Tools were loaned and help was readily available as people dialed in the air pressure in their tires, checked their suspension settings, and made adjustments to handlebar and lever positioning. Even though some in the group had never ridden together before or might have never even met before, within no time everyone was getting along like this was the group's typical Thursday morning routine.

The eclectic group of bikes on display was as diverse as the riding skills of group. The lineup consisted of everything from brand new four strokes to mini bikes and even a couple of "vintage bikes". Our Vehicle Sales Manager, Andy Anaya, was breaking in a brand new Yamaha YZ450F for a family friend. Having ridden the bike a few weeks prior Andy was interested to see what a re-mapping of the EFI system would do (after the first lap he was thrilled to report the bike had really woken up and was much more fun to ride).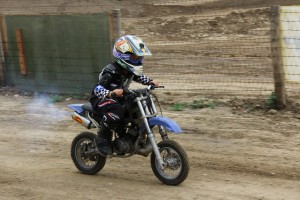 Noah Perry (number 485) who works in our UTV accessories department brought out his 1988 Honda CR500 and was joined in his vintage venture with a 1986 Honda CR250R that had been restored by one of our Instagram friends/customers, BiMotofab. Actually BiMotofab brought out a 2005 YZ250F as well. On the mini front, Rebecca from our goggle department had her little moto boy running circles around everyone on her 50cc pit bike.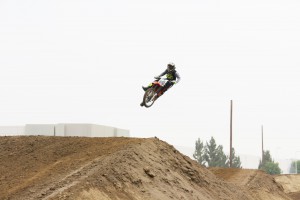 A little after 10 the first group of riders hit the main track and the roar of pipes had everyone itching to get the rest of their dirt bike gear on and get out on the track. Everyone seemed to enjoy the track options as it helped split the groups up with some people riding the main track while others were moto-ing on the vet track. Then after a 15 minute moto and a 20 minute rest the groups would often switch up tracks or some people would join other groups while others continued to rest or peel off and do their own thing.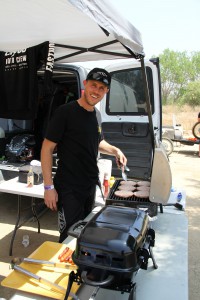 Around noon most of the clouds had burned off and it was starting to get a bit warmer. The tracks got a little drier but the Milestone crew did an excellent job of rotating the water truck between tracks to keep the dust down and conditions optimal. It was about this time that some riders had to leave and head in to work and more new riders arrived. By 1:30 people were pretty hungry so a bunch of hot dogs and hamburgers were tossed on a couple grills and everyone relaxed as they refueled their bellies and bikes. The rest of the afternoon was a mix of more riding, resting, discussing riding techniques, and riding with old and new friends.

While it wasn't necessarily an "official" ChapMoto event, everyone had a great time and we had a good turn out with a fun group of beginner, intermediate, and advanced riders. Best of all we were able to get a bunch of employees, customers, and friends together that had never ridden together before and share the common bond that we all love-riding dirt bikes.