Polaris Defense Unveils Turbo Diesel MRZR
Chaparral Motorsports
|
May 18, 2016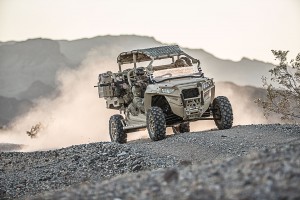 If there was ever a UTV that we wanted to be able to get our hands on for a few days it would be Polaris' new turbo diesel military RZR, the MRZR-D. It's like the roided out big brother of the Polaris UTV family, except it's way more configurable.

MRZR-D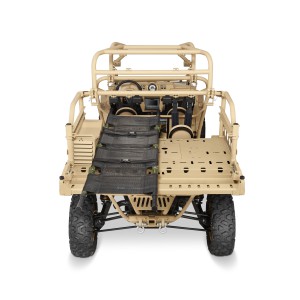 A beast of a machine the MRZR-D is powered by a 993cc, three cylinder, 4-stroke, SOHC, turbo diesel engine with on-demand true AWD/2WD. The vehicle can carry anywhere from two to six passengers with optional rearward facing seats and has cargo bed that measures 32.3" X 49.0" X 20.4" and can convert from regular box type to utility style. The vehicle is offered with optional Infra Red lighting, and the tool-less collapsing roll cage comes in handy when you need to transport the MRZR-D overseas via your CV-22 Osprey.

Here's the full press release from Polaris: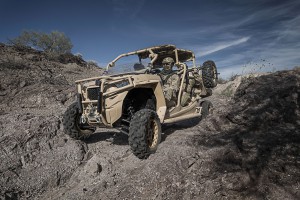 MINNEAPOLIS (May 18, 2016) - Polaris Defense, a division of Polaris Industries Inc., today announced the addition of a high-performance MRZR turbo diesel (MRZR-D) to its MRZR off-road vehicle lineup. MRZRs have redefined ultralight, off-road mobility for military vehicles and are mission critical for expeditionary forces in the U.S. and more than 20 allied countries to meet mission demands and threats while forward deployed. Polaris Defense will publicly debut the MRZR-D at the 2016 Special Operations Forces Industry Conference (SOFIC), in Tampa, Fla., May 24-26, and at CANSEC 2016, in Ottawa, Ontario, May 25-26.


To be as expeditionary as the warfighters that use them, MRZR vehicles are V-22 helicopter transportable and can be configured a number of ways, including two-, four- and six-person. The turbo-charged diesel engine in the new MRZR-D has been engineered to meet the performance and physical specs of the original MRZR vehicles. While many key features - like the dimensions, payload, towing, ground clearance, accessories, handling and other features - remain the same, Polaris incorporated feedback from the field in the new product, including updated occupant seating space, ergonomics and sightlines. The MRZR-D also provides increased auxiliary power and greater range, making it even more effective.

"The new turbo diesel powertrain is significant in reducing the logistics burden for select U.S. services and many foreign militaries that have strict requirements for diesel fuel," said Jed Leonard, senior manager, Polaris Defense. "And as importantly for our military customers, we've engineered this diesel powertrain to meet the same mission requirements and extreme off-road performance that Polaris and the MRZR are trusted for in peacetime, security operations, and conventional military missions."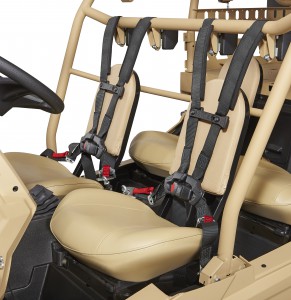 "Throughout the last three years, we've had an open dialogue with Polaris about how we were using the MRZRs, and enhancements that would help us complete our missions more effectively. This has been very beneficial to us in the program office and the warfighters as Polaris has incorporated our requests. In the case of the MRZR-D, we suggested changes to improve sightlines and ergonomics which were incorporated," said Brendon Reedy, LTATV acquisition program manager, PEO-SW/FOSOV, USSOCOM. "It's nice to see commercial companies such as Polaris continue to invest in the Defense industry and we're happy those investments have resulted in a turbo-diesel MRZR."

Production continues for the original gas powertrain MRZR 2 and MRZR 4 under the LTATV program for USSOCOM and other international contracts. Orders for the 4-seat turbo-charged MRZR-D are being accepted now, with production and deliveries also starting this year. The MRZR-D will be in Polaris Defense booth #1735 at SOFIC in Tampa and booth #331 at CANSEC in Ottawa.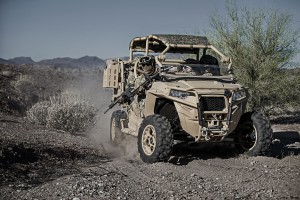 Polaris Defense vehicles deliver a coveted combination of deployability, versatility and off-road mobility, forged from more than 60 years of off-road vehicle experience that is simply unmatched. From the rugged Sportsman MV 850 to the modular and nimble MRZR, to the trophy truck inspired and ultimate off-road payload capable DAGOR, the enhanced tactical mobility provided by Polaris vehicles gives an advantage back to dismounted troops, allowing formations to move faster, carry more and significantly reduce combat fatigue. And because the vehicles are in service throughout the world, there is a high degree of interoperability and commonality among U.S. and allied forces. An established network of more than 1,400 Polaris dealers and distributors provide military vehicle training, service and support worldwide.

About Polaris

Polaris Industries Inc. (NYSE: PII) is a global powersports leader with annual 2015 sales of $4.7 billion. Polaris fuels the passion of riders, workers and outdoor enthusiasts with our RANGER®, RZR® and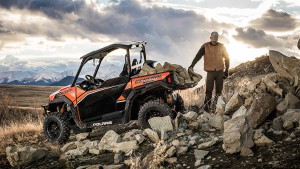 POLARIS GENERAL™ side-by-side off-road vehicles; our SPORTSMAN® and POLARIS ACE® all-terrain off-road vehicles; VICTORY® and INDIAN MOTORCYCLE® midsize and heavyweight motorcycles; SLINGSHOT® moto-roadsters; and Polaris RMK®, INDY®, SWITCHBACK® and RUSH® snowmobiles. Polaris enhances the riding experience with parts, garments and accessories sold under multiple recognizable brands, and has a growing presence globally in adjacent markets with products including military and commercial off-road vehicles, quadricycles, and electric vehicles. www.polaris.com