Celebrate AMA Go Ride! Month And The Centennial Of Our National Park System
Chaparral Motorsports
|
April 18, 2016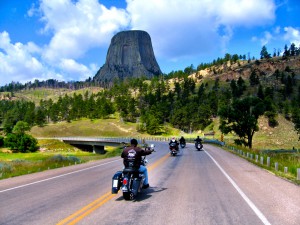 Did you know that the American Motorcyclist Association (AMA) has dubbed April as AMA Go Ride! Month? April is the start of spring so it makes sense that the AMA would encourage riders to pull their motorcycles out from their winter hibernation and take to two wheels for their work commute, a weekend ride, or a cross country excursion.

If you're looking for a place to ride, this week is a great time to visit one our Nation's National Parks and celebrate the system's 100 birthday. The National Park Service turns 100 on August 25, 2016 and to help celebrate the centennial event, during National Park Week, which runs April 16 through April 24, all National Park Service entrance fees will be waived for the week. There's even a social media campaign with the hashtag #FindYourPark to help you share your park experience with others.

Of course there are those that ride their bikes year-round, but for much of the country Spring is the time to pull your bike from hibernation, give it a good once over to check your motorcycle tires, perform an oil change, and tend to the other Spring motorcycle prep tasks. And it's a great time to visit our national parks to enjoy the beauty and scenery that makes up our wonderful country. The critters are out, flowers are coming into bloom, and the rivers are streams are flowing; best of all you can enjoy it all without having to pay the park entry fees.

Don't fret if you can't make it to a National Park like Devils Tower in Wyoming this week, all the parks will have free entrance fees on these dates as well:



August 25 through 28: National Park Service Birthday

September 24: National Public Lands Day

November 11: Veterans Day

Here are a few facts you about our National Park System:

The National Park Service was created by an act signed by President Woodrow Wilson on August 25, 1916.

Yellowstone National Park was established by an Act signed by President Ulysses S. Grant on March 1, 1872, as the nation's first national park.

The system includes 411 areas covering more than 84 million acres in every state, the District of Columbia, American Samoa, Guam, Puerto Rico, and the Virgin Islands.

These areas include national parks, monuments, battlefields, military parks, historical parks, historic sites, lakeshores, seashores, recreation areas, scenic rivers and trails, and the White House.

The largest National Park is Wrangell-St. Elias National Park and Preserve in Alaska, at 13.2 million acres.

The smallest is Thaddeus Kosciuszko National Memorial in Pensylvania, at 0.02 acres

Total recreation visitors to the national parks in 2015: 307,247,252

The most visited National Park in 2015 was Great Smoky Mountains National Park with 10,712,674 visitors.

Coincidentally, the most visited place of the National Park System in 2015 was the Blue Ridge Parkway with 15,054,603 visitors. Billed as "America's Favorite Drive," the 469-mile Blue Ridge Parkway offers sweeping curves, lush scenery, and majestic views. The Blue Ridge is one of those roads that is at the top of every motorcycle enthusiasts' "Must Ride" list.