NYPD Has A Crush On Dirt Bikes
Chaparral Motorsports
|
April 6, 2016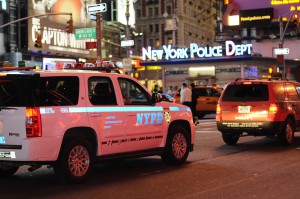 It's a problem roaming across the nation. Packs of riders aboard dirt bikes and ATVs - that were originally not meant to be ridden on public streets in the first place - terrorizing motorists and pedestrians as they stunt their way through city streets and highways weaving in and out of traffic, riding on sidewalks, and running stops signs/lights.

While it's not a new phenomenon, with the viralability of social media the occurrences have gotten more frequent and the groups significantly larger. You can find videos and clips of the mayhem from local news channels all over the country or through the social media pages of the riders themselves.

New York Mayor Bill de Blasio and NYPD Commissioner Bill Bratton recently announced a "crush in" event to try and deter the use of illegal dirt bikes and ATVs on city streets and the mayhem that has been occurring. The "crush in," will be a televised event in which they will crush the vehicles that have been confiscated from these illegal activities. "They're not going to be happy when we take these damn things and crush them so they can't be used," Bratton stated this past Monday.

[caption id="attachment_58823" align="alignright" width="300"]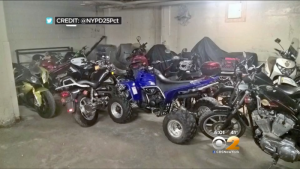 photo: CBS 2 New York[/caption]

Since the beginning of the year the NYPD has seized 312 offroad motorcycles and ATVs total (twice as many in the same time period as comparted to last year) and within the past two weeks alone they have confiscated 65 illegal vehicles.

Not wanting to get involved in police chases which could endanger lives and cause further havoc, the police are keeping an eye on gathering points such as gas stations, parks, and deserted streets, and will conduct check points looking for illegal vehicles on the roadways. In addition the police will be seeking assistance from the public to help identify places like storage facilities where the bikes and ATVs are kept when not being ridden. No specific date has been given as to when the crush will take place, but it will likely occur later this spring.

Crushing perfectly good vehicles doesn't sound like the best option. Sure it's dramatic and makes a point, but those that are determined to ride will simply just get another dirt bike or ATV. In addition, the money earned from repurposing the bikes and ATVs in some form other than scrap metal could be used to create positive programs or other solutions that would benefit those who want to enjoy their dirt bikes and ATVs.