Take Flight: Will You Be Driving Or Flying Your Next UTV?
Chaparral Motorsports
|
March 31, 2016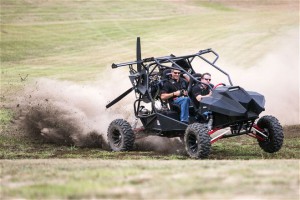 First it was drones, now we're going to have flying UTVs cluttering our airspace? This not what George Jetson promised us! But I guess for those that just can't decide if they want to drive or fly when planning their next Glamis trip the SkyRunner MK 3.2 is the perfect solution.

One part UTV and two parts flying aircraft, the MK 3.2 is touted as the ultimate recreational vehicle combining off-road adventure with one of the safest forms of aviation. The chassis is comprised of chromoly seamless, air-hardened, heat-treated, steel tubing and has been outfitted with aircraft grade aluminum for the body panels. The corners of the machine are adequately equipped for the dunes or dirt with Fox Podium shocks and heavy-duty offroad UTV tires. Powering the UTV on the ground is a Polaris ProStar 1000, 4-Stroke, SOHC, Twin Cylinder engine that produces 89 hp. A 15 gallon fuel cell holds enough juice for about 240+ miles on the ground and 120+ miles in the air.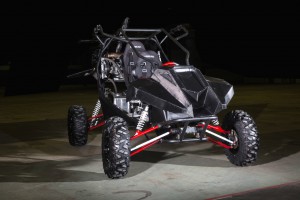 Quite different than a Polaris RZR, the MK 3.2 features an open cockpit design with central seating for better balance when in flight. Flying duties come by way of a ram-air parafoil wing (what paragliders use) and a big honkin' propeller (similar to what you'd see on an airboat/fanboat) connected to a Rotax 912 ULS engine mounted to the back of the frame. The machine has a dry weight of 1,080 pounds with a maximum take-off weight of 1,430 pounds; so if you're going to be flying two up, (depending on your combined weight) you may need to leave the luggage behind. The nice thing about the MK 3.2 is that it requires very little runway/landing space, about 200-500 feet, making for quick and easy departures/arrivals in remote or tight areas like golf cart paths, empty fields, or open campground areas.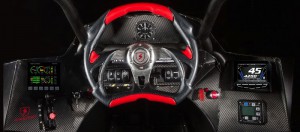 While you don't need a license to drive a UTV, if you want to take advantage of the SkyRunner's full potential and soar to an altitude of 10,000 feet at air speeds up to 55mph you're going to need to get a Sport Pilot License (SPL). Most UTV enthusiasts will be please to know that operating the SkyRunner isn't nearly as complicated as flying a plane. There are only two hand controls for left and right steering and a foot pedal for ascending or descending. Thankfully acquiring a SPL doesn't require nearly as many training hours as it take to get most other Light Sport Aircraft certifications, the SPL only takes about 12 hours total.

If you're planning on heading to the dunes on the next busy holiday weekend and want to be able to get out and above the fray it's going to cost you some serious coinage however. A $5,000 deposit will get you down for a MK 3.2, but it's going to take an additional $114,000 to get you high.

http://www.youtube.com/watch?v=VoAuxBK6ldM