Jorge Lorenzo Opens 2016 MotoGP Season With A Win And New Track Record
Chaparral Motorsports
|
March 29, 2016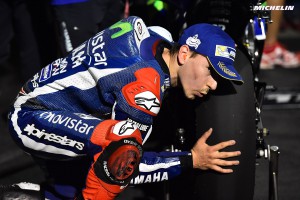 As evidenced by Jorge Lorenzo's victory and lap record performance at Losail International Circuit QATAR, in the first MotoGP race of the 2016 season, he seems to be pretty pleased with the series' official tire supplier, Michelin. The Movistar Yamaha rider didn't just set the lap record once, but twice during the race. For eight years Casey Stone held the lap record with a time of 1m55.153s, but then on lap 16 Lorenzo put down a 1m55.109s lap and then set an even faster record on lap 22 with a time of 1m54.927s.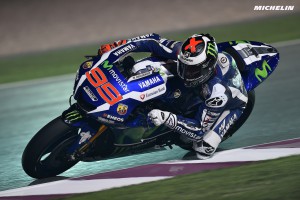 Michelin Motorsport is most likely very happy to be part of Lorenzo's record achieving performance as well; after a seven year hiatus, this is the company's first year back as the official motorcycle tire supplier of the MotoGp World Championship. Michelin has been involved with many wins and titles over the years, the company first claimed success in the premier-class of Grand Prix racing more than 30 years ago at the Isle of Man TT with Australian rider Jack Findlay. Of the 118 MotoGP races that took place from 2002 to the end of 2008 (when Bridgestone was announced as the sole premier class spec tire supplier) Michelin won 83 races in the premier class.

While MotoGP motorcycle tires are specifically designed and tested to deliver the absolute best performance for the world's best riders on premiere tracks across the globe, Michelin's MotoGP involvement does carry some significance for the average rider-especially with the series now running a 17" wheel format. "Our policy of carrying over our technologies from track to street fits perfectly with the new technical regulations," stated Michelin Motorsport's Director Pascal Couasnon. So basically, everything Michelin learns from its involvement with the best and fastest riders in the world it can apply that knowledge to real world applications into its tires for the daily rider. And the fact that MotoGP has gone to 17" wheels-the common sport bike wheel size-means it will be easier for Michelin to put their learned technologies into a streetable tire.

Like the entire MotoGP field, Lorenzo had a select group of five Michelin tires to choose from; soft, medium, and hard Power Slicks for the front and soft and medium rear Power Slicks. Lorenzo chose to go with the hard front and soft rear which proved to be a perfect combo to seal the opening win and stamp a new track record. "I tried the hard compound during warm-up but it didn't feel right and I finally opted for the soft which turned out to be the best solution. It was this choice that allowed me to establish a new track record," Lorenzo stated. "It was important to get the year off to a strong start. A podium would have been nice; victory is even better!"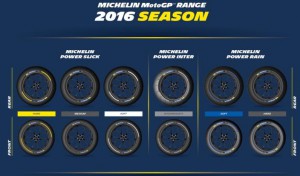 The MotoGP circuit heads to Argentina April 1-3 where the riders will race the Termas de Río Hondo course. If you have a keen eye you may be able to spot which of the 12 spec'd tires the riders are employing. Michelin has provided this chart to help spectators try to identify what's keeping the riders on the track.

Hahaha. You probably can't tell what's what from that image, can you (don't worry I can't either--sad emoji)? Now try deciphering the side wall markings at 130+mph.

It breaks down like this:

Michelin Power Slick-
Front/Rear:
Soft-white stripe
Medium-no stripe
Hard-yellow stripe



Michelin Power Intermediate
Front/Rear:
Intermediate-grey stripe

Michelin Power Rain-
Front/Rear
Soft-blue stripe
Hard-no stripe