Off The Line: 2016 Honda Africa Twin
Chaparral Motorsports
|
March 16, 2016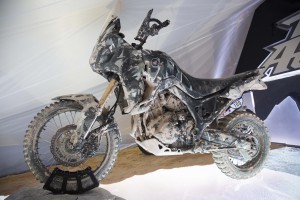 Honda
gave the world of glimpse of what it had in store for the motorcycle world when it had a dust-covered, black and grey camo bike on display at it booth during the 2014 EICMA show. Billed back then as "True Adventure," details were sparse, but it was evident where Honda had its sights set. It wasn't until several months later that Big Red would formally introduce the all-new CRF1000L Africa Twin. Not exactly a new comer, the CRF1000L has a strong lineage dating back to HRC's successful Dakar-Paris race bike in the late '80's, the NXR750V, and the company's early foray into adventure touring with the 1989 XRV750 Africa Twin.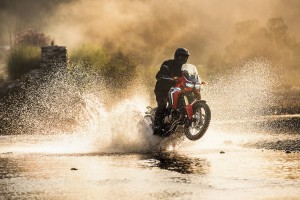 Ready to go anywhere, the new Honda Africa Twin is comprised of all the elements and features that define a true adventure motorcycle: good ground clearance, long travel suspension, a rugged and well-balanced chassis, upright riding position, and a potent engine. Where the new machine stands apart from its competition is the fact that along with a full manual six-speed model, Honda will also offer an automatic version featuring the company's Dual Clutch Transmission (DCT). An automatic trans could be a coveted feature amongst hardcore Adventure riders who want to push the bike's off road capabilities but don't want to fight or fuss with clutching and throttling over extremely rugged terrain.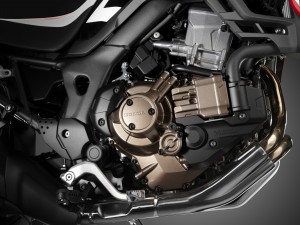 At the heart of the semi-double cradle steel frame is a compact and lightweight, 998cc, liquid-cooled, 4-stroke, 8-valve parallel twin with a 270° crank and 4-valve Unicam head design. According to Honda the engine draws heavily on the brand's CRF250R/450R competition machines but offers excellent high-speed highway travel with strong and linear power and torque throughout the rev-range. The mill makes a claimed 93.8 horsepower at 7,500 rpm and 72.3 foot-pounds of torque at 6,000 rpm. Assisting the engine is a constant-mesh 6-speed manual or the 6-speed DCT with on- and off-road riding modes. Honda's DCT model is computer controlled, based on four selectable modes (a Drive mode designed for fuel economy and three different levels of Sport mode), there's also a G mode for smoother shift transitions on gravel roads.

The Africa Twin is also outfitted with switch operated torque control (traction control) and ABS functions. Traction control offers four settings: Off and 1-3. Level 1 lets you get loose with some moderate sliding and wheel spin whereas level 3 is the most controlled setting of the three. While ABS can be turned off, it can only be done at the rear wheel.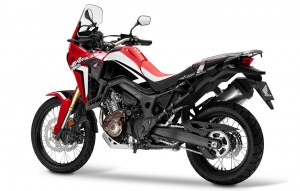 Front suspension is handled by a 45mm Showa cartridge inverted fork offering 9 inches of travel and the rear is supported by a Pro-Link single shock with hydraulic preload and provides 8.7 inches of travel. The suspension is adjustable for spring preload, compression and rebound damping both front and rear. The bike rolls on a 21 inch front wheel and an 18 inch rear, which when combined with the compact design of the drivetrain helps give the Twin 9.8 inches of ground clearance. The parallel twin, sloped 4.9 gallon gas tank, and dropped seating position allows for a narrow profile and lower center of gravity making for a more centralized mass and easier, smoother maneuverability. The manual version weighs in at 511 pounds while the DCT transmission adds a little more than 20 pounds.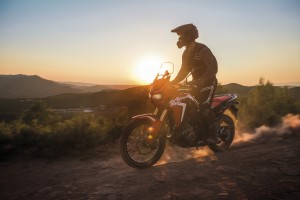 The Africa Twin Manual transmission version has an MSRP of $12,999 and DCT version is listed at $13,699. Between the price tag, horsepower/torque output, DCT, electronics, and styling the Africa Twin should stir up a big cloud of dust amongst its competitors as well as the higher end BMW/KTM Adventure bikes.