Product Spotlight: Sena 10C Bluetooth Camera And Communication System
Chaparral Motorsports
|
March 11, 2016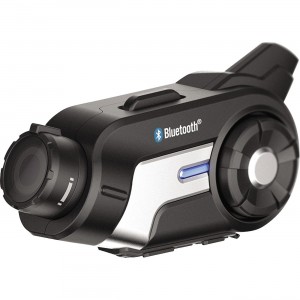 Sports Action cameras are great for reliving or sharing your experiences with friends and family. The one downfall with the video recording devices is that they are limited in their capabilities. Sena is well known in the motorcycle industry for producing excellent Bluetooth communication devices that enable rider and passenger or a group of riders, to talk amongst each other via intercom while cruising down the road. After introducing its Prism Cam, a handlebar mountable or helmet mountable camera that linked up with Sena's communication devices to record audio and video, Sena decided to combine the two units and came up with the Sena 10C ($348.95).

With the introduction of the [mageProductLink sku="690-10c-01" title=""]Sena 10C Bluetooth Camera and Communication System[/mageProductLink] users now have the ability to record high-def video, snap hi-res still shots, stream music, listen to FM radio, make and receive calls from your smart phone, receive voice prompts from your GPS devices, or use the intercom to communicate with up to four other users. Basically with all its functions you are no longer restricted to a few basic operations, the Sena 10C opens you up to whole new world and can turn your motorcycle into a multi-channel rolling entertainment center.

Most amazingly, with all its capabilities, you'd think the 10C would be an awkward and heavy device. However, the opposite is true. Extremely compact and lightweight, the water resistant housing mount to the side of your helmet as the other Sena Bluetooth devices do and once installed you'll barely notice it's there-the unit only weighs 3.32 ounces.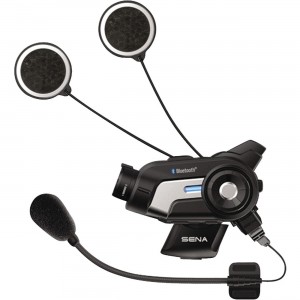 The camera has a 125 degree field of view and records video in 1080p:30fps, 720p:30fps, or 720:60 fps. You can snap 3.5MP photos in either standard, burst (5 pics) or time lapse (1 shot every 10 seconds). The camera accepts MicroSD memory cards up to 32 GB which gives you about 2 hours of recording time. With a dedicated camera button the 10C also offers video tagging which when activated will record a 3 minute clip (1 min before the tag and 2 additional minutes after the tag), this will save you editing time by recording only the important parts rather than recording a 2 hour video and then trying to find the exciting parts. The cool thing about the Sena 10c is that it allows you to easily record dynamic videos that integrate music and voice over/narration. Again, this not only makes for easier video editing and sharing, but also more engaging content.

Beyond its video capabilities the Sena 10C enables you to communicate with up to four other people via intercom. The intercom is universal to work with other Bluetooth communication systems and offers up to a 1 mile range. The FM tuner has ten presets so you can find your favorite stations quickly. Connecting the comms system to your smart phone enables you to perform hands-free calling so you can stay focused on the road. The device provides up to 17 hours of talk time and fully charges in about 3.5 hours.

While there's no screen on with the 10C (it does provide audible beeps and voice prompts for status changes) by downloading the Sena Headset app you can see exactly what going on and easily configure the settings and access the Quick Guide. The Sena 10C comes with everything you need to install, charge, and use the device and is fully compatible with iOS and Android devices.