Head To Head: 2016 450 MX Motorcycles
Chaparral Motorsports
|
March 11, 2016
In this head to head comparison we look at a couple of 2016 450 dirt bikes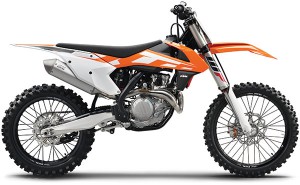 450 SX-F
Manufacturer: KTM

MSRP: $9,299

Engine: 1 cylinder, SOHC, liquid cooled, 4-stroke

Bore x Stroke: 95mm x 63.4mm

Transmission: 5-speed

Fuel Delivery: Electronic fuel injection

Curb Weight: 224 pounds

Seat Height: 37.79

Peak Horsepower*: 58.08 @8934 rpm

As the bike of reigning 2015 SX and MX champion, Ryan Dungey, right off the bat you may notice the bike has two distinct advantages against the Yamaha and Kawi: overall weight and peak horsepower. The lightest of the three, the newly redesigned KTM 450 SX-F hit the scales nearly 8 pounds lighter than the 2015 version thanks to a new chassis and engine. The refreshed engine was designed to be more compact and more centralized within the frame for better weight balance and improved handling characteristics. A host of components from tire to tire such as a new electronic Launch Control, a lighter 5-Speed transmission, new Flow Design Header (FDH), lighter Chromoly steel frame, new generation WP rear shock, and new airbox and air filter design help the 450-SX deliver a competitive edge over its competition.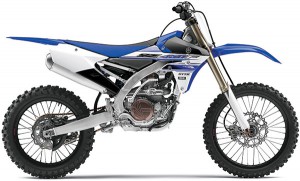 YZ450F
Manufacturer: Yamaha

MSRP: $8,590

Engine: 1 cylinder, DOHC, liquid-cooled, 4-stroke

Bore x Stroke: 97.0 mm x 60.8 mm

Transmission: Constant-mesh 5-speed

Fuel Delivery: Yamaha Fuel Injection (YFI), Keihin® 44mm

Curb Weight: 247 pounds

Seat Height: 38.0 in

Peak Horsepower*: 55.32 @9688 rpm

For 2016 the Yamaha YZ450F received several key improvements making it a formidable steed. Chassis changes like moving the triple clamp offset from 22mm to 25mm, 2mm thicker engine mounts and a reshaped swingarm pivot section, and lowering the footpegs by 5mm have all been implemented to improve rigidity and balance while also providing an all-around better handling machine. The engine was massaged a bit as well with new intake and exhaust cam profiles and timing boost combustion efficiency to improve low- to mid-rpm range power delivery. It's hard to win races if you can't get a good start, so to help get the bike out front more consistently the YZ features an all-new Launch Control System (LCS) that optimizes power output and provides ideal acceleration out of the gate, especially on hard track surfaces.



KX 450F
Manufacturer:
Kawasaki

MSRP: $8,799

Engine: 1-cylinder, DOHC, water-cooled, 4-stroke

Bore x Stroke: 96.0mm x 62.1mm

Transmission: 5-speed

Fuel Delivery: DFI with 43mm Keihin throttle body

Curb Weight: 240.2 pounds

Seat Height: 37.8 in

Peak Horsepower*: 53.74 @8084 rpm

Just like the KTM, the Kawasaki KX 450F is all new for 2016 and was put on a strict weight loss program shedding more than 7 pounds thanks to a new aluminum perimeter frame and new engine. The chassis' weight was cut down by a little more than 3 pounds and its spars were narrowed by 6mm resulting in a svelter midsection for a narrower and more controlled feel. The new engine is about 4.4 pounds lighter and more powerful thanks to revised intake valve shapes to increase air volume, a lighter intake camshaft with revised timing for low-mid RPM response, reshaped intake port to improve performance in mid-to-high RPM range, and revised bridged-box bottom piston based on AMA factory race bikes. Adjustability in the Showa SFF TAC fork helps you dial in to your precise riding style while the ability to move the bar mounts forward or back and the footpegs up or down 5mm means riders of all shapes and sizes can set the bike up for a comfortable ride.

*Horsepower numbers as stated by Vital MX 2016 450 Shootout