First Look: Polaris' Graphic Sport Roof For RZRs
Chaparral Motorsports
|
March 3, 2016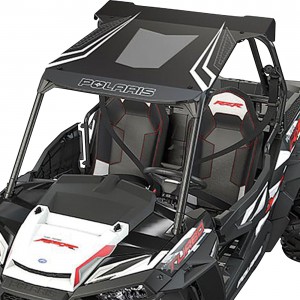 Polaris RZR fans spend the majority of their time enjoying their vehicles in the bright sunshine-often in extreme desert temperatures. While the stock RZR cage with its 1-3/4" tubing will help protect you in the event of a roll over, the open air cage won't do much in protecting you from the sun's harmful rays. As they say, "With age comes the cage," and if you're anything like this author, then along with age also comes a futile fight fading follicles-I'm talking about male pattern baldness. Nothing is worse than a scorching sunburn on the top of your head.

There's a Difference
If you're familiar with the line of Polaris RZR parts and accessories then you most likely know the company already offers several roof options such as its color-matched aluminum roofs, canvas roofs, and [mageProductLink sku="2878903" title=""]Lock & Ride Poly Roofs[/mageProductLink]. Whereas all those roofs are solid, allowing no light to pass through, the new Graphic Sport roof is a mix between solid sides and a transparent center section that allows some sun in.

Match it Up
The Pure[mageProductLink sku="2881206" title=""] Polaris RZR Graphic Sport Roof[/mageProductLink] is made from OP grade Polycarbonate and even though it's lightweight the roof is designed to take a beating with its ability to flex. Extreme weather can cause severe damage to certain parts and accessories, however no matter if it's really hot or you're cruising through a deep chill, this roof wont distort and will continue to maintain its shape. With its extended sides fully covering the overhead cage supports this side-by-side roof provides extra protection from the sun and rain. Accentuated by sporty graphics, the roof is available in a variety of colors such as red, white, and black to matchup with your RZR's stock color scheme. The roof comes with all necessary mounting hardware and is vey easy to install.

The nice thing about the roof is that it can help cool down the cab area, and even though the sun roof is clear and does allow some rays to shine in, it's still a lot better than having no roof at all. The other nice thing about the sun roof is that it allows you to see what's above you when cruising in heavily wooded areas or places where there's a low clearance. At night it's like a mobile skylight when pondering the constellations.