2016 AMA Supercross Phoenix Race Results
Chaparral Motorsports
|
February 8, 2016
Ken Roczen Races to First Win of 2016
[caption id="attachment_57784" align="alignright" width="300"]
Ken Roczen[/caption]

RCH Soaring Eagle /Jimmy John's/Suzuki Factory Racing's Ken Roczen captured his first win of the 2016 Monster Energy AMA Supercross, an FIM World Championship, at the first-ever race from University of Phoenix Stadium in front of 53,055 fans. GEICO Honda's Christian Craig, who came out of retirement to race this year, won the first Western Regional 250SX Class race of his career.

BTO Sports/WPS/KTM's Davi Millsaps won his second SupercrossLive.com Holeshot Award before Roczen passed him for the lead on the opening lap. Monster Energy Kawasaki's Eli Tomac, who started fourth, took over third place on the opening lap and advanced to second place on Lap 2, dropping Millsaps to third.

Team Honda HRC's Cole Seely passed Millsaps for third on Lap 4. Dungey, who started in 10th place and positioned himself in the top five on Lap 3, moved around Seely for third on Lap 5 when the Honda rider stalled his bike. On Lap 15 Dungey passed Tomac for second, where he would eventually finish.

Roczen took the checkered flag over four seconds ahead of Dungey, while Tomac held on for third place.

Roczen now has five wins on his career, winning two each of his first two seasons in the 450SX Class. It was his first win since the second race in Anaheim in January of the 2015 season, 18 races ago. Roczen missed the final eight races of last season with injury.

"We have been working really hard and it paid off," said Roczen. "This was a tough track tonight. We got the job done."

Despite having his three-race win streak come to an end, Dungey's podium streak dating back to last season when he won the 450SX Class title now sits at 21 races. That's also the same points advantage he now holds over Roczen in the championship standings.

"I made some good, clean passes after that bad start," said Dungey. "I made passes where I could and had a great race."

Rockstar Energy Husqvarna Factory Racing's Jason Anderson, who finished fourth, sits third in points, 26 points behind Dungey.

[caption id="attachment_57785" align="alignleft" width="300"]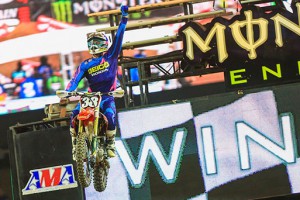 Christian Craig[/caption]

In the Western Regional 250SX Class Main Event, GEICO Honda's Jimmy DeCotis picked up his second SupercrossLive.com Holeshot Award of the year, leading his teammate Craig through the first turn. Craig made the pass for lead shortly thereafter. Defending Western Regional 250SX Class Champion Cooper Webb, who rides for the Yamalube/Star Racing Yamaha, started in seventh and made his way into the top three by the second lap and then moved into second place on Lap 3.

Points leader and last week's winner Joey Savatgy put his Monster Energy/Pro Circuit/Kawasaki into third place on Lap 5 after starting eighth. On Lap 9 while attempting a pass for the lead, Webb crashed but did not lose any positions, remounting right in front of Savatgy.

Craig crossed the line nearly three seconds ahead of Webb to join the Monster Energy Supercross win ranks with his dad, Mike Craig. Webb finished second, rebounding from a career-worst 21st-place finish last weekend, with Savatgy third.

"To come out of retirement and get my first win ever is amazing," said Craig, who last raced full time in 2013. "On the last lap the crowd was so loud; it was awesome."

"I didn't get a great start so I was playing catch up," said Webb. "Then I crashed and threw away any hopes of getting the win."

Webb and Savatgy now share the points lead at 98. Craig moved into third place, 11 points out of the lead.

Action resumes next Saturday night with the second Monster Energy Supercross race at San Diego's Petco Park on Saturday, February 13.

2016 AMA Supercross Phoenix Race Highlights Video
https://youtube.com/watch?v=vQB48-JJoro&list=PLS9EW4D0HArlYMitMPndy8EaXZjMXhunU

Source: Supercross Live

Phoenix SX Overview And Point Standings
2016 AMA Supercross Phoenix Image Gallery
(Click for full size images)
gallery
Overall Results - Supercross Class
| Pos. | # | Rider | Bike | Interval | Best Time |
| --- | --- | --- | --- | --- | --- |
| 1 | 94 | Ken Roczen | Suzuki RM-Z450 | 20 Laps | 1:02.548 |
| 2 | 1 | Ryan Dungey | KTM 450 SX-F Factory Edition | +04.540 | 1:02.727 |
| 3 | 3 | Eli Tomac | Kawasaki KX450F | +13.076 | 1:02.602 |
| 4 | 21 | Jason Anderson | Husqvarna FC450 | +19.952 | 1:03.219 |
| 5 | 18 | David Millsaps | KTM 450 SX-F Factory Edition | +21.944 | 1:03.595 |
| 6 | 22 | Chad Reed | Yamaha YZ450F | +25.514 | 1:03.669 |
| 7 | 10 | Justin Brayton | KTM 450 SX-F Factory Edition | +27.662 | 1:03.573 |
| 8 | 14 | Cole Seely | Honda CRF450 | +35.673 | 1:03.456 |
| 9 | 25 | Marvin Musquin | KTM 450 SX-F Factory Edition | +39.237 | 1:03.367 |
| 10 | 54 | William Hahn | Kawasaki KX450F | +52.501 | 1:04.325 |
| 11 | 28 | Weston Peick | Yamaha YZ450F | +56.933 | 1:04.491 |
| 12 | 800 | Mike Alessi | Honda CRF450 | +1:00.162 | 1:04.687 |
| 13 | 377 | Christophe Pourcel | Husqvarna FC450 | +1:11.165 | 1:05.029 |
| 14 | 12 | Jacob Weimer | Suzuki RM-Z450 | 19 Laps | 1:05.639 |
| 15 | 47 | Thomas Hahn | Yamaha YZ450F | +17.021 | 1:04.691 |
| 16 | 778 | Lawson Bopping | Yamaha YZ450F | +40.006 | 1:05.748 |
| 17 | 34 | Phillip Nicoletti | Yamaha YZ450F | +53.957 | 1:05.281 |
| 18 | 55 | Vince Friese | Honda CRF450 | +55.189 | 1:06.715 |
| 19 | 79 | Nicholas Schmidt | Suzuki RM-Z450 | 18 Laps | 1:07.953 |
| 20 | 761 | Cade Clason | Honda CRF450 | 17 Laps | 1:08.543 |
| 21 | 314 | Alex Ray | Honda CRF450 | 16 Laps | 1:08.409 |
| 22 | 240 | Bryce Stewart | Yamaha YZ450F | +10.588 | 1:10.628 |



Statistics






Race Time: 21:06.141

Margin of Victory: 04.540

Winner's Avg. Laptime: 1:03.307

2nd Place Avg. Laptime: 1:03.534

Best Qualifier: #1 - Ryan Dungey

Holeshot: #18 - David Millsaps

Conditions: Partly Cloudy / Humidity: 15% Temp: 66 °F



Laps Led




#94 Ken Roczen - 20 laps




Rider Point Standings - Supercross Class
( Race 5 of 17 )


Ryan Dungey - 119 / 3 wins

Ken Roczen - 98 / 1 win

Jason Anderson - 93 / 1 win

Chad Reed - 90

Eli Tomac - 88

Cole Seely - 83

Marvin Musquin - 63

David Millsaps - 61

Justin Brayton - 61

Jacob Weimer - 53

Manufacturer Point Standings - Supercross Class
( Race 5 of 17 )


KTM - 119

Suzuki - 98

Husqvarna - 93

Yamaha - 90

Kawasaki - 88

Honda - 83

Overall Results - Supercross Lites West Class
| Pos. | # | Rider | Bike | Interval | Best Time |
| --- | --- | --- | --- | --- | --- |
| 1 | 38 | Christian Craig | Honda CRF250 | 15 Laps | 1:04.207 |
| 2 | 1 | Cooper Webb | Yamaha YZ250F | +02.830 | 1:03.650 |
| 3 | 37 | Joey Savatgy | Kawasaki KX250F | +11.675 | 1:04.196 |
| 4 | 42 | Mitchell Oldenburg | KTM 250 SX-F | +18.001 | 1:04.660 |
| 5 | 69 | Colt Nichols | Yamaha YZ250F | +20.610 | 1:04.520 |
| 6 | 35 | Chris Alldredge | Kawasaki KX250F | +26.273 | 1:05.048 |
| 7 | 26 | Alex Martin | Yamaha YZ250F | +27.945 | 1:05.193 |
| 8 | 45 | Kyle Cunningham | Suzuki RM-Z250 | +29.303 | 1:05.365 |
| 9 | 58 | James Decotis | Honda CRF250 | +41.160 | 1:04.687 |
| 10 | 40 | Kyle Peters | Honda CRF250 | +46.055 | 1:06.083 |
| 11 | 85 | Michael Leib | Yamaha YZ250F | +52.914 | 1:06.441 |
| 12 | 68 | Cole Martinez | Yamaha YZ250F | +55.485 | 1:06.345 |
| 13 | 127 | Cole Thompson | KTM 250 SX-F | +1:00.348 | 1:06.235 |
| 14 | 43 | Fredrik Noren | Honda CRF250 | 14 Laps | 1:06.269 |
| 15 | 72 | Hayden Mellross | Yamaha YZ250F | +05.268 | 1:06.547 |
| 16 | 76 | Scott Champion | Yamaha YZ250F | +07.435 | 1:07.656 |
| 17 | 82 | Trevor Reis | Yamaha YZ250F | +16.002 | 1:07.949 |
| 18 | 96 | Noah Mcconahy | Husqvarna FC250 | +17.403 | 1:08.556 |
| 19 | 212 | Chase Marquier | Honda CRF250 | +25.312 | 1:08.188 |
| 20 | 222 | Chris Howell | Husqvarna FC250 | +1:07.543 | 1:08.747 |
| 21 | 87 | Austin Politelli | Yamaha YZ250F | 6 Laps | 1:08.696 |
| 22 | 16 | Zach Osborne | Husqvarna FC250 | DNS | |



Statistics






Race Time: 16:06.892

Margin of Victory: 02.830

Winner's Avg. Laptime: 1:04.459

2nd Place Avg. Laptime: 1:04.648

Best Qualifier: #1 - Cooper Webb

Holeshot: #58 - James Decotis

Conditions: Partly Cloudy / Humidity: 15% Temp: 66 °F



Laps Led




#38 Christian Craig - 15 laps




Rider Point Standings - Supercross Lites West Class
( Race 5 of 9 )


Cooper Webb - 98 / 3 wins

Joey Savatgy - 98 / 1 win

Christian Craig - 87 / 1 win

Colt Nichols - 81

Zach Osborne - 74

James Decotis - 71

Mitchell Oldenburg - 66

Kyle Peters - 62

Jordon Smith - 61

Kyle Cunningham - 54

Manufacturer Point Standings - Supercross Lites Class
( Race 5 of 17 )


Yamaha - 119

Honda - 103

Kawasaki - 98

KTM - 79

Husqvarna - 76

Suzuki - 54