Riders Prepare For 2016 WorldSBK Opener
Chaparral Motorsports
|
January 29, 2016
[caption id="attachment_58117" align="alignright" width="300"]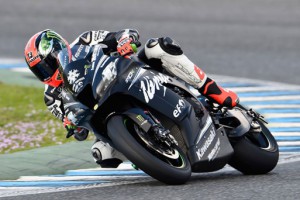 Tom Sykes 2016 World Superbike Jerez Test[/caption]

WorldSBK teams got their first glimpses of each other at the Jerez circuit in Spain during testing Jan. 26 and 27. While riders probably don't want to give away too much too soon, the test runs were competitive and riders pushed their bikes hard. If the track times were any indication, the KRT Kawasaki team of Tom Sykes and current World Champion Jonathan Rea are going to be a potent 1-2 punch and perhaps the team to beat in 2016.

Sykes posted the fastest one-lap time at the Jerez circuit at 1:40.882 while Rea posted the third best time at 1:41.210. In between the two Kawasaki riders was Aruba.it Racing-Ducati WSB's Chaz Davies at 1:41.041.

The familiar faces of Pata Crescent Yamaha riders Alex Lowes and Sylvain Giuntoli also placed well. Lowes posted a fifth-best time of 1:41.505 while Giuntoli turned in a ninth-best lap of 1:42.165.

Pata Hard At Work
[caption id="attachment_58115" align="alignright" width="300"]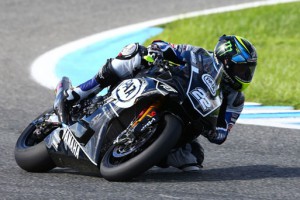 Alex Lowes 2016 World Superbike Jerez Test[/caption]

The Pata Crescent Yamaha team had been working diligently in the weeks prior to the Jerez test runs. That team and Davies' Ducati team spent time at the Portimao circuit in Portugal testing equipment and dialing in their bikes' performance to get ready for Jerez.

Guintoli, who was the 2014 WorldSBK champion, was running about a half second behind the Ducati riders at Portimao,. But he didn't seem too bothered by it.

"We still have a lot of work to do but we have a lot of components to test," Guintoli said. "We are still very early in what we want to do. It is important to carry on the development and find a good base that we can use in Phillip Island [Australia] for the first round [Feb. 26-28]."

Among the components Guintoli tested were new Ohlins forks. The forks' performance provided a nice mix of feel and feedback after his first test ride. But Guintoli said he would know more after riding at Jerez.

Portimao and Jerez were opportunities for Lowes to get back in the saddle after he suffered a shoulder injury from a crash in November. It was also an opportunity for Lowes to test his bike, as well as his recovery and fitness.

[caption id="attachment_58119" align="alignright" width="300"]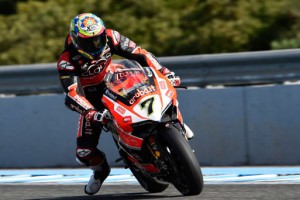 Chaz Davies 2016 World Superbike Jerez Test[/caption]

"If I can ride to a good level there are plenty of things we have to work through, if not, then I will get my head down with some more physio and concentrate on the start of the season in Australia," he said.

Chaz Davies and teammate Davide Giugliano were also out testing bike setup. Davies worked with new electronics and new exhaust. After the Portimao tests, he said it looked as though the team was going in the right direction as it tested equipment and electronics.

"Just different strategies and a different way of tuning what we had before," Davies said. "Trying to get a bit better. On the tuning side of things, the options are endless and one big focal point this winter was trying to get something that works just a little bit better at different times during the race. It seems that the first impressions are quite good anyway."

Nicky Hayden To Make SBK Debut
[caption id="attachment_58118" align="alignright" width="300"]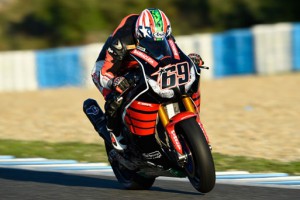 Nicky Hayden 2016 World Superbike Jerez Test[/caption]

Former MotoGP World Champion Nicky Hayden will be making his WorldSBK debut this year. The veteran rider turned in the fourth-best time at Jerez despite uncooperative weather and quite a bit of tinkering with his Honda.

The team was testing a new engine, fork and a rear link. The team was trying to get the right amount of horsepower out of the bike's Fireblade engine. Hayden was also trying to get the right feel for the Ohlins fork he tested. Hayden said the fork felt good in the turns but it rebounded too fast for his liking when he released the front brake.

After a few test runs, Hayden had mixed reviews.

"There were some positives to take from day one, although there was not quite the same grip I had here in November," Hayden said in Cycle News. "We do not have much time as this is the only test we are doing before Phillip Island."

The WorldSBK season consists of 14 races. The season opener is at Phillip Island in Australia Feb. 26-28 and the finale comes at the Losail International Circuit Oct. 28-30. Along the way, the series makes stops at the TT Assen Circuit in The Netherlands (April 15-17), Sepang International Circuit in Malaysia (May 13-15), the Misano World Circuit in Italy (June 17-19) and Laguna Seca in Salinas, California (July 8-10).

2016 World Superbike Jerez Test Image Gallery
(Click for full size images)