James Stewart Eyes Supercross Return In Oakland
Chaparral Motorsports
|
January 27, 2016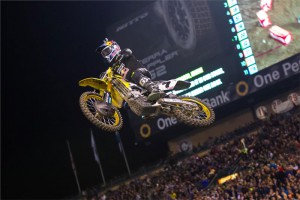 Two-time former Supercross champion James Stewart is looking to return to the Monster Energy Supercross series in time for the fourth round in Oakland, California on Jan. 30, according to his Yoshimura Suzuki team.

Stewart missed the second and third races of the series in San Diego and Anaheim, following a crash in the series opening main event. Stewart collided with reigning Supercross champ Ryan Dungey while both were running near the front and lost consciousness.

Stewart has been practicing since the crash. However, after trying to prepare for Anaheim II on Jan. 23, the Suzuki rider opted out because he wasn't feeling 100 percent.

"The team is happy that James is taking a cautious approach to his return and we're encouraged by his progress," Yoshimura Suzuki team manager Mike Webb said. "We want him to feel fully prepared before he gets back into a racing situation and with the improvements he's making he feels confident he'll able to race in Oakland."

A Lost Season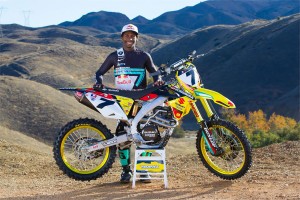 Stewart returns to racing this year after missing the entire 2015 season for failing a drug test. After a Supercross race in Seattle in April 2014, Stewart tested positive for amphetamines, a banned substance by the Federation Internationale de Motocyclisme, Supercross' governing body.

According to USA Today, Stewart's positive test was because he was prescribed Adderall to treat what the newspaper wrote was an unspecified condition.

However, Stewart didn't tell authorities he was taking the medication until after the positive test results came back. Motocross Action magazine wrote that, in fact, the World Anti-Doping Agency asked Stewart in Seattle, where he was tested, if he was taking any medications and Stewart said "no."

WADA allows athletes to compete if they are taking Adderall. However, they must file what's called a Therapeutic Use Exemption before competition in order to do so and Stewart hadn't done that.

Stewart appealed the suspension to the Court of Arbitration for Sport in Lausanne, Switzerland; but the court upheld the decision. His suspension was made official in December 2014 - 16 months, retroactive to the date of the test, essentially wiping out the 2015 season for him.

Making Up Ground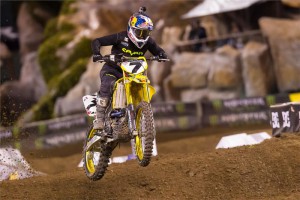 When he returns, Stewart will have a significant amount of ground to make up if he wants 2016 to be the year he wins a third Supercross overall title. Ryan Dungey has already put himself in a position for another championship run. He finished second in the opening race at Anaheim, then followed up that performance with wins at San Diego and Anaheim II. Dungey sits atop the series standings with 72 points, followed by Chad Reed with 59 and Jason Anderson with 57.

Stewart's team is also looking to have his teammate, Blake Baggett, return to racing in time for Oakland. Baggett was injured in a preseason crash.

"We're looking forward to having both James and Blake back for Oakland and having the team back to full strength," Webb said in Cycle News.