2016 AMA Supercross Anaheim 2 Race Results
Chaparral Motorsports
|
January 25, 2016
Ryan Dungey Continues Dominance
[caption id="attachment_57620" align="alignright" width="300"]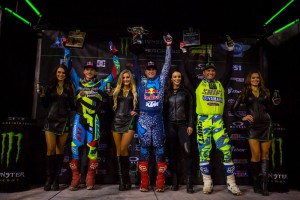 2016 AMA Supercross Anaheim 2 450SX Winner's Podium[/caption]

Two riders who have started off the Supercross season with a bang continued their impressive riding over the weekend. Ryan Dungey won his second straight race in the 450SX Main Event series, while Cooper Webb won his third consecutive race - and seventh straight overall dating back to last year - in the 250SX Main Event.

In front of more than 43,00 fans on Jan. 23 at Angels Stadium in Anaheim, California, Dungey was the man to beat. After starting the race in second place, behind pole sitter David Millsaps, Dungey took the lead on the third lap and never looked back. With great acceleration and impressive balance on turns on his KTM, Dungey pulled away for his second consecutive series victory, earning 25 points in the standings which puts himself in strong position early in the season.

Through the first three of the season's 17 races, Dungey leads the overall standings with 72 points. Chad Reed, who finished second on Saturday in Anaheim, also trails Dungey in the overall standings with 59 points. Jason Anderson is in third overall after a fifth-place result over the weekend.

[caption id="attachment_57624" align="alignleft" width="300"]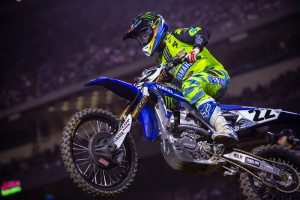 Chad Reed[/caption]

Dungey had to avoid some damage early on. Trey Canard, riding an HRC Honda, had two crashes in the first two laps and had to leave the race because of a hand injury. Yamaha rider Weston Peick also suffered a crash in the race, but remounted and went on to a 14th place finish.

"I had to charge the first five laps," Dungey said following his win. "Chad [Reed] was on it tonight, and I know he wanted to get his ninth win here in Anaheim."

Reed did well to hold on for second place. After starting the race in third, he made an early move to try and get to the head of the pack. Though he could never get in front of Dungey, the veteran ride was able to fend off Ken Roczen in order to earn that spot on the podium. Roczen, who was in ninth when the race began, finished in third.

The race was the 188th in Reed's Supercross career, which tied him with Larry Ward for for third all-time.

"I keep telling myself that I should appreciate second-place finishes, but I am a competitor," Reed said. "I wanted my ninth win in Anaheim tonight, but we will keep pushing."

Drama in 250SX
[caption id="attachment_57611" align="alignright" width="300"]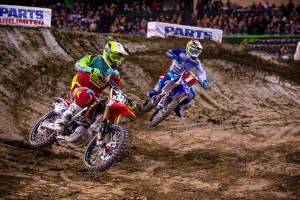 Craig and Webb[/caption]

As dominant as Dungey has been, nobody this season is on a bigger roll than Cooper Webb, who continues to fend off all comers in the 250SX series. Despite a slow start that forced him to make a move in the middle of the race, he was still able to hold on for his third win in as many races this season atop his Yamaha.

Webb started the race in fifth, well behind leader Christian Craig. After Webb was able to move up to second, the two riders kept trying to make moves, as Craig cut off passing lanes whenever possible in an attempt to try and maintain his lead. Finally, in the 10th of the race's 15 laps, Webb finally was able to make the pass. He never looked back and was able to finish first.

Craig lost his concentration briefly after Webb passed him. That small moment of confusion allowed Zach Osborne to also make a pass. Osborne finished second overall, dropping Craig down to third place after he led for the first nine laps.

"It was an awesome race," Webb said to Cycle News after his thrilling win. "Once we [Webb and Craig] started battling, it was a fun race. It felt like we traded places like 10 times. I struggled all day and made some changes coming into tonight's Main event, and it worked out."

With his three wins in as many races, Webb holds a large lead in the overall standings with 75 points. Osborne, thanks in large part to his second-place spot in Anaheim, is in second with 57. Joey Savatgy, who just missed the podium on Saturday by finishing fourth, is third overall at 53 points.

The series, which runs through May 7, continues Jan. 30 at the O.co Coliseum in Oakland, California.

2016 AMA Supercross Anaheim 2 Highlights
http://www.youtube.com/watch?v=z9MrqM8Vw24&list=PLS9EW4D0HArnUiCdB16oMbmmRPykQaAWe

Ryan Dungey Goes Back-to-Back
[caption id="attachment_57625" align="alignright" width="300"]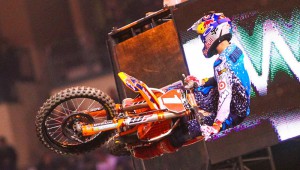 Ryan Dungey[/caption]

In front of 42,943 fans tonight at Angel Stadium, Red Bull KTM's Ryan Dungey won his second consecutive Monster Energy AMA Supercross, an FIM World Championship, race of the season.Yamalube/Star Racing Yamaha's Cooper Webb won his third consecutive Western Regional 250SX Class Main Event, extending his points lead to 18.

BTO Sports/WPS/KTM's Davi Millsaps opened the 450SX Class Main Event with the SupercrossLive.com Holeshot Award. Dungey followed in second with Monster Energy 360fly/Chaparral/Yamaha Factory Racing's Chad Reed in third.

At the end of Lap 3, Dungey passed Millsaps and began to pull away. Reed passed Millsaps for second place on Lap 5. Monster Energy Kawasaki's Eli Tomac also passed Millsaps on the following lap for third place. On the last lap of the race, Tomac went down while applying pressure on Reed for second and gave the number-two position to RCH Soaring Eagle/Jimmy John's/Suzuki Factory Racing's Ken Roczen.

[caption id="attachment_57621" align="alignleft" width="300"]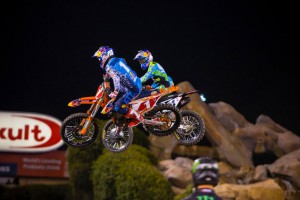 Dungey and Roczen[/caption]

Dungey's win marked the 24th of his career and he extended his points lead to 13. For the second consecutive week Reed finished in the runner-up spot, and for the first time this year Roczen finished on the podium with a third place.

"I had to charge the first five laps," said Dungey. "Chad [Reed] was on it tonight, and I know he wanted to get his ninth win here in Anaheim."

Reed is now tied with Larry Ward for third on the all-time 450SX Class start list with 188.

"I keep telling myself that I should appreciate second-place finishes, but I am a competitor," said Reed. "I wanted my ninth win in Anaheim tonight, but we will keep pushing."

GEICO Honda's Jimmy DeCotis won the SupercrossLive.com Holeshot Award to start the Western Regional 250SX Class Main Event but was quickly passed when Monster Energy/Pro Circuit/Kawasaki's Joey Savatgy pulled into the lead coming out of Turn 1. On the opening lap GEICO Honda's Christian Craig, who won his Heat Race earlier in the evening, passed Savatgy for the lead. Webb, who won the previous two races this season, was fifth at the end of the opening lap.

[caption id="attachment_57613" align="alignright" width="300"]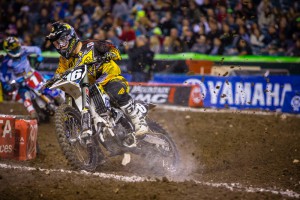 Zach Osborne[/caption]

Rockstar Energy Husqvarna Factory Racing's Zach Osborne held down the number-three position as Webb worked his way into fourth place. The following lap, Webb advanced to third, and advanced into second place after Savtagy, who was riding in second place, crashed.

By the end of Lap 7, Webb moved within striking distance of Craig and a heated battled ensued. Craig and Webb traded places over the next several laps before Webb made a pass stick on Lap 10 and rode to victory. Shortly after Webb passed Craig, Osborne followed suit and moved into second place.

Webb became the first rider in history to win four straight races in Anaheim, dating back to last year.

"It was an awesome race," said Webb. "Once we (Webb and Craig) started battling, it was a fun race. It felt like we traded places like 10 times. I struggled all day and made some changes coming into tonight's Main Event, and it worked out."

Osborne finished second and Craig finished third, the best finish of his career.

Racing resumes next Saturday night at Oakland's O.co Coliseum on Saturday, January 30.

Source: Supercross Live

Dungey Clinches Second Victory in a Row with Anaheim 2 Win
[caption id="attachment_57626" align="alignright" width="300"]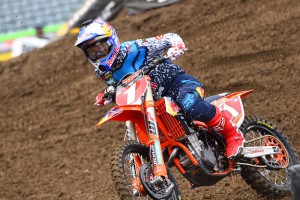 Ryan Dungey - Photo: Simon Cudby[/caption]

Red Bull KTM Factory rider Ryan Dungey earned his second victory in a row at the third round of the AMA 450 Supercross Championship held at Angel Stadium to strengthen his points lead on the series.

Dungey had the third fastest lap time in the afternoon practice qualifying sessions to earn a great gate pick in his heat race. When the gate dropped for his heat, he was able to jump out front early, work his way into the lead and take the victory.

His teammate, Marvin Musquin, had a good jump off the gate in his heat race but was pushed out off the start and had to fight his way back. He was able to come from a last place start to finish 6th in the heat, but unfortunately, did not transfer straight to the main.

Musquin regrouped and lined up for his semi race. In this race, he got another good jump and this time held on to pull the holeshot. He lost the lead after a mistake in the whoop section. He remained in 2nd through the end of the race to earn a spot on the main event gate.

[caption id="attachment_57616" align="alignleft" width="300"]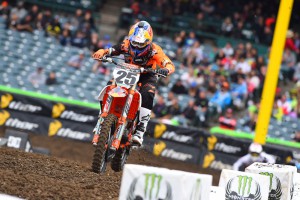 Marvin Musquin - Photo: Simon Cudby[/caption]

In the main event, it was Dungey who leaped off the line ahead of the field pulling a 2nd place start to fellow KTM rider, Davi Millsaps. Dungey quickly maneuvered around Millsaps and put his Red Bull KTM 450 SX-F Factory Edition motorcycle into the lead. Once out front, Dungey was able to pull a gap on the rest of the field and go on to clinch his second victory.

"I was really happy to get into the lead early," remarked Dungey after the race. "I just wanted to get out front, ride my own race and pull away. It's a lot easier when you can get out front and focus on your own rhythm. I'm really glad to get this win and hope to keep this momentum going next weekend."

Meanwhile, Musquin was pushed out off the start once again, this time causing him to crash into the tuff blocks on the side of the track. When he recovered he was sitting in last position. He charged forward and quickly made up positions as he crept up near the top ten. In a twenty lap race, he was able to charge back to 9th when the checkered flag flew.

"I felt good today," stated Musquin. "The track was difficult but I felt strong. Unfortunately, I just had some bad mistakes on the starts that cost me. I am happy to have worked my way into the top ten and will continue to improve from there."

The final member of the Red Bull KTM Factory Team, Dean Wilson, suffered a crash during the afternoon practice sessions that caused him to sit out the race. Wilson is believed to have suffered a knee injury to the same knee he hurt the previous season. He is going to a doctor early next week for further review. More details on the extent of his injury will be given at that time.

Next Event: Oakland, CA - January 30, 2016

Source: KTM North America

Zach Osborne Earns 2nd at Anaheim 2 250SX
[caption id="attachment_57612" align="alignright" width="300"]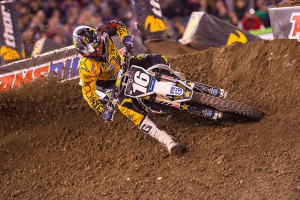 Zach Osborne - Photo: Simon Cudby[/caption]

The Rockstar Energy Husqvarna Factory Racing team raced at Anaheim for the final time this year on Saturday, for the third round of the 2015 AMA Supercross series. Zach Osborne, the team's only 250SX West rider, earned his second podium finish of the season, while Jason Anderson and Christophe Pourcel finished fifth and 12th, respectively, in 450SX.

After a red flag and a restart due to a gate malfunction in the first 250SX West heat, Zach Osborne, the fastest qualifier in the class, got a midpack start and was on the gas quickly. He navigated his Husqvarna FC 250 into third by beginning of the second lap, and was closing in on second by the end. He fought for position for the rest of the race and eventually settled in to a third-place finish. In the main, Osborne started fifth and soon made the pass for third where he was immediately hunted for the position by the former champ, Cooper Webb. Osborne put up a fight for the next few laps, but eventually conceded the position before moving back into third after another rider went down around the halfway mark. Second place was soon in sight with six laps to go. Osborne soon got in the mix and applied some serious pressure before making the pass for second right before the whoops with four laps to go. He held the position to finish second, his second podium finish so far this season. He is currently second overall in 250SX West rider point standings.

"I ended up getting a podium with a second-place finish and also pulled the pole position so it was a really good day," said Osborne. "I rode a little tight tonight but it's still a solid result considering I threw a second place away last week with a lap and a half to go. It was a solid and consistent ride. I saw the battle in front of me and knew it was going to tighten up quick. I got to the back of them and there was a three-second space, then all of a sudden I was right on them like three or four corners later. I didn't attack quick enough to give myself a shot at anything but we'll come out swinging next week in Oakland."

Jason Anderson got a taste of victory at Anaheim 1, and he returned to the historic supercross venue with the hopes of reliving that moment. After finishing sixth in his heat, Anderson lined up for his semi knowing he had to make quick work of transferring so he could focus on the task at hand in the main. He pulled a top-three start in the semi and makes smooth passes to bring his Husqvarna FC 450 into the lead by the end of the first lap before taking the win. Anderson started mid-pack in the main and slowly but surely made his way through the field before being able to close in on the top five by the halfway point. He eventually made the pass for fifth with nine laps to go and held strong to the finish.

"I got fifth, which is nothing to be bummed about," said Anderson. "It's not the greatest, but it's not the worst. I still pulled through, and now need to focus on coming back next week and getting on the podium again. There seemed to be a lot of lappers out there, and I think it's because there's a lot of guys that are currently out, so a majority of riders who usually don't make the mains are sneaking in and it seems to be causing a lot of traffic."

Christophe Pourcel earned his way to the main after finishing fifth in his heat and fifth in his semi. He started in the back of the pack in the main and spent the remainder of the race fighting for position. He eventually finished 12th, and is currently 12th overall in 450SX rider point standings.

"I have the speed and I feel comfortable," said Pourcel. "It feels good to go fast and be out there with all those guys. I just have to bring the speed from practice into the night show. Tonight was pretty good. I almost qualified through the heat. I was a little stuck with the big set of whoops. I was fast in them in the morning, but they changed them for the night. It was a little sketchy, and I was losing too much speed in them. I ended up 12th, which is still progress from last week. I just have to keep charging. It's good. I'm just doing my thing."

Source: Husqvarna Motorcycles

Ken Roczen and RCH Suzuki Podium at Anaheim SX
[caption id="attachment_57622" align="alignright" width="200"]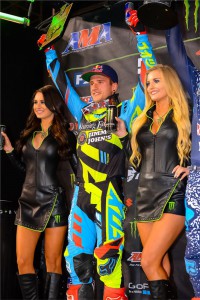 Ken Roczen[/caption]

RCH Suzuki Factory Racing's Ken Roczen turned in a solid third-place finish in Saturday night's Monster Energy AMA/ FIM World Supercross Championship third-round at Angel Stadium of Anaheim in California.

RCH Soaring Eagle/ Jimmy John's/ Suzuki Factory Racing's Roczen struggled to get a good jump on the field when the starting gate dropped on the Main Event, but the three-time Anaheim 450SX winner stayed focused throughout the 20-lap feature, picking-up positions each lap.

The top-three finish was Roczen's best of the year on what was by far the most demanding track of the season. The strong ride also resulted in the 21-year-old German's first podium of the year.

Said Roczen, who is currently sixth in the points: "The good thing is that we're making steps forward. I practiced a lot of starts last week and feel pretty comfortable. Obviously it didn't happen in the Main but we're going to keep working on that because I think that's what is holding me back from being at the very top. Second half of the race, I feel like I put in a strong ride. I made a little mistake with about a lap to go. Otherwise, I think I could have brought the heat a little bit with Chad (Reed). It's hard coming from the back. That's the bottom line. The track was tough out there. The whoops were something else, so you really had to keep your focus. We're going to come back and we're going to keep trying. That's for sure."

While the top-three finish fell two spots short of the ultimate goal, Roczen's No. #94 Suzuki RM-Z450 was fast all day: The 2014 Lucas Oil Pro Motocross titlist turned-in the fastest speed during the day's second qualifying session and won the Holeshot during his heat race where he went on to finish second to current champion Ryan Dungey.

Unfortunately, when the gate dropped on the third Main Event of 2016, Roczen struggled to position himself among the leaders getting in the first turn and spent the first half of the race playing catch-up. On the flip-side, the distance between him and the front-runners wasn't insurmountable; and by the second lap he was already inside the top-10.

[caption id="attachment_57623" align="alignleft" width="300"]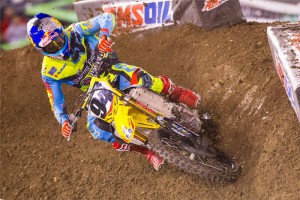 Ken Roczen[/caption]

By the one-quarter mark, Roczen was up to seventh, sixth a lap later; and fourth by halfway. Over the next 10 circuits, he gradually reeled-in third-place Eli Tomac and second-placed Chad Reed. As the battle between Roczen and Tomac heated-up on the closing lap, Tomac lost the handle, handing the position and the spot on the podium to Roczen.

While Roczen was generally pleased with his overall effort, he knows where to put in the extra work to be a consistent fixture at the front of the field.

"Three rounds and I've just been getting bad starts," Roczen explained. "My heat race start actually wasn't bad. We're just going to keep working it and working it. I'm doing everything I can to be the best that I can be. That's all I can do. The speed is there. The fitness is there. Everything is solid so far. I'm really happy with the team. We're working great together and we'll come back and be at the very top."

Roczen's machine was the lone bike under the RCH team canopy for round three after his team-mate Broc Tickle was injured in a practice crash last week and ruled-out for the next four-to-six weeks. Tickle was diagnosed with a fractured distal radius in his right forearm and underwent surgery to repair the fracture.

Following the race, RCH co-owner Carey Hart offered his perspective on the night's action and was quick to point out that often, at times, success in motorsports comes from being in the right place at the right time.

Said Hart: "We started off really strong with Ken being the top qualifier. There's no question how good Ken is riding. He had a great start in the heat race; it just didn't work out according to plan in the Main Event. We had a gift handed to us when Eli (Tomac) washed-out but that's racing. It's never good to see someone crash but Eli made a mistake and Ken capitalised and got on the box."

Monster Energy AMA/ FIM World Supercross heads to O.Co Coliseum in Oakland, California next weekend, January 30th.

Source: Team Suzuki

Monster Energy Kawasaki Continues to Improve
[caption id="attachment_57619" align="alignright" width="300"]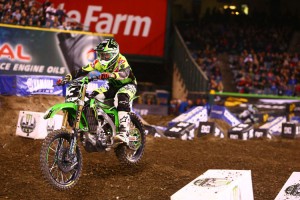 Eli Tomac - Photo: Jeff Kardas[/caption]

Monster Energy® Kawasaki rider Eli Tomac put forth his strongest charge of the season Saturday night at Angel Stadium, for Monster Energy AMA Supercross, an FIM Championship. It showed right from the gate drop of his heat race, as he nearly earned the holeshot. Tomac kept strong pressure on the top two and ended up crossing the line third. Tomac backed up his heat race performance in the Main Event where he began carving through the competition from a tenth place start. In the first five laps, Tomac set the fastest main event lap time while quickly passing seven riders and methodically applying pressure for second place. Unfortunately, a last lap mistake caused Tomac to slip back to fourth place, his third consecutive fourth place of 2016. Teammate Wil Hahn had the opportunity to race a few extra laps as he qualified into the night show from the Last Chance Qualifier. Hahn showed his true heart and determination Saturday night as he fought from fifteenth to eleventh, another improvement from previous weeks for Hahn.

"We improved tremendously tonight and were fighting for second," said Tomac. "Unfortunately, I made a small mistake on the last lap, which resulted in a fourth place finish again. I know I have the speed to win, I just need to stay focused."

[caption id="attachment_57606" align="alignleft" width="300"]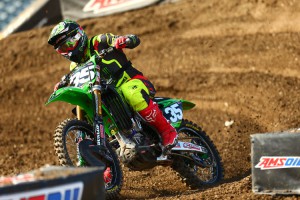 Chris Alldredge - Photo: Jeff Kardas[/caption]

"I had huge improvements throughout the day," said Hahn. "The team and I are making big leaps forward every race. Results take time, but I feel we're on the right track for success. I'm looking forward to Oakland and building on tonight's race."

Kawasaki rider Jake Weimer continued to turn heads as he led several laps in his heat race and qualified directly into the Main Event. In the 450 Main, Weimer had a great start on his KX450F coming around turn one in fifth. He gave 100% on the toughest track yet and took home an impressive top ten finish.

Monster Energy/Pro Circuit/Kawasaki riders Joey Savatgy and Chris Alldredge were back to Angel Stadium of Anaheim, California for the third stop of the 2016 Monster Energy AMA Supercross, an FIM Championship. Savatgy entered the weekend at the top of the charts by being fastest in first practice. That momentum carried through the rest of the day and into the beginning of the night show as Savatgy took his second heat race win of the season. Teammate Chris Alldredge headed into the night show in ninth, and ready to improve in his heat race. Alldredge did exactly that, riding smart and consistent in his heat to bring his KX250F home in fourth. In the 250 Main Event Savatgy came out of the gate strong and was in first before the end of the first lap, while Alldredge claimed a top ten start. On lap six a downed rider at the end of the whoops section caused Savatgy to change up his line, resulting in a crash pushing him back to sixth. Savatgy, never one to throw in the towel, remounted, put his head down, and fought until the end making a last lap pass to take the checkers in fourth. Meanwhile, Alldredge rode smart and was poised to take a top ten early in the race, until a last lap mistake resulted in a 12th place finish.

[caption id="attachment_57608" align="alignright" width="300"]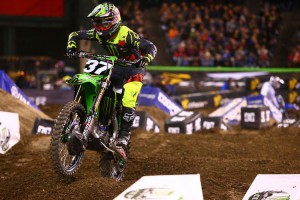 Joey Savatgy - Photo: Jeff Kardas[/caption]

"I made a lot of small improvements tonight," said Alldredge. "I had the starts I needed, and felt good in practice. My pace was pretty good, and I carried the momentum into my heat were I came home in fourth. I made a few mistakes in the main, and didn't end up where I wanted to be. I have the team and the bike to be up at the front and I won't stop pushing until I'm there."

"Overall it was an up and down day," said Savatgy. "I was fast qualifier in first practice and ended third overall heading into the night show. My heat race went well, though I didn't quite get the holeshot, I pushed into the lead right away and ended up taking the win in the second heat. In the Main Event I had another good start and was in the lead for a brief period, but made a small mistake and dropped back to second. Over the next couple laps I started to reel in first place, and was closing the gap well enough to where I knew in the next couple laps I'd be able to make the pass. I ended up having to change my line in the whoops because of a downed rider, I caught an edge, lost control and went down. I quickly got back up and was able to minimize the damage, then made a few passes back to fourth. All in all it isn't the result I want, but we'll get it. We're getting faster, qualifying better, and we're closer to the Main Event race pace."

Source: Kawasaki Racing

Christian Craig Takes His First Podium
[caption id="attachment_57609" align="alignright" width="300"]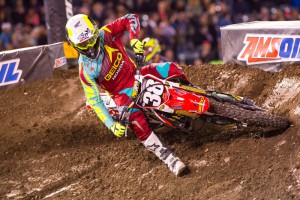 Christian Craig - Photo: Simon Cudby[/caption]

The story of Christian Craig's comeback to Monster Energy AMA Supercross just keeps getting better, and it now includes a career-first podium finish and a heat race victory. Craig had a spectacular night at the third race of the 2016 season, at Angel Stadium in Anaheim, California, which included several laps battling for the lead against defending 250SX West Champion Cooper Webb. It was the stiffest challenge anyone given Webb this year, and the Anaheim fans cheered every move.

In their qualifying heat race, Craig passed and defeated Webb for the victory. "I had number one in the heat race with me, knew I had to get a good start to stay up front with him," said Craig. "He ended up getting a holeshot, but the first lap I was quicker in the whoops and made the pass. I ended up winning my first heat race ever, that was a boost of confidence coming into the main."

Craig and his GEICO Honda teammate Jimmy Decotis fought for the holeshot in the main event, with Decotis getting the nod. Craig lost a spot but quickly passed his way back into the lead. He led for eight laps before battling again with Webb, and the two went back and forth with numerous passes. Craig finally lost the lead for good on lap 11, and after that duel he admitted that he got tight and lost his pace, ultimately dropping to third.

"I just clicked those laps off, the first ten laps went quick," said Craig after the race. "My last five laps were slow-but we know what we need to work on. This is my first podium ever, something to build on, and I'm happy."

[caption id="attachment_57610" align="alignleft" width="200"]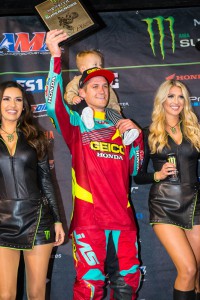 Christian Craig - Photo: Simon Cudby[/caption]

Craig had actually retired from racing in 2013, but decided to make a full-scale comeback in 2015. While on the podium at Anaheim, Craig spoke to the Fox Sports TV crew, and brought his son, Jagger, with him to explain his comeback.

"There's no better feeling-it's all learning for me," he said to the live television audience. "I got to battle with the number one. I got tight, never been up there for that long. It's good, it's coming together now, all my hard work. I definitely do this for my son. He's the reason I came back to racing. When he was born, I looked at him and said, 'I don't want him to grow up knowing his dad gave up on his dream.' I'm back and I'm showing him that his dad can do it."

The other two GEICO Honda 250 riders had solid nights as well. Decotis grabbed the holeshot and held fourth most of the way before losing a position in a last-lap battle.

"Beginning of the day was bad, I struggled in practice, but we made a bike change and I felt awesome for the night show," said Decotis. "My heat race was great, and then I got the holeshot in the main event. I'm struggling with the first few laps. I'm just getting eaten up, I have to work on that. My last lap was a bad lap and Joey Savatgy got me. Fifth place is okay, but not great because it should have been fourth. I'm a little bummed on it."

[caption id="attachment_57607" align="alignright" width="300"]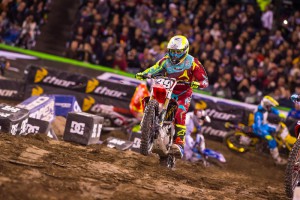 Jordon Smith - Photo: Simon Cudby[/caption]

Behind him came teammate Jordon Smith, who took sixth to follow his podium finish from a week ago in San Diego. Smith, a second-year pro, is working on his consistency, and tried to avoid a big mistake on a very difficult Anaheim track.

"The day for me was a little rough," said Smith, who is fourth in the series standings. "I felt good but I was just struggling a little bit in the big whoops. I crashed there in practice and kind of hurt my wrist a little bit. Overall I got out of it pretty safe and scored some points, it's a long season and we're all right there still. Just want to be consistent every week and put ourselves in a good position at the end of the year."

The team's 450SX rider, Justin Bogle, elected to sit out of the race after a big crash last weekend in San Diego, as well as lingering pain from a broken foot suffered in December. Bogle is listed as day-to-day and a decision has not been made on his status for the next race, which takes place this weekend in Oakland, California.

Source: GEICO Honda

Anaheim 2 SX Overview And Point Standings
2016 AMA Supercross Anaheim 2 Image Gallery
(Click for full size images)
Overall Results - Supercross Class
| Pos. | # | Rider | Bike | Interval | Best Time |
| --- | --- | --- | --- | --- | --- |
| 1 | 1 | Ryan Dungey | KTM 450 SX-F Factory Edition | 20 Laps | 57.472 |
| 2 | 22 | Chad Reed | Yamaha YZ450F | +02.873 | 57.945 |
| 3 | 94 | Ken Roczen | Suzuki RM-Z450 | +03.405 | 57.432 |
| 4 | 3 | Eli Tomac | Kawasaki KX450F | +09.650 | 57.202 |
| 5 | 21 | Jason Anderson | Husqvarna FC450 | +18.417 | 58.151 |
| 6 | 14 | Cole Seely | Honda CRF450 | +21.170 | 58.229 |
| 7 | 18 | David Millsaps | KTM 450 SX-F Factory Edition | +25.069 | 58.407 |
| 8 | 10 | Justin Brayton | KTM 450 SX-F Factory Edition | +26.344 | 58.322 |
| 9 | 25 | Marvin Musquin | KTM 450 SX-F Factory Edition | +26.770 | 58.067 |
| 10 | 12 | Jacob Weimer | Kawasaki KX450F | +37.576 | 58.747 |
| 11 | 54 | William Hahn | Kawasaki KX450F | +39.600 | 59.171 |
| 12 | 377 | Christophe Pourcel | Husqvarna FC450 | +54.499 | 59.655 |
| 13 | 800 | Mike Alessi | Honda CRF450 | 19 Laps | 1:00.467 |
| 14 | 28 | Weston Peick | Yamaha YZ450F | +11.501 | 58.368 |
| 15 | 47 | Thomas Hahn | Yamaha YZ450F | +21.028 | 59.254 |
| 16 | 55 | Vince Friese | Honda CRF450 | +29.758 | 1:00.164 |
| 17 | 79 | Nicholas Schmidt | Suzuki RM-Z450 | +39.698 | 1:02.279 |
| 18 | 778 | Lawson Bopping | Yamaha YZ450F | +48.540 | 1:00.886 |
| 19 | 151 | Dakota Tedder | Kawasaki KX250F | 18 Laps | 1:02.269 |
| 20 | 801 | Jeff Alessi | Suzuki RM-Z450 | 16 Laps | 1:05.528 |
| 21 | 34 | Phillip Nicoletti | Yamaha YZ450F | 6 Laps | 1:00.431 |
| 22 | 41 | Trey Canard | Honda CRF450 | 2 Laps | 1:00.403 |



Statistics






Race Time: 19:25.414

Margin of Victory: 02.873

Winner's Avg. Laptime: 58.270

2nd Place Avg. Laptime: 58.414

Best Qualifier: #1 - Ryan Dungey

Holeshot: #18 - David Millsaps

Conditions: Clear / Humidity: 77% Temp: 56 °F



Laps Led




#18 David Millsaps - 3 laps

#1 Ryan Dungey - 17 laps




Rider Point Standings - Supercross Class
( Race 3 of 17 )


Ryan Dungey - 72 / 2 wins

Chad Reed - 59

Jason Anderson - 57 / 1 win

Cole Seely - 55

Eli Tomac - 54

Ken Roczen - 51

David Millsaps - 36

Justin Brayton - 35

Jacob Weimer - 33

Marvin Musquin - 31

Manufacturer Point Standings - Supercross Class
( Race 3 of 17 )


KTM - 72

Yamaha - 59

Husqvarna - 57

Honda - 55

Kawasaki - 54

Suzuki - 51

Overall Results - Supercross Lites West Class
| Pos. | # | Rider | Bike | Interval | Best Time |
| --- | --- | --- | --- | --- | --- |
| 1 | 1 | Cooper Webb | Yamaha YZ250F | 15 Laps | 57.597 |
| 2 | 16 | Zach Osborne | Husqvarna FC250 | +04.640 | 58.710 |
| 3 | 38 | Christian Craig | Honda CRF250 | +09.294 | 58.875 |
| 4 | 37 | Joey Savatgy | Kawasaki KX250F | +13.351 | 58.552 |
| 5 | 58 | James Decotis | Honda CRF250 | +16.419 | 59.550 |
| 6 | 39 | Jordon Smith | Honda CRF250 | +18.086 | 59.586 |
| 7 | 45 | Kyle Cunningham | Suzuki RM-Z250 | +18.674 | 1:00.311 |
| 8 | 69 | Colt Nichols | Yamaha YZ250F | +22.005 | 59.601 |
| 9 | 42 | Mitchell Oldenburg | KTM 250 SX-F | +37.688 | 1:00.279 |
| 10 | 40 | Kyle Peters | Honda CRF250 | +41.902 | 1:01.176 |
| 11 | 68 | Cole Martinez | Yamaha YZ250F | +44.532 | 1:01.634 |
| 12 | 35 | Chris Alldredge | Kawasaki KX250F | +46.709 | 1:00.564 |
| 13 | 85 | Michael Leib | Yamaha YZ250F | +53.074 | 1:00.772 |
| 14 | 492 | Luke Clout | Suzuki RM-Z250 | 14 Laps | 1:03.220 |
| 15 | 76 | Scott Champion | Yamaha YZ250F | +02.077 | 1:03.882 |
| 16 | 212 | Chase Marquier | Honda CRF250 | +06.548 | 1:03.937 |
| 17 | 72 | Hayden Mellross | Yamaha YZ250F | +07.560 | 1:03.515 |
| 18 | 222 | Chris Howell | Husqvarna FC250 | +08.514 | 1:04.385 |
| 19 | 26 | Alex Martin | Yamaha YZ250F | +18.007 | 1:00.861 |
| 20 | 792 | Bracken Hall | Honda CRF250 | +43.743 | 1:02.674 |
| 21 | 733 | Steven Mages | KTM 250 SX-F | 12 Laps | 1:03.501 |
| 22 | 43 | Fredrik Noren | Honda CRF250 | 5 Laps | 1:03.019 |



Statistics






Race Time: 14:52.292

Margin of Victory: 04.640

Winner's Avg. Laptime: 59.486

2nd Place Avg. Laptime: 59.795

Best Qualifier: #37 - Joey Savatgy

Holeshot: #58 - James Decotis

Conditions: Clear / Humidity: 75% Temp: 58 °F



Laps Led




#38 Christian Craig - 9 laps

#1 Cooper Webb - 6 laps




Rider Point Standings - Supercross Lites West Class
( Race 3 of 9 )


Cooper Webb - 75 / 3 wins

Zach Osborne - 57

Joey Savatgy - 53

Jordon Smith - 51

James Decotis - 47

Colt Nichols - 43

Christian Craig - 42

Kyle Peters - 36

Mitchell Oldenburg - 30

Kyle Cunningham - 28

Manufacturer Point Standings - Supercross Lites Class
( Race 3 of 17 )


Yamaha - 75

Honda - 58

Husqvarna - 57

Kawasaki - 53

KTM - 43

Suzuki - 28