Toby Price Wins His First Dakar Rally
Chaparral Motorsports
|
January 19, 2016
[caption id="attachment_58134" align="alignright" width="300"]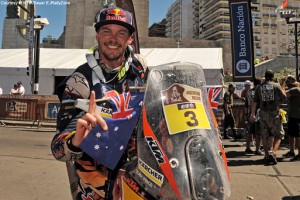 Toby Price 2016 Dakar Rally Winner[/caption]

In 2015, Australian rider Toby Price had an exceptional showing when he placed third in the first Dakar Rally he raced.

Price couldn't have come up with a better encore performance, winning five stages on his way to the overall 2016 title. In doing so, he becomes the first Australian to take the top step of the podium.

The Australian KTM dirt bike rider finished the 13-stage race (one stage was canceled due to inclement weather) with a time of 48 hours, 9 minutes and 15 seconds, 39 minutes and 41 seconds ahead of second-place finisher Stefan Svitko of Slovakia. Pablo Quintanilla of Chile finished third, 48 minutes and 48 seconds behind Price.

"Winning in my second participation is awesome, but being the first Australian to win the Dakar is just insane," Price said in a statement. "I would've never imagined this two years ago. Finishing the rally is already a triumph. Winning it is amazing!"

Price's March To The Top
[caption id="attachment_58133" align="alignright" width="300"]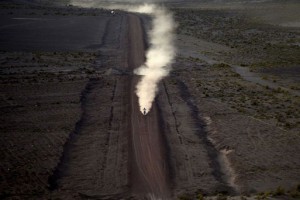 Toby Price 2016 Dakar Rally Stage 6[/caption]

Stage 2 was the first of Price's five wins this year. The stage took riders from Villa Carlos Paz in Argentina to Termas de Rio Hondo. The win on the stage gave Price a lead in the overall standings of just over a minute.

But it only takes one bad day to ruin a rider's chances at the overall title. And Price had his bad day in Stage 3, which covered 663 kilometers from Termas de Rio Hondo to San Salvador de JuJuy. Price finished 36th on the day, behind stage winner Kevin Benavides of Argentina. The disappointing result dropped Price to ninth overall, 4 minutes and 49 seconds behind Svitko.

ABC News Australia reported that Price didn't seem fazed and that being down by five minutes after only three stages was "virtually nothing."

Price then went about chipping away at the leaders with each stage. He finished sixth in Stage 4, which moved him up to eighth overall. Then he won stages 5 and 6, which moved him up to second overall.

A fifth-place finish on Stage 7 would solidify second place in the standings for Price. Then he took control.

Price won Stages 8 and 9, his third and fourth stage wins, to take the lead overall - a lead he would never relinquish.

Price's win is all the more remarkable after a serious injury in 2013 put his career in doubt. ABC News Australia reported that Price's father, John, said his son broke his neck while racing in the U.S.

At that point, Price's father thought his son's dream of becoming the best in the sport was over. But Price persevered and was determined to get back on his bike and continue racing at the highest level.

Americans Impress
[caption id="attachment_58129" align="alignright" width="300"]
Ricky Brabec 2016 Dakar Rally Stage 10[/caption]

American rider Ricky Brabec also put in an impressive showing during his first attempt at the grueling race. Brabec put together several top 10 finishes, including second place during Stage 9, and an eighth place result in the final stage on his way to a ninth-place finish overall.

"I'm happy to have got to the end," Brabec in a statement. "I'm satisfied with the result. I worked hard for the team and I did my job. I'm a bit disappointed that my team-mates were unable to finish, but I'm sure that we will be back next year stronger and we will win the race. It has been a great experience to race with the team, a solid one, that always goes in search of a win."

Another American, Ian Blythe, also seemed to get stronger and better as the race progressed. Blythe's best finish was eighth in Stage 11, on his way to 26th overall.