Honda HRC Rider Paulo Goncalves Gets Knocked Out Of 2016 Dakar Rally
Chaparral Motorsports
|
January 15, 2016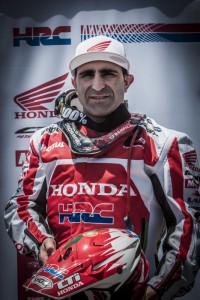 The eleventh stage of the 2016 Dakar Rally proved to be an extremely tough one for Honda HRC rider Paulo Goncalves as he had to be airlifted to a local hospital in San Juan, Argentina, after a hard crash. Goncalves had been putting in a pretty solid race, taking a few bumps and bruises along the way, but was sitting pretty contently in third place overall at the start of the La Rioja to San Juan stage. After having just finished fourth in stage 10, his dream of topping the podium at the end of the race abruptly came to an end when he crashed just past check point 2 and was found unconscious.

Team HRC released a press release stating that he hadn't suffered any serious injuries or fractures but his campaign in the 2016 Dakar Rally was over. "Today my participation in the Dakar 2016 came to an end in the worst way," Goncalves stated in the Team HRC release. "It appears that I had a heavy fall, but I can't remember what happened. It's a Dakar that finishes for me in the worst way. It is a shame because the team really deserved much more. The competition is that hard and the last few days hadn't been going that well. But we have to keep going and think that soon we will be back in competition."

Later Goncalves tweeted:




Thank you for all your support. We'll come back on 2017 strongest! @RallyTeamHRC @dakar
- Paulo Gonçalves (@GoncalvesSpeedy) January 15, 2016
We've haven't seen video from the crash during stage eleven, but it must have been one heck of a get off, as Concalves has already proven he's one tough SOB with this high speed tumble he took during the eighth leg of the race when the back end of his Honda CRF450 Rally popped to the left then kicked right flinging him off the bike in a backwards flat spin. Incredibly, as you can see, he popped right up and immediately jumped back on the bike and continued racing.

https://youtu.be/J2E9lu2RcK4

It's a bummer that his race was cut short just two legs from the finish, but we look forward to watching him race again next year.