Back To School: Motorcycle Training For Street Riders
Chaparral Motorsports
|
January 14, 2016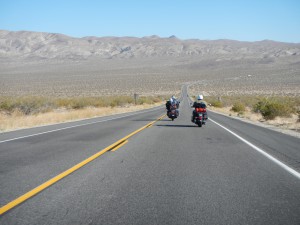 It's a new year, which means if you're like most of us you've probably made some type of resolution to improve your inner or outer self. Maybe you want to be more patient, strive to smile more, or want to shed a few pounds? How about learning something completely new or improving on the skills you already have? What if we told you there's one activity that could make you happier on the inside, put a smile on your face, and maybe, just maybe help you lose weight-or at least help you get in better physical condition? We're talking about riding motorcycles.

In this series will cover a variety of riding schools and training courses that will get you comfortable in the saddle of a dirt bike, improve your sport bike riding skills, or encourage you to roll off road and take the dual sport bike you've been eyeing for an adventure.

In this first article we'll start with the street courses.

When it comes to learning how to ride a motorcycle on the street there's plenty of schools and training facilities for beginners to choose from. In most states a riding/training course is not required before getting your license. Some states do require a course if you are under 18 or 21 years-old(check with your state). Even if you've been riding for 20 years it's not a bad idea to head back to class and partake in some kind of training. You never know, there may be some important techniques you might have forgotten or some bad habits you might have picked up over the years.

[caption id="attachment_57456" align="alignright" width="300"]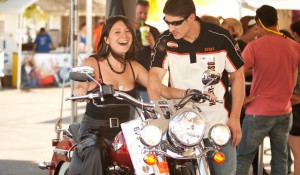 Image: Harley-Davidson[/caption]

If cruising down the highway on a Harley-Davidson has always been a dream of yours there are plenty of ways to get a leg over a Hog and learn how to twist a throttle. The simplest, safest, and least intimidating way you can get some seat time on a Harley is to track down the Jump Start Rider Experience. Basically what you'll find is a Harley secured to a special platform that allows the rear wheel to freely spin without the bike actually rolling forward or leaning side to side. Without having to worry about supporting the motorcycle with your legs or the bike tipping or flipping you can concentrate on the basics of getting comfortable in the seat; properly placing your feet on the pegs, and firing the bike to life. With a coach standing right next to you and advising you, you will learn how to operate the clutch, click into first gear, and release the clutch as you let you the throttle go. You can then continue to click through the gears and manipulating the clutch.

The nice thing about the Jump Start Rider Experience is that it doesn't cost you any money and you don't have to have any special riding gear like a motorcycle helmet or leather jacket, you only need to have a pair of shoes. If you attend any of the big motorcycle rallies and Harley is there, they'll most likely have a setup on site for you to try out. Otherwise your best bet is to contact your local dealership and see if they offer the Jump Start Rider Experience.

[caption id="attachment_57455" align="alignright" width="300"]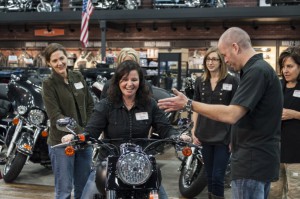 Image: Harley-Davidson[/caption]

Many women find the Harley world to be kind of intimidating; to combat this Harley offers its Garage Party events. A female centric gathering inside a dealership, the Garage Events are all about providing education, support, and camaraderie. At these events women will learn all the basics of a motorcycle from the headlight to the exhaust pipes, the best way to pick up a bike that has fallen over, and how to find proper fitting women's motorcycle gear. These events are free and hosted at dealerships across the country.

[caption id="attachment_57452" align="alignright" width="300"]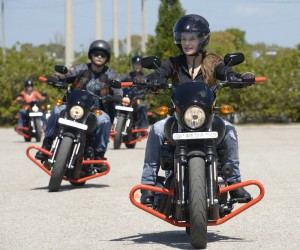 Image: Harley-Davidson[/caption]

Finally when you feel you're ready to really ride a Harley there's the Harley-Davidson Riding Academy New Riding Course. Starting out with several hours of class room instruction you'll learn rider safety basics and then move to the closed off street course where you'll be provided a Harley-Davidson Street 500 to ride. The hands on training will be led by a certified instructor teaching you how to operate the clutch and throttle, braking and turning, along with maneuvers like controlling skids and rolling over obstacles. After you pass the class you'll be given a completion card which in some states will exempt you from having to take the riding portion when going for your motorcycle license.

Harley's Riding Academy New Riding Course is typically three days with two-and-a-half hours of instruction on Friday and eight hours of training on Saturday and eight more on Sunday. Classes are typically held at or near the local Harley dealer and will run you about $258. You'll need to provide your own riding gear such as a DOT motorcycle helmet, boots, gloves, t, jacket, and pants.

If Harleys aren't your thing or there isn't a Harley dealer in your area then you'll want to check out the Motorcycle Safety Foundation (MSF). The MSF offers a wide range of classes and motorcycle training all across the country. To start there's the Basic eCourse which is an online course that will walk you through the basics of a motorcycle. The course is loaded with interactive lessons, graphics, photos, and videos. While it's not a replacement for actually riding a motorcycle and won't get you any kind of waivers for licensure, it's an inexpensive ($19.99) way for people to see if riding a motorcycle is really for them.

[caption id="attachment_57453" align="alignright" width="300"]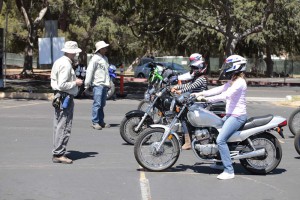 Image: Motorcycle Safety Foundation[/caption]

Beyond the online class the MSF offers its Basic RiderCourse which is similar to the Harley course in that it's multiple days, with about five hours of class instruction and 10 hours of on bike training. An entry-level program, this will get you up to speed with all the controls and basics of a motorcycle and help you establish confidence riding on two wheels. Motorcycles are provided but you have to bring your own riding gear. The only prerequisites are you must be able to ride a bicycle and be of legal age to operate a motorcycle on the street (depending on the state, you may need a driver's license and/or motorcycle permit). With the successful competition of the course you may be eligible to waive the riding portion of the licensing test and it might allow you to qualify for discounts with your insurer. Most courses are held at the local community college or are operated through programs like the Honda Rider Education Center. Prices start at about $150.


If you want to brush up on your skills or you've been off a motorcycle for a while you may want to enroll in the Street RiderCourse2 , which will help you improve your riding strategies and skills. Prerequisites for this course are you must provide your own motorcycle, have a valid motorcycle license, and provide your own gear. For more advanced riders or those who constantly like to keep sharp, there's the Advanced RiderCourse which focuses on in-depth riding techniques. A mix of classroom discussion and hands on activities, this course will help you play out braking and swerving scenarios and improve risk management.

Even if you think you're the best rider in the world there's always something to learn or possibly even a bad habit to break. In many cases taking an advanced or refresher course can pay off in the long run (literally), allowing you to get discounts on your motorcycle insurance. Check the MSF website to find out about pricing, class location, and scheduling.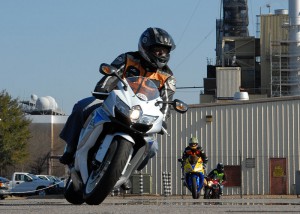 If you're in the military and thinking about getting your motorcycle license check with your branch beforehand as you will most likely be required to take a rider training course. The MSF offers special courses for Military personnel such as the Military SportBike RiderCourse. Harley offers its New Rider Course free to retired and active military personnel as well as for first responders (law enforcement, fire, and EMS). Or if you take the course through an authorized Motorcycle Safety Foundation (MSF) or other state accredited riding school, Harley will give you a H-D Gift Card in an amount equal to the value of a course you attended.

As you can see class never ends there's always something new to learn and a skill to improve. So if you New Year's resolution was to do something you've never done before, maybe you should consider taking a motorcycle training course.