Ryan Dungey First Rider To Appear On Wheaties Box
Chaparral Motorsports
|
January 11, 2016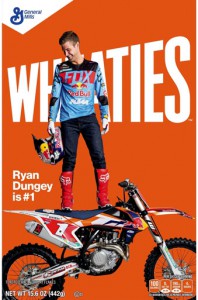 Ryan Dungey
, one of the biggest names in racing and current champion in both Motocross and Supercross divisions, can now add another accomplishment to his resume; one that puts him on the same level as athletes like Michael Jordan, Tiger Woods and Peyton Manning. It was announced on Jan. 7 that Dungey will be the first-ever motocross rider to appear on the iconic Wheaties cereal box, one of the most prestigious honors across all sports.

Stephanie Moffat, the associate marketing manager for Wheaties, said in a press release issued by the cereal brand that Dungey's accomplishments both on the track and in the community made him a natural choice for this landmark selection on the iconic orange box.

"Ryan has been an extremely valued member of Team Wheaties over the past few years," Moffat said. "We couldn't be more proud to honor someone who's shown time and again that he's a champion on and off the track."

The cover art on the cereal known as the "The Breakfast of Champions" is another honor for Dungey, who is already one of the most-accomplished riders in all of motorcycle racing. In April 2015, he finished first in the 450 Supercross Challenge, winning six races and becoming the first rider ever to finish in the top 10 of every single race. He finished the season reaching the finalist podium in an astounding 13 straight races. The title was Dungey's second ever in the Supercross series, after also finishing first in 2010.

Later in the year, Dungey claimed his third ever 450 AMA Motocross championship, along with titles in 2010 and 2012. In August, he finished in first in both races at the Lucas Oil Pro Motocross Championships in Utah, clinching the series title. He had six overall wins on the season in that circuit.

The accomplishments also helped Dungey earn the 2015 ESPY for Best Male Action Sports Athlete.

Earning the Wheaties box is not only a noteworthy for Dungey, but for all of motorcycle riding. The national notoriety earned by being on the cover should help promote the sport to an audience of Americans who may not be aware of the sport or the skills of their most accomplished rider.

In the Wheaties press release, Dungey stated he was honored to be the first one in his sport to earn such a monumental honor.

"It's definitely a very exciting moment, getting to be on the Wheaties box," said Dungey. "I can't tell you how many times my brother and I sat there joking about, you know, one day that's going to be me on the box. To be the first Motocross racer on the box is definitely an amazing moment. I think it's huge for all of us, so I'm very, very thankful."

The Wheaties box with Dungey on the front will be available nationwide starting in January.