Bell Helmets Joins Virtual Reality Race With New Smart Helmet
Chaparral Motorsports
|
January 5, 2016
BRG Sports and 360fly Unveil Action Sports Helmet Industry's First Line of 360-Degree Video Integrated "Smart" Helmets
Motorcycle, Mountain Bike and Snow Helmets to Feature 360° 4K Video, Mobile Editing and Sharing, and Intuitive Digital Capabilities
Action-sports helmet-industry leaders, BRG (Bell Helmets, Ridell, Giro) Sports, and 360-degree camera innovators, 360fly, announced a full line of "smart" helmets, integrated with 360fly's proprietary 360° 4K video, at the 2016 Consumer Electronics Show (CES) at the Las Vegas Convention Center.

The innovative product line encompasses several of BRG Sports' core sport categories and brands, comprising the following products:



Bell Star with 360fly - Driven by the essential needs of the modern racer, and completely new for 2016, the Bell Star is the most advanced full-face street motorcycle helmet on the market today

Bell Moto 9 Flex with 360fly - Bell's most comprehensive off road motorcycle helmet, the Moto 9, featuring its proprietary "progressive layering" energy-management system

Bell Super 2R with 360fly - Bell's most versatile and award-winning all-mountain helmet, with an innovative detachable chin bar feature for maximum performance and adaptability

Giro Edit with 360fly - Giro's lightest full-featured snow helmet

"The benefits of integrating digital video and intuitive digital technology into action sports helmets is a ground-breaking advancement for our sports," said Terry Lee, Executive Chairman & CEO, BRG Sports. "This "smart helmet" collaboration with 360fly is yet another landmark milestone within our 60-year history of helmet innovation and industry leadership."

"From day one, our focus has extended beyond the baseline benefits of immersive 360-degree VR content, and into the expansive universe of intuitive "smart" technologies that our single lens technology enables," said Peter Adderton, 360fly CEO. "These helmets are merely the first of many unique applications for these technologies enabled by our proprietary 360fly 4K platform."

Innovative 360fly 360° Video Camera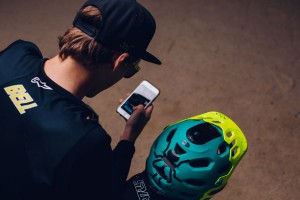 All four helmets feature an integrated 360fly 360° 4K camera, capable of also shooting conventional 16x9 video. The video capabilities are driven by 360fly's proprietary mobile app, featuring a simple user interface that allows users to instantly edit and share content to popular platforms such as Facebook or YouTube. Shooting at 2880 x 2880 at up to 30 FPS, the integrated camera also includes a built-in GPS sensor to tag locations, a barometer/altimeter and accelerometer all powered by an advanced Qualcomm® Snapdragon 800 processor. Like the original 360fly camera, the integrated camera comes standard with Bluetooth, built-in Wi-Fi and has up to two hours of battery life.

For significantly added value, the integrated 360fly camera is detachable, allowing it to be utilized independent of the helmet by the user in the widest variety of lifestyle applications.

In addition to the existing mobile app functionality featured in the integrated helmets, 360fly's CES exhibit showcased live demonstrations of a several new technologies that are a result of the company's new 360fly 4K platform and are currently planned for inclusion across the advanced BRG Sports helmet line including:



AutoPilot action tracking - Allows users to track and follow the main subjects in their videos, making it easy to create dynamic edits with the rider at the center of it all.

Collision Avoidance Alert - Senses and automatically notifies the rider of potential oncoming dangers that are outside the rider's natural field of vision

Live Streaming - For professional, commercial or advanced users looking to live stream 360-degree video, the integrated camera pairs with its Micro-HDMI accessory base (sold separately) and is able to output a real-time full 360-degree HD video stream

These features will undergo a rigorous series of trials and tests over the coming months in preparation for the helmets' debut at retail later in the year.

Another new feature planned for the camera-integrated helmet line is "Highlight Reel" - an auto-editing function that compiles a one to two minute highlight reel based on the specific sections of video that feature the most action.

The majority of VR devices on the market today are purely focused on consumption of VR content and not creation. From day one, 360fly's mission has been to put the power to create immersive personal VR content into the hands of consumers. There simply is no other comparable option for creating and consuming 360-degree immersive video and personal VR content on the market today.

About BRG SPORTS
BRG Sports is a leading designer, developer and marketer of branded sports equipment, protective products and related accessories. The company markets and licenses products under such well-known brands as Bell, Riddell, Giro, Blackburn, Raskullz and Krash!. Its products incorporate leading technology and designs and are used by professional athletes and enthusiasts alike. Headquartered in Scotts Valley, California, the company has facilities worldwide. More information is available at: www.brgsports.com.
About 360fly
360fly creates unique, 360-degree digital products that inspire users to capture, share and experience life's greatest moments in 360 degrees. Our passion has led us to redefine video capture, because we believe life is too rich to capture just part of it.
Bell Helmets Star Motorcycle Helmet With 360fly Camera Image Gallery
(Click for full size images)
Bell Helmets Super 2R Bicycle Helmet With 360fly Camera Image Gallery
(Click for full size images)
Giro Edit Snow Helmet With 360fly Camera Image Gallery
(Click for full size images)