New 2016 Beta 350 RR
Chaparral Motorsports
|
December 20, 2015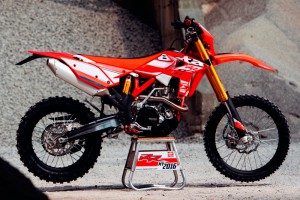 Beta, a small Italian motorcycle manufacturer, has a habit of churning out solid dirt bikes. Next year's model, the 2016 350 RR, has several improvements over its predecessors that make it more ridable, no matter what your experience level.

Options are most always a great thing. One of the best features about the 2016 350 RR are that there are so many options available throughout its multiple race addition models available. In Beta's 250 and 300 2-stroke bikes, factory hand guards, stiffer shock settings and a pocket-seat all come standard. According to Beta, extra-wide foot pegs are also included to help the rider more easily regain control after uneasy terrain, in addition to Billet aluminum chain adjusters and oil filler caps. We have the rundown of the company's 2016 350 RR model.

Engine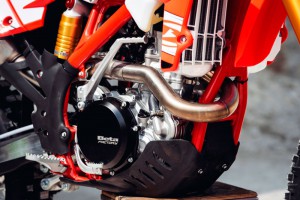 The 2016 350 RR is a single cylinder, 349cc thing of beauty. The bike boasts a full-titanium intake and exhaust, four valve, four stroke, liquid-cooled engine. It comes with an electric start, in addition to its backup kick starter mechanism. The bore and stroke measure in at 88 millimeters by 57.4 mm respectively. Final compression ratio that the 350 RR is capable of is 13:1.

The ignition is Beta's DC-CDI model, with adjustable timing and 200-watt output at 6,000 revolutions per minute. The engine uses a 42 mm electronic fuel injection system, with a 6 speed transmission managed by a wet, multi-disk clutch and a final o-ring chain drive. This configuration results in a primarily low to mid-end engine, with an increased RPM from the 2015 model. This RPM increase, which brought the bike's redline up to 1,300 from 1,250 RPM, adds power and torque to the lower end. Increased RPM capabilities in tandem with the entirety of the bike's engine configuration also makes the 2016 350 RR rather difficult to stall.

Chassis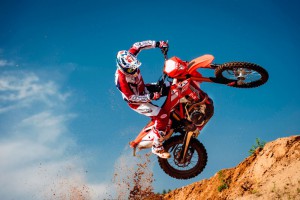 The bike's frame is made of steel, designed for ridability and fast access to important components like the air filter. The wheelbase measures 58.7 inches leaves the 350 RR's rider to sit at a height of 36.8 inches from the pavement. Ground clearance is 12.6 inches, with foot pegs sitting at a little over 16 inches. Dry, the bike weighs in at 234 pounds, and has a 2 gallon fuel tank.

Front suspension is made up of a 48 mm Sachs fork with totally adjustable compression as well as rebound. Rear suspension is an aluminum body Sachs shock, also with fully adjustable rebound and high/low speed compression. Front wheel travel is 11.4 inches, with a 260 mm floating rotor front brake. Rear wheel travel is the same - 11.4 inches - and uses a 240 mm rotor for its braking mechanism.

The 2016 350 RR comes with Beta's standard six month limited warranty, and its manufacturer's suggested retail price comes in just shy of $9,400.

2016 Beta 350 RR Image Gallery
(Click for full size images)

[vehicle img="https://d1j5r50obvimnh.cloudfront.net/wp/wp-content/uploads/2015/11/2016-Beta-350-RR.jpg"]
Year|2016$
Manufacturer|Beta$
Model Name|350 RR$
Generic Type (Primary)|Dirt Bike$
Engine Type|Single cylinder, 4-valve, (titanium intake and exhaust), 4-stroke, liquid cooled, electric start with back up kick starter$
Bore|88mm$
Stroke|57.4mm$
Displacement|349cc$
Compression Ratio|13:1$
Ignition|DC-CDI with variable ignition timing, Kokusan. 200 watt output at 6000 RPM$
Spark Plug|NGK LKAR 8A-9$
Lubrication|Twin oil pumps with cartridge oil filter. Separate oil for engine and clutch$
Fuel System|42mm Electronic Fuel Injection$
Clutch|Wet multi-disc$
Transmission|6-speed$
Final Drive|O-ring chain$
Frame|Molybdenum steel/double cradle w/quick air filter access$
Wheelbase|58.7"$
Seat Height|36.8"$
Ground Clearance|12.6"$
Footrest Height|16.2"$
Steering Rake/Offset|26.5 degree rake/23mm Offset$
Dry Weight|234 lbs.$
Fuel Capacity|2 US gallons$
Front Suspension|48 mm Sachs USD fork, adjustable compression and rebound, TFX technology$
Rear Suspension|Aluminum Body Sachs shock w/adjustable rebound and hi/low speed compression$
Front Wheel Travel|11.4"$
Rear Wheel Travel|11.4"$
Front Brake|260mm floating rotor$
Rear Brake|240mm rotor$
Front/Rear Rim|21" (Front) / 18" (Rear)$
Front/Rear Tire|Michelin Enduro Competition$
Warranty|6 month Limited Warranty
[/vehicle]