Indian Scout Sixty Perfect Intro Cruiser
Chaparral Motorsports
|
December 18, 2015
The All-New 2016 Indian Scout Sixty
[caption id="attachment_57137" align="alignright" width="300"]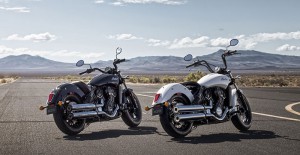 2016 Indian Scout Sixty[/caption]

At the Milan Motorcycle Show this November, Indian Motorcycle made a surprise appearance with its latest, most affordable lightweight cruiser yet - the all-new 2016 Indian Scout Sixty.

This modified model is strikingly similar to Indian's original Scout model, which first became available in 2014. However, some are wondering why Indian released a bike with so little alterations made on its previously successful model, which has met Indian Motorcycle fans with incredible popularity over the past two years.

"The Indian Scout has been a stunningly successful introduction for us, with balance, performance and maneuverability that appeals to a broad swath of riders here in America and around the globe," said Steve Mennetto, president of motorcycles for Indian's parent company, Polaris Industries, in a statement to Motorcycle News. "The new Scout Sixty expands that reach even further to include newer riders and a younger demographic who long to experience the legendary quality and craftsmanship of an Indian motorcycle."

The 2016 Scout looks to be another wildly successful model, however, now with a lower price point than any other bike on Indian's line. It should prove to be the perfect introductory cruiser for anyone looking to get into cruising.

Engine And Transmission Specifications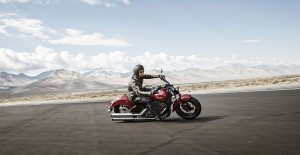 According to Indian Motorcycle, the 2016 Scout Sixty has a slight engine power reduction compared to the 2014 model, which now runs a 999cc motor. The engine is a liquid cooled V-Twin, complete with an electronic, closed-loop fuel injection system. The Sixty has 61 cubic inches of total displacement, a horsepower of 78, and 60 millimeters of bore. Final drive ratio is 2.357:1.

The gear drive operates on a standard wet clutch system, with overall gear ratios as follows:



1st - 10.782:1

2nd - 7.238:1

3rd - 5.841:1

4th - 4.957:1

5th - 4.034:1

With the slight reduction in engine power, total peak torque fell a bit as well. Now, torque peaks out at 65 foot-pounds, at 5,800 revolutions per minute.

Chassis, Body And Dimensions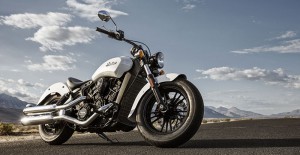 The bike's overall height is 47 in (1,207 mm), by a width of 34.6 in (880 mm) and a length of 91 in (2,311 mm). The Sixty's wheelbase is 61.5 in, with a rake and trail of 29 degrees at 7 in.

The rider sits at a height of 25.3 inches from the pavement, atop a bike with a ground clearance of 5.3 inches. Indian's Scout Sixty's lean angle measures 31 degrees, and includes a 3.3 gallon fuel tank. Dry, the bike weighs 542 lbs. With fuel included, total weight is brought up to 561 lbs.

Suspension for the 2016 Scout is made up of a telescopic fork, with 4.7 inches of travel. The rear suspension, in comparison, features dual shock absorbers, with 3 inches of travel. Both front and rear brakes are single, 298 mm rotors, with 2 and 1 piston calipers implemented respectively. Both front and rear wheel casts measure in at 16 by 3.5 inches. Final exhausts on the 2016 Scout Sixty features a split dual exhaust with crossover system.

Additional Features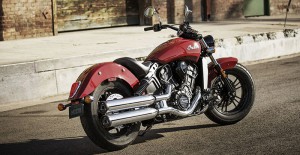 The Scout Sixty really captures the classic Indian Motorcycle design, hinting at the company's vintage lines in all of the Sixty's additional features. The speedometer and indicator lights are styled about as bare bones as they can get, and run on electric with needle indicators as opposed to a liquid crystal display. In addition, the bike has Indian's classic 1920s saddle seat, featuring a suspended rear end. Also included as a standard feature are classic ape hangar handlebars; and of course, Indian's signature, exposed, performance shock absorbers.

The Indian Scout Sixty will be available in thunder black, pearl white and the ever-classic, Indian Motorcycle Red. The bike's base listing price is $8,999

2016 Indian Scout Sixty Video
https://youtu.be/lmtM7tZ6ZIY

2016 Indian Scout Sixty Image Gallery
(Click for full size images)

[vehicle img="https://d1j5r50obvimnh.cloudfront.net/wp/wp-content/uploads/2015/12/2016-Indian-Scout-Sixty-Black.jpg" name="2016 Indian Scout Sixty"]
Year|2016$
Manufacturer|Indian Motorcycle$
Model Name|Scout Sixty$
Generic Type (Primary)|Cruiser$
Engine Type|Liquid Cooled V-Twin$
Horsepower (HP)|78 (58.2 kW)$
Displacement|61 cu in$
Electronic Fuel Injection System|Closed loop fuel injection / 60 mm bore$
Final Drive|2.357 : 1$
Peak Torque|65 ft-lbs. (88.8 Nm)$
Peak Torque RPM|5800 rpm$
Primary Drive|Gear Drive Wet Clutch$
Ground Clearance|5.3 in / 135 mm$
Overall Length|91 in / 2311 mm$
Overall Width|34.6 in / 880 mm$
Overall Height|47.5 in / 1207 mm$
Seat Height|25.3 / 643 mm$
Wheelbase|61.5 in / 1562 mm$
Rake/Trail|29°$
Trail|4.7 in / 119.9 mm$
Lean Angle|31°$
GVWR|988 lbs / 449 kg$
Dry Weight|542 lbs (246 kg)$
Wet Weight|561 lbs (254 kg)$
Fuel Capacity|3.3 gal / 12.5 l$
Suspension: Front - Type/Travel|Telescopic Fork/4.7" (120 mm)$
Suspension: Rear - Type/Travel|Dual Shocks/3.0" (76 mm)$
Brakes/Front|Single / 298 mm Rotor / 2 Piston Caliper$
Brakes/Rear|Single /298 mm Rotor / 1 Piston Caliper$
Tires/Front|130/90-16 72H$
Tires/Rear|150/80-16 71H$
Wheels|Cast 16" x 3.5" Front and 16" x 3.5" Rear$
Exhaust System|Split dual exhaust with crossover$
Gauges|Digital tachometer, odometer, trip meter, engine temp, and low fuel lamp$
Lights|Headlight, tail/brake light, turn signals, license plate light, and speedometer and indicator lights$
Colors|Thunder Black, Pearl White, Indian Motorcycle Red
[/vehicle]