The 2016 Triumph Speed Triple Is Here
Chaparral Motorsports
|
December 5, 2015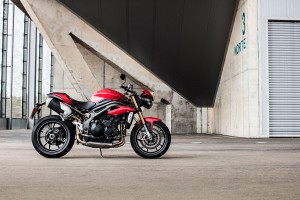 Triumph has upgraded its class-defining naked bike, the Speed Triple, to feature some serious powertrain changes left untouched since 2007.

Britain's largest motorcycle manufacturer, Triumph Motorcycles, unveiled its flagship bike for the upcoming model year in time for Milan's annual Motorcycle Show back at the end of November. The Triumph Speed Triple differs greatly from the motorcycle maker's smaller Street Triple as well, which was designed to be a far lighter, more urban friendly introductory bike compared to this fully-fledged roadster.

The 2016 Speed Triple is a reimagining of an old favorite. The original naked Triple, which became commercially available in 2007, has been revamped and restyled. The 2016's Speed Triple has been given a completely new engine, packed with over 100 updates since the previous 2010 version. The Speed Triple's radiator has undergone some massive changes as well, further increasing engine airflow by 70 percent. Additionally, the 2016 Triple has gained more raw power, while achieving better fuel economy than its forerunner.

2016 Speed Triple Engine Specs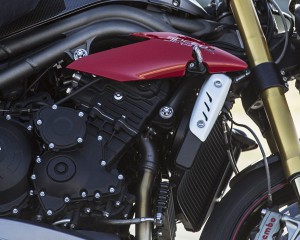 Featuring 1050 cubic centimeters of power, drawn from three inline cylinders, the linear configuration is intended to squeeze as much torque as possible from the engine, according to Triumph. This increased torque is a sure-to-be appreciated perk for any hardcore, tenured road rider. In addition, the air intake system has been revamped with newly-designed ports, combustion chambers and exhaust to maximize fuel efficiency.

The new exhaust takes after previous Speed Triple designs: Twin silencers sit just below the rider's seat, and feature a 70 percent more efficient system than previous models. This is due to a revamp of the overall exhaust port, but the system does retain classic inline triple exhaust.

For extra control and all-around better ridability, a hypersensitive throttle with selectable riding modes has been included. These riding modes aim to improve not only safety when driving in less-ideal conditions, but are also added for an extra performance control measure and rider preference flexibility. Among the riding modes which come standard include Sport, Track, Rain and Road settings. Each alters the throttle response accordingly, in addition to changing automatic traction control and anti-lock braking system settings. When riding on wet roads with the Rain setting configured, for example, the Speed Triple's throttle and traction controls are far more responsive, making the ride not only more easy to control and enjoy, but safer as well.

Speed Triple Chassis And Body Upgrades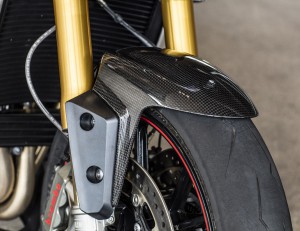 Every bit of excess weight capable of being removed has been for the 2016 Speed Triple. For the Triple's S variant, preload compression and rebound damping-adjustable forks are used for the rear suspension. These are 43 mm Showa forks and monoshock rear suspension units.

The Triple R on the other hand, uses 43 mm Öhlins NIX30 upside down forks as well as Öhlins TTX36, fully adjustable monoshock units, also designed to maximize adjustability, compression and rebound damping.

The bike's general body was designed from Triumph's Daytona T595 superbike, featuring the same reminiscent twin spar aluminum frame. It has been redesigned to maximize agility and torque, while still retaining a sturdy frame for any rider to harness as much raw power as possible. Both variations use radial Brembo Monobloc calipers with 320 mm disc brakes. Wheels on the Speed Triple are designed to further reduce weight without sacrificing performance, and are made from cast aluminum as well.

Contrary to the norm, the Speed Triple will feature handlebar mirrors as opposed to side mounted ones. This not only makes the bike look aggressive and quick on the road, but also allows for better, safer rear viewability than would otherwise be provided.

No price has been published for these new Triumph models yet, but it is speculated to run more than $13,000.

2016 Triumph Speed Triple Image Gallery
(Click for full size images)