Chaparral Motorsports Founder/Owner Dave Damron Presented With Lifetime Achievement Award
Chaparral Motorsports
|
November 23, 2015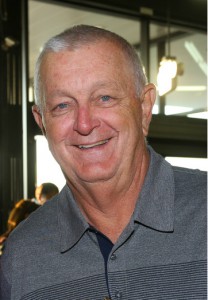 Starting out as a small Suzuki Motorcycle dealer located in Riverside, California, over the years Dave Damron has experienced much success in many different facets of the motorcycle/motorsports industry. From manufacturer to distributor, race team owner with three Supercross Championships, and founder and owner of Chaparral Motorsports, Dave has done it all and seen it all.

As a die-hard enthusiast and owner of one of the largest motorsports dealerships in the country selling everything from dirt bikes and street bikes to UTVs and ATVs as well as tires, riding gear, parts, and accessories, Dave has continually looked for opportunities to grow not only his business but the industry as a whole.



Riding on Success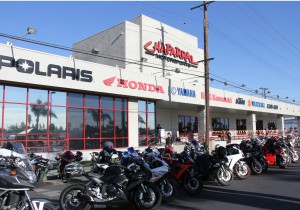 Dave's success has not gone unnoticed and over the years he has been recognized by his peers and industry associations with various accolades such as Honda's Top Achievement Award, Outstanding Motocross Race Support Award from American Suzuki, Kawasaki's Top Achievement Award the Ichiban Award, and Ernst & Young's Entrepreneur of the Year award, just to name a few. Most recently, at the Progressive International Motorcycle Show, Dave was recognized by Dealer News for his 35-plus years of service, mentorship, and success in the motorsports industry, and was presented with the Don J. Brown Lifetime Achievement Award. A prestigious accolade for years of dedication and determination to an individual who has spent their entire life pursuing their passion and sharing it with as many people as possible.

Below is the full release from Dealer News.

SANTA MONICA, Calif. and CLEVELAND, Ohio - Dave Damron has been a manufacturer, a distributor, owner of a racing team that won three AMA Supercross championships. He was instrumental in the emergence of children's off-road gear. And he's been a business mentor to many. But most people know David Damron as founder and owner of one of the largest dealerships in the country: San Bernardino, Calif.-based Chaparral Motorsports.

Damron is the recipient of the Don J. Brown Lifetime Achievement Award for 2015.

Dealernews presented Damron with the "Brown Award" during a special presentation today at the Progressive International Motorcycle Show in Long Beach, Calif.

Damron's father was a pharmacist who became a motorcycle dealer in the 1960s. After college, the younger and recently married Damron used his father's good credit to open his own Suzuki dealership in Riverside. After realizing that no distributor, at that time, carried a solid selection of Suzuki accessories, Damron started distributing them himself. He also ended up buying a few of his suppliers.

"So in a matter of about a two-and-a-half- to three-year window," Damron told Dealernews for a cover story back in 2009, "I went from being a dealer to a distributor to a distributor/manufacturer."

Damron closed the dealership to concentrate on new manufacturing and distribution. But then the recession of 1980 hit, customers started filing for bankruptcy and Damron's businesses were left with a lot of once-ordered-but-never-paid-for products. That's how Chaparral was born.

"What I did is I called the magazines and said, 'Here's the deal: I'm going to start a mail-order company. I have no money. If you'll take an ad, as soon as I sell something I will pay my bill.'" Cycle Guide took accepted his offer. "That's when Chaparral was born," Damron said, "out of sheer desperation, to put beans on the table."

Today, Chaparral is a brick-and-mortar megastore-all 160,000 square feet of it-with an even larger retail presence online. Once the owner of the Supercross team that bore Jeremy McGrath championships in 1998, 1999 and 2000, Chaparral continues to provide substantial support and visibility to regional and national racers. This past year, Chaparral secured a presenting sponsorship of the Monster Energy MXGP at nearby Glen Helen Raceway -a deal, Damron said at the time, that would give Chaparral international visibility.

In 2000 Damron received Ernst & Young's Entrepreneur of the Year award, and he has led Chaparral to multiple wins in the Dealernews Top 100 program.

Admire him, envy him for his success, but respect him for his perseverance and never-wavering ability to balance support for the sport with full pursuit of commerce. Dave Damron is a lesson in perseverance. "If you got it, put it out there and sell it."