New BMW G 310 R Lightweight Roadster
Chaparral Motorsports
|
November 18, 2015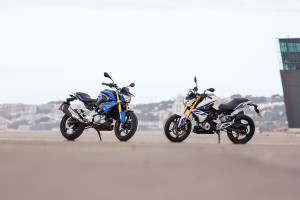 BMW has recently introduced its G 310 R, a bike slated to act as the patriarch for an entirely new line of small and mid-sized models.

BMW unveiled its prototype to the newly-announced G 310 R, in the form of a concept stunt bike at an October auto show in Sao Palo, Brazil. The single-cylinder concept bike, dubbed "Stunt G 310" was built especially for stuntman Chris Pfeiffer as part of a promotion for BMW. The motorcycle manufacturer quickly saw an opportunity to introduce new lower-end bikes to its current lineup, and began working on a commercial model soon after the exhibition in Brazil. The 2016 G 310 R is said to be BMW's lowest-end model yet. The G 310 R will become BMW's smallest capacity production bike since the R 24 model was introduced in 1948.

With the introduction of this new single-cylinder bike, BMW is attempting to redefine what low-end motorcycles are capable of in the eyes of today's power-hungry market. BMW's new G 310 R is packed to the brim with features that allow raw power, torque, and versatile ridability to shine through in this lightweight motorcycle. According to BMW, the G 310 R weighs only 158.5 kilograms, which, combined with its power train, is enough to make any old school roadster fan reminiscent of its former S 1000 R.

BMW G 310 R Engine Specifications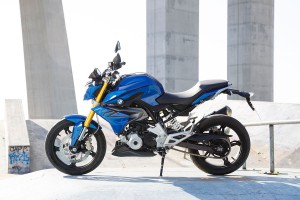 At its core, the 2016 BMW G 310 R boasts a 313 cubic centimeter, single cylinder liquid-cooled engine, which features four valves, double overhead camshafts and fuel injection. At a rate of 9,500 revolutions per minute, 34 brake horse power is achievable. Maximum torque equates to 20.6 feet per pound, at 7,500 rpm. The engine is made to operate smoothly when using many different quality fuel grades. This feature is sure to attract riders seeking world travel and adventure, but also allows for true international marketability by the automaker.

The G 310 R's bore comes in at 80 millimeters with a stroke of 62.1 mm. The bike's inlet tract design deviates a bit from standard lightweight BMW designs however, as it is positioned toward the front end of the motor, and features a reversed cylinder head design while still allowing exhaust to ventilate towards at the rear.

G 310 R Body, Frame and Chassis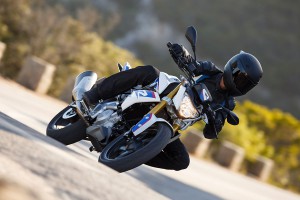 BMW's G 310 R is built on a tubular steel frame body, drawn from designs of the S 1000 R. In addition to being lighter and more agile than others in BMW's 2016 lineup, the G 310 R offers more than most in its class in terms of ergonomic features and general ridability.

The rider sits exactly 30.9 inches from the ground. This low design allows his or her center of gravity to hug the pavement as low and evenly as possible, while still giving the rider solid posture for control. The anti-lock braking system composed of a front disk 300 mm in diameter helps helps the rider maintain steady deceleration and ultimate high-end control, in conjunction with the smaller, 240 mm brake disk. This rear disk works in-tandem with a 2-piston floating caliper.

Additional options to be offered on the G 310 R include heated handlebar grips, light emitting diode indicators, a 12-volt charging socket, extra luggage space, higher seats, a centerstand and top boxes. The 2016 model will be available in black and white with highlights of silver, metallic grey and blue. Pearl White will be available as well, though for an extra cost. To maintain premium quality the automotive brand is known for, BMW Motorrad is said to be offering rider-fitted accessories as extra available options to the G 310 R.

[vehicle img="https://d1j5r50obvimnh.cloudfront.net/wp/wp-content/uploads/2015/11/2016-BMW-G-310-R-White.jpg"]
Year|2016$Manufacturer|BMW$Model Name|G 310 R$Engine Capacity|313 cc$Bore/Stroke|80/62 mm$Output|25/34 kW/hp at engine speed rpm 9500$Torque|28 Nm at engine speed rpm 7500$Engine Type|Liquid-cooled single-cylinder engine$Compression/Fuel|10.6:1 / premium unleaded (95 RON)$Valve/Accelerator Actuation|DOHC$Valves Per Cylinder|4$Ø intake/outlet|33.5/27.2 mm$Ø Throttle valves|42 mm$Engine Control|BMS-E2$Emission Control|Closed-loop 3-way catalytic converter$Alternator|330 W$Battery|12/8 V/Ah$Headlamp|H4 12 V 60/55 W$Starter|0.5 kW$Clutch|Multi-plate wet clutch$Gearbox|Constant-mesh 6-speed gearbox$Primary Ratio|3.083$Transmission Ratios|I 3.000, II 2.063, III 1.588, IV 1.286, V 1.095, VI 0.955$Rear Wheel Drive|O-ring chain$Frame Construction Type|Tubular steel frame in grid structure with bolt-on rear frame$Front Wheel Suspension|Telescopic fork, Ø 41mm$Rear Wheel Suspension|Aluminum swinging arm in conjunction with a directly mounted spring strut$Total Spring Travel (Front/Rear)|140/131 mm$Wheel Castor|102.3 mm$Wheelbase|1374 mm$Steering Head Angle|64.9°$Front Brakes|Single-disc brake Ø 300 mm$Rear Brakes|Single-disc brake Ø 240 mm$ABS|BMW Motorrad ABS$Wheels|5-spoke light alloy die-cast$Front Wheel|3.0 x 17"$Rear Wheel|4.0 x 17"$Front Tires|110/70R-17$Rear Tires|150/60R-17$Overall Length|1988 mm$Overall Width|896 mm (with mirrors)$Seat Height|785 mm$DIN Unladen Weight, Road Ready|158.5 kg$Permitted Total Weight|345 kg$Fuel Capacity|11 l$Fuel Consumption (WMTC)|3.33 l/100 km$Top Speed|145 km/h
[/vehicle]

2016 BMW G 310 R Image Gallery
(Click for full size images)