Off The Line: Yamaha Introduces The New XSR900
Chaparral Motorsports
|
November 17, 2015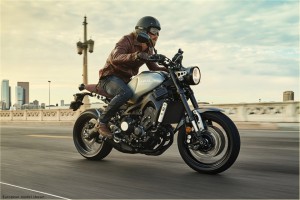 If you were to strip down a Yamaha FZ-09 to just its chassis and drivetrain then redress it with more curves and a few dashes of old school styling and a bit of street tough attitude you'd end up with Yamaha's newest model the XZR900. While they come from the same blood line, the Yamaha XSR900 is less sporty and more urban brawler looking than its FZ-09 brother.

New Cafe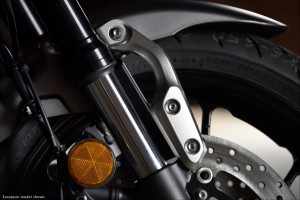 With its brushed and cast aluminum bits, rounded lighting front and rear, stepped seat, and tank cover complete with recessed knee panels you might be inspired to call the Yamaha XSR900 cafe racer for millennials - especially when looking at the brushed aluminum version. Over the years the Yamaha's XS models has been a popular platform for those looking to go retro and build a custom cafe racer, so it makes sense as to why Yamaha would hint at those styling cues when they created the XSR900. However, this new bike definitely has a much tougher and more utilitarian appearance than the traditional cafe style.

Powerplant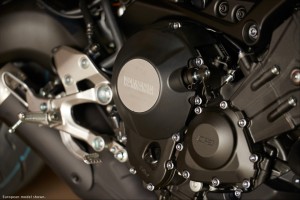 The XSR900 is powered by a 847cc Crossplane Crankshaft Concept, liquid-cooled, in-line 3-cylinder, DOHC, 4-valve-per-cylinder engine, based on the Yamaha FZ-09. Weighing in at 430 pounds, Yamaha designers kept the XSR900 light and nimble with the narrow all-aluminum frame featuring sporty geometry and adjustable front and rear suspension. The XSR900 rides on a pair of 10-spoke cast aluminum 17" wheels fitted with a Bridgestone Battlaxe 120/70ZR17 front tire and Bridgestone Battlaxe 180/55ZR17 rear tire.

Tech Spec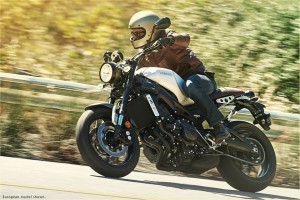 The XSR is loaded with a host of modern technical conveniences like ride-by-wire with Yamaha's Chip Controlled Throttle (YCC-T) engine control, adjustable D-MODE throttle response, adjustable traction control, slipper clutch, and ABS all standard (ABS and TC are not available on the FZ-09).

The adjustable D-MODE throttle response allows the rider to adjust engine character on the fly. STD Mode is set to accommodate a wide range of riding conditions, A Mode gives the rider a sportier throttle response in the low-to mid-rpm range, and B Mode lets the rider enjoy a softer throttle response., adjustable D-MODE throttle response, and an adjustable Traction Control System allows the rider to make the most of the potent engine and chassis.

For smooth effortless shifting, easy clutch pull and reduced wheel hop on deceleration, the XSR900 features an advanced assist-and-slipper clutch that cuts clutch lever effort by 20 percent.

Final Thoughts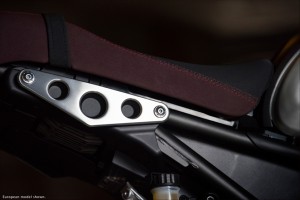 The seating position on the Yamaha XSR900 has been pulled back by about 50mm and raised slightly to 32.7 inches compared to the FZ-09's 32.1 inch seat height.

The XSR900 will be available in two distinctive colors, Matte Gray/Aluminum and 60th Anniversary Yellow. For the Matte Gray/Aluminum color, the aluminum fuel tank covers are hand-buffed by skilled craftspeople and given a matte-clear finish. And, for the 60th Anniversary Yellow color, the aluminum fuel tank covers are painted in yellow-and-black Yamaha racing livery.

The MSRP for the 2016 Yamaha XSR900 will be announced in February, and models will be available in dealerships beginning in April.