Product Spotlight: The Clever Lever- ASV Levers
Chaparral Motorsports
|
November 11, 2015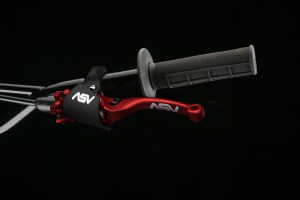 If you've been riding motorcycles for any amount of time, chances are your bike has spent some time on its side on the ground. And if you have had a spill or two, hopefully it was your ego that took the brunt of the crash. More than likely your bike took on some damage as well, especially in the hand control area, and more specifically your levers.

Jutting out off the handlebars like branches on a tree, when the bike meets face to face with the ground or any other immovable object for that matter, either one or both of the levers typically snap off. If you've ever taken a close look at a clutch lever, you probably noticed that it has an indented line running from the top to bottom about midway through the length of the lever. This line is designed to be a breaking point so that if your bike does go down in a crash or tip over the lever will only break in half rather than completely snapping off and potentially leaving you stranded with no way to actuate the clutch. A lot of times you might not find the same line on the brake side because if the brake lever does break off, you can still utilize the foot brake to get to your destination.

It's all About the Pivot
[caption id="attachment_56641" align="alignright" width="200"]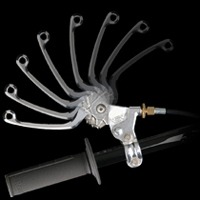 ASV F1 lever displaying the unique fanning motion that allows the lever to swing out in the event of a crash and then spring back into position instead of breaking.[/caption]

While the inclusion of a break point on the clutch and brake lever is a smart idea and can come in handy in an emergency, ASV Inventions came up with an even better idea when the company introduced its Unbreakable Levers. Devised with a unique pivot design that allows the lever to rotate forward as it makes contact with the ground or whatever the bike smacks into, instead of breaking the lever simply moves with the impact and then springs back into position. This creative feature will not only save you frustration and anger after a crash but it will also save you money, as you won't have to buy a new lever or levers.

Actually the pivot design isn't the only benefit; all the ASV levers also feature an adjustable reach allowing riders to easily adjust the distance from the blade to the handlebar according to their hand size/grip. This makes for a more universal fitment for a wide range of riders. Then, if for some reason things do go wrong, or the levers need some TLC, you can completely rebuild them.

ASV offers its levers for a wide variety of applications ranging from dirt bikes and ATVs, to street bikes, in an assortment of styles; F1, F3, C5, and C6 Series depending on your mode of transportation. One of the best features about ASV levers is that the company has a solid guarantee accompanying its varying levers with the numbers 1, 3, 5, and 6 corresponding to the numbers of years they guarantee against breakage.

When it comes to motocross and offroad applications ASV Inventions stands out as a leader with its variety of lever options. If you're looking for affordability and something really close to your stock levers you'll want to check out the F1 Series. Forged from 6061 aluminum, and featuring a slimmer blade, this is ASV's base model and least expensive lever. Comprised of the same high-quality components as the rest of the ASV lever line-chrome steel precision sealed bearings, stainless steel pivot and bushing parts, Chrome Silicon cantilever springs, and aerospace-grade stainless steel-the F1 is designed to get you back in the saddle without busting your wallet.

Go Pro
[caption id="attachment_56639" align="alignright" width="200"]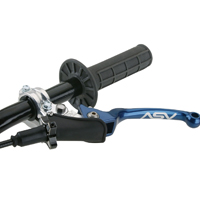 Seen here is the ASV F3 Pro Model Clutch and Perch. This setup includes Pro Perch with the on-the-fly cable adjuster.[/caption]

The [mageProductLink sku="cmf33"]F3 Series[/mageProductLink] is available in a variety of anodized colors to match your bike and comes with the ASV logo laser engraved on the blade. The F3 and C6 models are available with the Pro Model clutch lever and Pro Perch that features an on-the-fly cable adjuster so you can quickly and easily adjust the play in your clutch cable as you ride to get better performance out of your machine. In addition, the Pro Perch comes with a nylon Rotator sleeve that mounts between the perch and handlebar to allow the lever assembly to rotate vertically in the event of a crash or collision, providing even less of a chance of possible breakage.

Fully Adjustable
[caption id="attachment_56642" align="alignright" width="240"]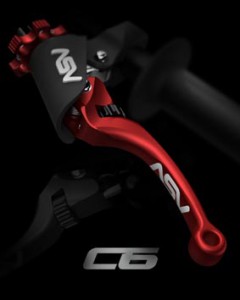 The C6 offer multiple adjustment via the on-the-fly reach adjuster (black wheel) and cable adjuster (red wheel).[/caption]

If you're a hard core moto junkie who demands nothing but the best for your machine, then the C6 series is an absolute must. The C6 is loaded with features such as on-the-fly reach adjustment on both the clutch and brake lever, a redesigned shape that provides a lighter and more performance oriented feel, and a remarkable no questions asked 6-year guarantee.

No matter if it's two or four wheels, if you are new to riding or tired of staring at your broken clutch or brake lever, ASV lnventions offers a clever line of levers, that could save you time, money, and frustration down the road... or trail.