Product Spotlight: The Mad Chatter - PCI Race Radios
Chaparral Motorsports
|
November 11, 2015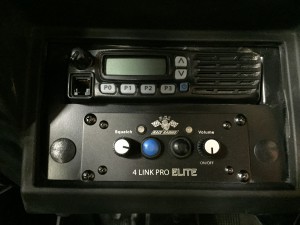 Known as an industry innovator and leader, Bob Weatherman Steinberger and his company, PCI Race Radios, have been at the forefront of offroad communications for nearly half a century. With quality two radio systems that deliver clarity and rugged performance PCI is the "Go To" company for hardcore racing and leisure offroading enthusiasts alike. Outfitting your UTV with a two-way radio can come in handy in emergency situations when there is an accident or your vehicle breaks down and you need help. They are also very handy for staying in touch with other UTVs in your group or communicating back and forth to your basecamp.

One of the problems with two-way radios however, is they do little to help you communicate with the passengers in your car. Between the wind and noises coming from the engine as you speed across the dunes or up a trail, it can get pretty loud and hard to hear what the person sitting next to you is saying. Of course you could yell at one another, but that gets to be exhausting and extremely annoying. To solve this problem and make it easier on the ears for everyone there's PCI Race Radios' Intercom setup. Available in several different package options and with a host of great features and additional add-ons, installing a PCI Race Radio Intercom kit in your UTV can make your offroading excursions much more enjoyable for your family and friends.

Get on The Intercom
[caption id="attachment_56655" align="alignright" width="300"]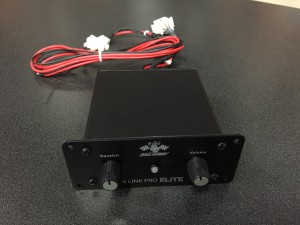 The nice thing about the Pro Elite Intercom system is that it's upgradeable; you can add great features like Bluetooth or a Digital Sound Processor (DSP).[/caption]

The main component of PCI's intercom setup is the 4 Link Pro Elite. This provides the ability for in-car communication through a digitally controlled voice activated (VOX) microphone circuit system where up to four people can talk amongst one another without the need for pressing a push-to-talk button (PTT) like when communicating via two-way radio. The 4 Link Pro Elite intercom system is a private, open system that allows anyone in the car with a connected headset to talk and clearly hear what others are saying. In addition to intercom, you and your passengers can also listen to music as the 4 Link Pro Elite allows you to plug in any music device into the intercom. Then when someone starts to talk the VOX system will automatically cut the music so you don't have to try and talk over the tunes. The intercom has a common volume level adjustment and a record out option which allows you to connect audio directly to your video recording device (i.e. a GoPro camera) so that your videos are synced up with all the commentary and music coming from the vehicle. By using the Squelch and Volume knobs you can fine tune the volume and control how the audio acts, for example, with the squelch knob turned all the way to the left the music will stay loud and mics will not activate.

[caption id="attachment_56653" align="alignright" width="300"]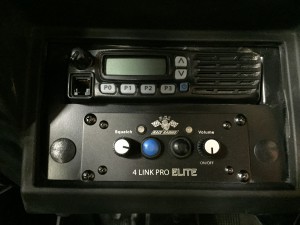 Here is the Pro Link Elite Intercom and ICOM two-way radio installed in a Polaris RZR. This Pro Link unit has been upgraded with the Bluetooth button (blue) and DSP button (black).[/caption]

The nice thing about the Pro Elite Intercom system is that it's upgradeable; you can add great features like Bluetooth or a Digital Sound Processor (DSP). Adding Bluetooth allows you to wirelessly connect your smartphone or MP3 device to the system and stream music or make/receive calls. Once connected via Bluetooth you simply hit the Bluetooth button on the intercom to receive a call-on some phones the Bluetooth button can also be used to skip to the next song in your playlist. The DSP button eliminates most of the background and wind noise, this is a very handy feature in extreme conditions/environments when it's really loud or difficult to hear.

Supreme Package
[caption id="attachment_56651" align="alignright" width="300"]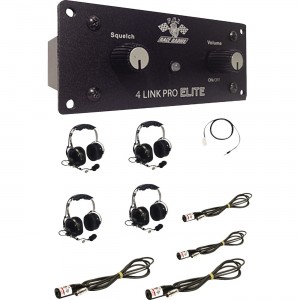 The PCI Supreme 4 comes with everything you need to add in-car communication for up to four people.[/caption]

PCI offers their packages in either 2 person of 4 person kits. The PCI Supreme 4 Communication System ($1,199.95) comes with everything needed to outfit your UTV for 4 passengers and includes all the cables, PCI's exclusive wind noise circuit to reduce wind noise, 4 Carbon Fiber headsets, special blue PCI noise cancelling microphones, MP3 Satellite Radio Interface Adapter, and a complete installation guide. For those that live in California or anywhere else that helmets are mandatory there's the [mageProductLink sku="pci-1101" title=""]California Supreme 4 Communication System[/mageProductLink] ($899.95). This kit replaces the carbon fiber headsets with in-helmet speaker and microphones. The helmet wiring kits feature noise omitting low gain mic's as well as high quality speakers.

California's Ultimate
[caption id="attachment_56652" align="alignright" width="300"]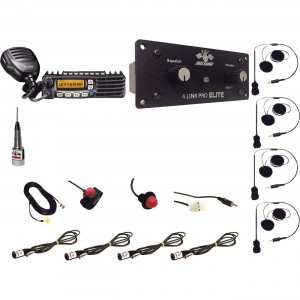 The California Ultimate 4 includes the intercom system and a two-way radio for a complete communication package that lets you chat with those in your vehicle as well as others in the surrounding area.[/caption]

If you want to be able to communicate with others in your UTV caravan or stay in touch with your basecamp there's the California Ultimate 2 ($1,199.95, part) or California Ultimate 4 ($1,449.95). These two kits pair the Pro Link intercom with one of PCI's popular ICOM 5021 mobile 50w two way radios. Included with the radio is deep mount coax, a no ground plane antenna and two PTT buttons, one for the driver and one for the passenger. If you have a four-seater UTV you can purchase a splitter and additional PTT buttons to allow your rear passengers to communicate over the two-way radio as well.

[schema type="productembed" url="http://www.chaparral-racing.com/product/pci-4-link-pro-elite-710-intercom/pci-1084.aspx" name="PCI 4 Link Pro Elite 710 Intercom" image="PCI-1084" description="Crystal clear intercom communications with a digitally controlled VOX system.
Increased radio frequency filtering and dual audio amplifiers.
Four position radio transmission capability."]
[schema type="productembed" url="http://www.chaparral-racing.com/product/pci-icom-f5021-mobile-radio-communication-system/pci-1535.aspx" name="PCI Icom F5021 Mobile Radio Communication System" image="PCI-2045" description="50 watt/128 channel Icom F5021 VHF Mobile CB radio.
Heavy duty hand microphone and alphanumeric display.
Magnetic mount coaxial cable and attachable chase antenna."]
[schema type="productembed" url="http://www.chaparral-racing.com/product/pci-intercom-and-radio-under-dash-mounting-bracket/pci-1416.aspx" name="PCI Intercom and Radio Under Dash Mounting Bracket" image="PCI-992" description="Mounting bracket for your PCI side-by-side communication system.
Centers up UTV radio and intercom systems under the dashboard, preserving factory storage box.
Designed for plenty of knee room..."]
[schema type="productembed" url="http://www.chaparral-racing.com/product/pci-intercom-and-radio-in-dash-mounting-bracket/pci-1427.aspx" name="PCI Intercom and Radio In Dash Mounting Bracket" image="PCI-2275-A" description="Mounting bracket for your PCI side-by-side communication system.
Centers up UTV radio and intercom systems right inside the dashboard, within easy reach of the driver and front passenger.
Easy installation..."]
[schema type="productembed" url="http://www.chaparral-racing.com/product/pci-builder-2-communication-system/pci-1723.aspx" name="PCI Builder 2 Seat Communication System" image="PCI-1723" description="Two seat intercom system for your UTV.
Aids communication inside the side-by-side cabin, as well as two-way vehicle to vehicle communications.
Ready for any helmet communicators or speaker/microphone headsets."]
[schema type="productembed" url="http://www.chaparral-racing.com/product/pci-ultimate-x-sxs-2-seat-communication-system/pci-1580.aspx" name="PCI Ultimate X SxS 2 Seat Communication System" image="PCI-1580" description="Complete two seat racing intercom system for your UTV.
Comes with everything you need to have communication inside the side-by-side cabin, as well as two-way vehicle to vehicle communications."]
[schema type="productembed" url="http://www.chaparral-racing.com/product/pci-supreme-4-seat-bluetooth-communication-system/pci-1268-1090.aspx" name="PCI Supreme 4 Seat Bluetooth Communication System" image="PCI-1268-1090" description="Four seat intercom only system for your UTV.
Bluetooth allows you to connect your intercom to your phone and other devices.
PCI PreRunner over the head headsets designed to work with intercoms..."]
[schema type="productembed" url="http://www.chaparral-racing.com/product/pci-california-ultimate-4-seat-communication-system/pci-1099.aspx" name="PCI California Ultimate 4 Seat Communication System" image="PCI-1099" description="Complete four seat intercom system for your UTV.
Intercom communication inside the side-by-side cabin, and two-way vehicle to vehicle communication.
Offroad helmet wiring kits..."]
[schema type="productembed" url="http://www.chaparral-racing.com/product/pci-builder-4-elite-bluetooth-communication-system/pci-1355-1092.aspx" name="PCI Builder 4 Seat DSP Bluetooth Communication System" image="PCI-1355-1092" description="Four seat intercom system for your UTV.
One touch DSP filters the signal to remove noise when you need it.
Bluetooth allows you to connect your intercom to your phone and other devices."]