Honda's All-New CBR500R Revealed
Chaparral Motorsports
|
November 11, 2015
[caption id="attachment_56629" align="alignright" width="300"]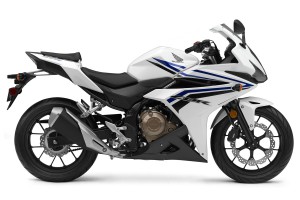 2016 Honda CBR500R[/caption]

At the Tokyo Motor Show, cutting-edge bikes were revealed by the world's leading motorcycle brands beginning Oct. 29. Among these were Honda, which unveiled a number of new models set to be available in 2016. Among the hot rods soon to be released were Honda's all-new CBR500R.

The 2016 Honda CBR500R is a bike ready to redefine the middleweight class in more ways than one. According to Honda, its 2016 model was designed after specifications based upon critic and rider-acclaimed CBR600RR and CBR1000RR sport-class bikes.

CBR500R Engine
[caption id="attachment_56632" align="alignright" width="300"]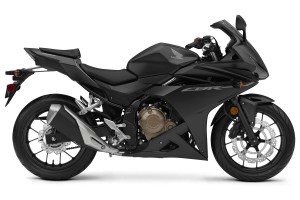 2016 Honda CBR500R ABS[/caption]

The CBR500R is outfitted with a middleweight engine, but that doesn't mean it should be viewed as weak in the eyes of sport-class riders by any means. Built with Honda's famous parallel-twin, two-cylinder design, the pistons work in tandem with an added wide power band to give the CBR500R a real get-up-and-go, "torquey feel," according to Honda.

The engine packs 471 cubic centimeters of liquid-cooled compression with a ratio of 10.7:1. The bike's bore and stroke are 67 mm by 66.8 mm respectively. Twin cylinders are fed through a programmed fuel injection system complete with 34 mm throttle bodies. The ignition itself is controlled by an onboard computer, digitally transistorized with an electronic advance.

The 2016 model's final valve train comes complete with a dual overhead camshaft, made up of four valves per cylinder. The bike houses a six-speed transmission, with a final drive and an o-ring sealed chain.

CBR500R Suspension
[caption id="attachment_56630" align="alignright" width="300"]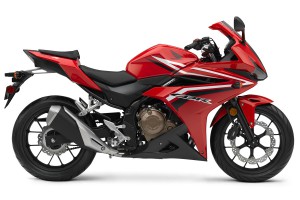 2016 Honda CBR500R[/caption]

The CBR500R's front suspension includes a 41 mm fork, which provides 4.3 inches of travel. A Honda-patented Pro-Link, single shock absorber makes up the rear suspension system. This has nine-positions of spring preload adjustability. Total travel on the rear suspension is 4.7 inches.

The bike's front brake is made up of a twin-piston caliper complete with a single 320 mm wave disk. The rear brake is a single-caliper 240 mm wave disk.

CBR500R Dimensions
[caption id="attachment_56628" align="alignright" width="300"]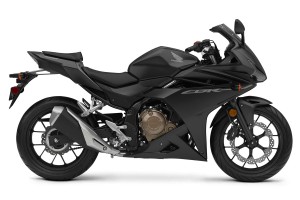 2016 Honda CBR500R[/caption]

The rider sits atop Honda's CBR500R at a height of 30.9 inches from the pavement. The wheelbase is 55.5 in, and the bike's total rake comes out to 25.5 degrees. The trail is 103 mm. Wet, the Honda CBR500R weighs 425 pounds.This includes all standard equipment, a ready-to-ride tank of fuel and all of the necessary fluids included. Capacity of the fuel tank is 4.1 gallons.

The total miles per gallon rating is still to be determined for Honda's 2016 model, but Honda has noted that the bike does meet the U.S. Environmental Protection Agency's standards. Starting price for the 2016 CBR500R is $6,299, plus destination fees and taxes, according to Honda. The 2016 ABS models will be available in black, or white with blue detailing. The standard model also has a red option available. All 2016 CBR500R's will be available at your local Honda dealer.

[vehicle name="2016 Honda CBR500R ABS" url="http://vehicles.chaparral-racing.com/inventory/v1/Current/Honda/Motorcycle/Sport/2016-CBR-500R/ABS--San-Bernardino-California---3580171" img="https://d1j5r50obvimnh.cloudfront.net/wp/wp-content/uploads/2015/11/2016-Honda-CBR500R-ABS-White.jpg"]



2016

Honda

CBR 500R

ABS

Sport

471cc liquid-cooled parallel-twin

67.0mm

66.8mm

PGM-FI with 34mm throttle bodies

Computer-controlled digital transistorized with electronic advance

10.7:1

DOHC; four valves per cylinder

Six-speed

O-ring-sealed chain

41mm fork; 4.3 inches travel

Pro-Link single shock with nine-position spring preload adjustability; 4.7 inches travel

Twin-piston caliper with single 320mm wave disc; Honda ABS

Single-caliper 240mm wave disc; Honda ABS

120/70-17

160/60-17

25.5 degrees (Caster Angle)/103mm (4.05 inches)

55.5 inches

30.9 inches

429 pounds (Includes all standard equipment, required fluids and full tank of fuel-ready to ride)

4.1 gallons

TBD*

CBR500RA

Meets current EPA standards. California version meets current CARB standards and may differ slightly due to emissions equipment.

One Year

Transferable, unlimited-mileage limited warranty; extended coverage available with a Honda Protection Plan.

[/vehicle]