Off The Line: 2016 Kawasaki KX 450F
Chaparral Motorsports
|
November 3, 2015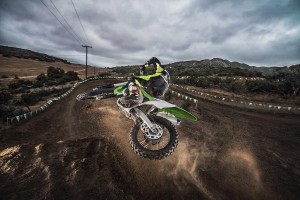 Tipping the scale at a mere 239.6 lbs (wet weight) the all-new 2016 Kawasaki KX 450F rolls in as one of the lightest motorcycles in its class thanks to major revisions to the engine and chassis. Aside from improving overall performance and quickness, reducing weight in a motorcycle can also help reduce rider fatigue (less weight to manipulate and deal with), and if done correctly, improve the motorcycle's agility and handling. With the 2016 KX 450F, Kawasaki's team of skilled surgeons meticulously shaved away ounces in some areas and shed up to 1 lb in others in order to achieve a weight loss of more than 7 lbs compared to the 2015 model.

Revamped Engine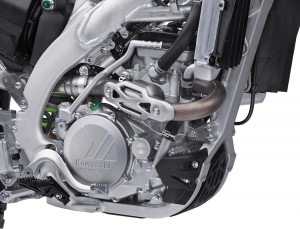 A fresh engine setup resulted in a reduction of 4.4 lbs while also improving power output. Some of the significant changes to the engine include new, lighter engine cases with the oil scavenger pump moved from the left case to the right case. A revised bridged-box bottom piston was also employed and is based on AMA factory race bikes and features a new crown design that matches the new intake valve shape, contributing to the 12.8:1 compression ratio. The revised intake valve shape was developed to increase air volume and the 36mm titanium intake valves have a revised head area. With slimmer throat angle and reduced recess the new design (similar to valves on Kawasaki supersport engines) contributes to increased high-RPM performance. To go along with the new valve the intake port was revised and is less curved improving mid-high RPM performance and over-rev. The intake port cores were also given a special coating during the head casting process to make the ports smoother for better flow and efficiency. Weight was reduced with a new intake cam that features the timing advanced by 2 degrees for better low-mid range RPM reaction.

Lighter All Around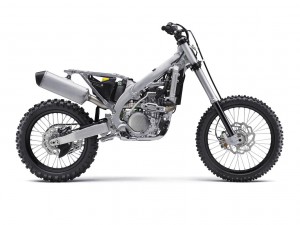 Beyond the essential engine components the exhaust and airbox were addressed as well with a new header design features an integrated resonator chamber for crisp throttle response and a new mass-centralizing exhaust muffler to reduce sound and weight. A new high-flow airbox with rear intake channels was utilized to improve flow and reduce noise. Kawasaki did away with steel parts in the airbox assembly resulting in a weight savings of 8.8oz.

The new slimmer and lighter perimeter frame and swingarm improve rider feel. The frame is lighter by 1 lb with the perimeter spars 6mm slimmer allowing for easier rider movement. The subframe (seat rails) has thicker walls for increased strength. Overall rigidity, rear-wheel traction and rider feel have been improved with a new alloy swingarm with a cast front section and twin tapered hydro-formed spars.

Showa Separate Function Triple Air Chamber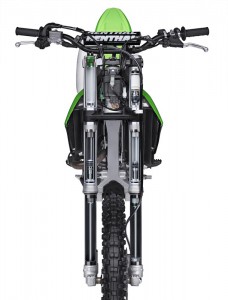 At the rear of the bike new linkage ratios for the Kawasaki Uni-Trak® suspension system were designed to suit the new aluminum frame and swingarm. Mounting the link below the swingarm allowed for a longer rear suspension stroke, while maintaining a low seat height. Up front the industry-leading Showa Separate Function Triple Air Chamber (SFF-Air TAC) fork handles all the major and minor bumps.

With a wide array of revisions, weight savings, and power enhancements from tire to tire, what was already a beast on the track and a multi-time champion, the KX 450F is bound to continue to be a formidable weapon for Kawasaki riders.

2016 Kawasaki KX 450F Image Gallery
(Click for full size images)