Old School Cool: The Rat Rod RZR
Chaparral Motorsports
|
November 2, 2015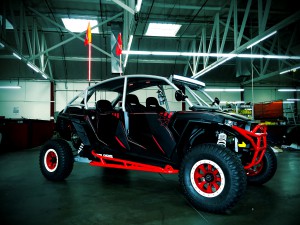 There are a million ways to customize a UTV, but often times it's the simplest things that can make the biggest impact. Take one of the latest Polaris RZRs to roll out of the Chap Moto UTV Pro Shop for example. Quite a bit different from the wild, multi-colored, race graphics that you see on a lot of stock and custom UTVs, the direction for this RZR project was to give it an old-school vibe and we think we hit the nail on the head. Clean, simple, but yet striking enough to command attention wherever it goes, this modded RZR looks like it could roll into the lineup at a hot rod car show and fit right in place.

Rat Rod RZR In The Making
A Custom Hot Rod Paint Job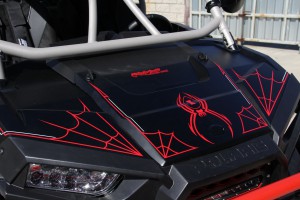 The project started with a brand new 2015 Polaris XP 4 1000 which was stripped of its stock graphics and then the body work was sent over to Painter Joe's Custom Paint Shop. Once in Joe's possession he doused the fenders, hood, cage roof and some Pro Armor Stealth Door Skins in several coats of matte black. After the black had cured, Joe then laid down a mix of red and white pin stripping front to back. To add a bit of traditional tattoo styling to the car Joe hit the corner sections with some red spider webs and the hood with a black widow.

Stylish Armored Doors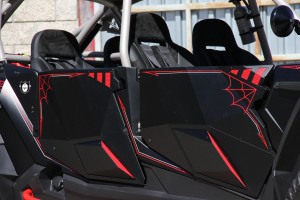 As soon as the painted pieces arrived back in our UTV Pro Shop, our team of skilled technicians went to town piecing the RZR back together. Everything slipped in place with nary an issue and the Pro Armor Door Skins were bolted right in place over the stock door frames, making for a very quick and easy install. The door skins are pretty cool (both literally and figuratively) as they help give the RZR a more finished look, and have large lower intake scoops as well as venting at the top to provide plenty of airflow. To keep rocks and debris out of the car the vents are backed by laser-cut metal screens which were also painted red.

A New Top And Bottom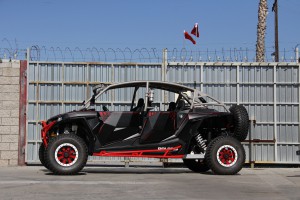 Rather than using the boxy stock cage, the RZR was given a racey and streamlined look with an AnnLynn Manx cage that had been powdercoated with a light bronze matte finish. Down below we went with a set of Tensor Regulator tires were mounted on Raceline Mamba wheels that were powdercoated bright red. The real kicker however was the white powdercoated beadlock rings which give the effect of whitewall tires and really emphasize that old school hot rod/rat rod style.

To help protect the exterior a set of red powdercoated Dragonfire Racing Race Pace Nerf Bars and Front Bash Bumper were mounted in place. Driver/passenger protection and comfort was beefed up with black suede, GT SE seats from PRP and a pair of 5.3 harnesses for the front and 5.2 harnesses for the rear.

Light Up The Night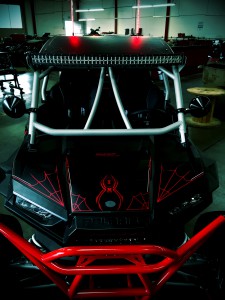 When it came to improving night time visibility for this stealthy RZR a curved Cree Double Row L.E.D. light bar was secured to the top of the cage. A mix of intensely bright spot lights and flood lights the light bar will do an excellent job of leading the way for late night missions. Additional lighting was added front and center with a Mod Quad Front Grille and 10" light bar. Inside the cab the driver and passengers can stay well-lit with a pair of red overhead L.E.D dome lights mounted to the underside of the cage's center spine. At the rear of the cage two red Safeglo L.E.D. whips in a quick release mounts will light up the night like Rudolph's nose.

Extra Accessories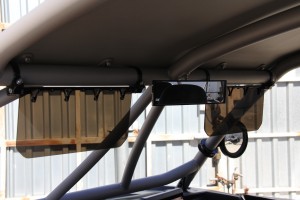 Towards the end of the build the Chap Moto UTV Mod team threw on a bunch of accessories from Axia Alloys such as a 9" wide panoramic rear view mirror, a pair of 12" sun visors, and a quick release fire extinguisher kit. The steering wheel was upgraded with a Pro Armor Force Steering Wheel and steering wheel hub adaptor. Lastly, if by chance the new owner of this vehicle should get in a bind with a flat tire or empty gas tank, they'll be able to take advantage of the PRP Spare Tire Mount that's secured to the back end of the car and Rotopax 1 gallon gas can that's bolted to the side of the bed.

This is definitely one of the cleanest and best looking RZRs that has rolled out of the Chap Moto UTV Pro Shop so far. While the overall theme is very subtle, the car really stands out amongst other modded UTVs and we've yet to see another RZR, or any other Side by Side for that matter, that exudes the old school look like this one does.

Rat Rod RZR Image Gallery
(Click for full size images)
Rat Rod RZR XP 4 1000 Aftermarket Parts Stat Sheet
[schema type="productembed" url="http://www.chaparral-racing.com/Product/prp-seats-rzr900-spare-tire-mount/098-RZRMNT-X.aspx" name="PRP Seats RZR Spare Tire Mount" image="098-RZRMNT-X" description="No need to have a cage extension for this Spare Tire Mount.
Uses 4 existing bolts.
No additional hardware or drilling required."]
[schema type="productembed" url="http://www.chaparral-racing.com/Product/prp-seats-5-2-seatbelt-harness/098-SB5-2.aspx" name="PRP Seats 5.2 Seatbelt Harness" image="098-SB5-2" description="5 point, 2 inch safety harness.
Sewn in pads for great comfort.
Easy Adjusters for quick adjustments.
Removable sternum strap.
SFI certified for karting. "]
[schema type="productembed" url="http://www.chaparral-racing.com/Product/prp-seats-5-3-seatbelt-harness/098-SB5-3.aspx" name="PRP Seats 5.3 Seatbelt Harness" image="098-SB5-3" description="5 point, 3 inch safety harness.
Easy Adjusters for quick adjustments.
Sewn in pads for comfort.
Removable sternum strap.
SFI certified for racing. "]
[schema type="productembed" url="http://www.chaparral-racing.com/Product/axia-alloys-rollbar-strap-clamp/097-0001-C.aspx" name="Axia Alloys Rollbar Strap Clamp" image="097-0008-X" description="These low profile strap clamps are the core of the Axia Alloys Modular Clamping System.
These powerful Billet clamps snap around any size of roll cage maintaining a low profile around the... "]
[schema type="productembed" url="http://www.chaparral-racing.com/Product/axia-alloys-9-rear-view-mirror/097-0032-C.aspx" name="Axia Alloys 9 Inch Rear View Mirror" image="097-0032-X" description="The Axia Alloys 9 in. wide panoramic rearview mirror offers a low distortion crystal clean view with its shatter resistant glass insert.
These mirrors are only convex in the horizontal direction... "]
[schema type="productembed" url="http://www.chaparral-racing.com/Product/axia-alloys-quick-release-fire-extinguisher-mount-with-extinguisher/097-0148-C.aspx" name="Axia Alloys Quick Release Fire Extinguisher Mount With Extinguisher" image="097-0148-X" description="Strap clamps required for installation, sold separately.
Its aircraft grade 6061 aluminum and stainless steel components are precision machined for a perfect fit.
All contact... "]
[schema type="productembed" url="http://www.chaparral-racing.com/Product/rotopax-deluxe-pack-mount/049-451-3005.aspx" name="Rotopax Deluxe Pack Mount" image="049-451-3005" description="Milled from solid aluminum, then anodized black and engraved.
Uses a 5/16 in. steel all-thread with a steel threaded insert in the base.
Multi-purpose for mounting your Rotopax on ATV's, UTV's,... "]
[schema type="productembed" url="http://www.chaparral-racing.com/Product/rotopax-1-gallon-fuel-pack/049-451-2101.aspx" name="Rotopax 1 Gallon Fuel Pack" image="049-451-2101" description="Roto-molded canister that is durable with thicker walls and construction make it leak-proof along with a sure seal gasket to guarantee your spout won't leak or vibrate loose.
Spouts do not... "]
[schema type="productembed" url="http://www.chaparral-racing.com/Product/totron-dcx-series-40-double-row-cree-l-e-d-curved-spot-flood-light-bar/109-TLB3240X.aspx" name="Totron DCX Series 40 Inch Double Row Cree L.E.D. Curved Spot/Flood Light Bar" image="109-TLB3240X" description="Housing and mounting bracket made from diecast aluminum.
Polycarbonate lens for clarity and durable protection.
Combination flood beam (90°) and spot beam (8°) patterns for superior visibility.... "]
[schema type="productembed" url="http://www.chaparral-racing.com/Product/raceline-mamba-beadlock-wheel/369-570-1511.aspx" name="Raceline Mamba Beadlock Wheel" image="369-570-1543" description="Constructed of hi-grade aluminum with polished black accents.
The Mamba bead-lock wheel features a billet bead-lock ring to help prevent tire bead separation.
Semi counter-sunk bead ring bolts... "]
[schema type="productembed" url="http://www.chaparral-racing.com/Product/modquad-front-grill-with-10-lightbar/337-5890.aspx" name="Modquad Front Grill With 10 Inch Lightbar" image="337-5892" description="Combo Style includes a 10in. LED light bar.
Light bar features 50,000+ hour LED.
Instant On Off with no warm up.
ROHS compliant with over under voltage protector.
Extruded aluminum housing... "]
[schema type="productembed" url="http://www.chaparral-racing.com/Product/dragonfire-racing-racepace-front-bash-bumper/DFR-521170.aspx" name="Dragonfire Racing RacePace Front Bash Bumper" image="DFR-521171" description="Designed to be versatile enough for any type of riding, the Front Bash Bumper comes complete with rigid mounting points, billet end caps, a laser cut light mount and aggressive lines that match. "]
[schema type="productembed" url="http://www.chaparral-racing.com/Product/axia-alloys-12-solid-black-sunvisor/097-0154-C.aspx" name="Axia Alloys 12 Inch Solid Black Sunvisor" image="097-0154-X" description="This 12 in. wide sun visor has a Solid Black shield.
Adjustable tension so you can be assured that it will not move... "]
[schema type="productembed" url="http://www.chaparral-racing.com/Product/safeglo-whips-l-e-d-whip/16-50000.aspx" name="SafeGlo Whips L.E.D. Whip" image="16-50061" description="Constructed with an aluminum base and a steel threaded shaft.
4 ft. whip features 150 LEDs while the 6 ft. whip features 200 LEDs.
Polycarbonate Lexan pole.
50,000 hour rated LEDs 2 AMPS.... "]
[schema type="productembed" url="http://www.chaparral-racing.com/Product/safeglo-whips-quick-release/16-50041.aspx" name="SafeGlo Whips Quick Release" image="16-50041" description="Quick release for SafeGlo LED whips.
U.S. standard thread pattern. "]
[schema type="productembed" url="http://www.chaparral-racing.com/Product/safeglo-whips-l-e-d-dome-light/16-50050.aspx" name="SafeGlo Whips L.E.D. Dome Light" image="16-50057" description="18 bright LEDs spaced 1 mm apart.
Custom black anodized housing with plastic lens.
Includes 2 stainless mounting screws." ]
[schema type="productembed" url="http://www.chaparral-racing.com/Product/pro-armor-force-steering-wheel/103-P081275.aspx" name="Pro Armor Force Steering Wheel" image="103-P081275BL" description="Pro Armor's Force Steering Wheel provides increased rigidity over the stock steering wheel. The contoured wheel provides comfort and increased grip. Pro Armor's wheel keeps you in control, improve... "]
[schema type="productembed" url="http://www.chaparral-racing.com/Product/pro-armor-stealth-door-skins/103-P141228BL.aspx" name="Pro Armor Stealth Door Skins" image="103-P144228BL" description="Made from .080 in. thick aircraft grade aluminum.
Laser cut and CNC formed.
Mesh cut out grilles and integrated scoop.
Very clean stealth look.
Very solid, quiet feel. "]
[schema type="productembed" url="http://www.chaparral-racing.com/product/tensor-regulator-at-tire/577-TR281014AT.aspx" name="Tensor Regulator AT Tire" image="577-TR301015AT" description="With thick 8 ply construction, D.O.T. approval and a tread design based off of truck tires rather than quad tires, the Tensor Regulator AT tire is the All Terrain side-by-side tire you've been... "]