Yamaha Robot Issues Challenge
Chaparral Motorsports
|
October 30, 2015
Man vs Machine
[caption id="attachment_56159" align="alignright" width="300"]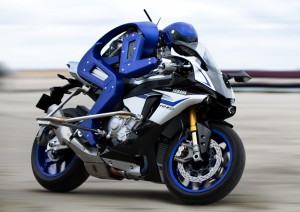 Yamaha's sport bike riding robot in action.[/caption]

Watch out Rossi - you've got a new mechanical adversary.

Yamaha has just unveiled its latest technological breakthrough - a robotic rider - code named "MOTOBOT." This metal motorcyclist was built with the intent of learning all that is necessary to beat MotoGP World Champion Valentino Rossi. A preview video unveiling the autonomous biker was released by Yamaha, and the physical prototype is being shown off at at the 2015 Tokyo Motor Show, Oct. 29 - Nov. 8.

The rider is an autonomous motorcycle-riding humanoid robot built around a fusion of Yamaha's motorcycle and robotics technology, according to a news release by Yamaha highlighting the company's Tokyo Motor Show exhibits. The Japanese automaker began this project with an end-goal of creating a robot capable of operating an unmodified motorcycle on a racetrack unaided at over 200 kilometers per hour. Currently, Yamaha's first version of the MOTOBOT must ride a modified Yamaha R1-M complete with side stabilizers. Overarching project goals, according to Yamaha, are pure innovation, as the company hopes to carve out new niches in the ever-evolving motorsports industry.

"I was created to surpass you," the robotic rider called out to Valentino Rossi, in the promotional video released by Yamaha.

Yamaha MotoBot Video
https://www.youtube.com/watch?v=5UTjdN_JBNA