Honda Reveals New Specs For 2016 VFR1200X, NC700X And CB500X
Chaparral Motorsports
|
October 30, 2015
Honda's New VFR1200X - A Bike Made For Adventure Seekers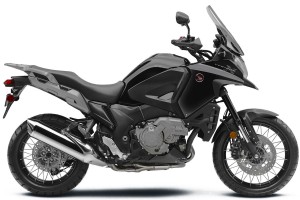 According to a statement released by Honda, the VFR1200X - its latest model edition added to the previously established adventure lineup already including the CRF1000L Africa Twin - will be released commercially in America for the 2016 year. Honda revealed that it is happy with how well-rounded its adventure series bikes have become, and that it is equally excited to bring the redesigned VFR1200X to the commercial market in the United States.

"The introduction of the VFR1200X to North America follows on the incredible reception of the Africa Twin," said Lee Edmunds, manager of motorcycle marketing communications at American Honda. "With the NC700X and CB500X also set to get important updates for 2016, Honda has a model to suit the needs of any adventure-touring enthusiast."

Engine Specs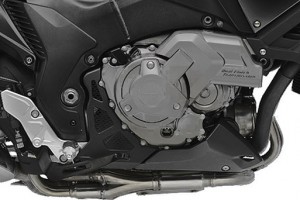 Next year's 1200X comes backed with 30 years of V4 technology and Japanese racing expertise. According to Honda designers, the 2016 VFR1200X model is one of the most technologically advanced, commercially available street bikes the company has produced yet.

The 1200X comes standard with a 4-stroke, 16-valve, 1237 cubic centimeters engine with a compression ratio of 12:1, according to Honda. It's liquid cooled with an electronic ignition, and geared to unleash its raw power, especially in the lower end. This power is focused by the 76 degree angle with which all four of its engine cylinders sit at, intended to maximize low-end torque. The engine's bore to stroke ratio is 81 by 60. The all new Honda VFR1200X features Honda's induction proprietary digital electronic fuel injection system, and first implemented by Honda in the late 1980s, according to the company.

According to Honda, the 2016 VFR1200X has new transmission options available as well. The bike comes standard as a manual, though, Honda's latest third-generation Automatic Dual Clutch Transmission will be available in the next model year. The benefit of a DCT transmission is that the rider now has the option of shifting with added handle grip side-buttons, as opposed to letting the gearbox do all of the work, so as not to completely abandon rider transmission control.

Regardless of transmission style, the 2016 1200X comes standard as a six-speed, with the final drive as an enclosed shaft.

Chassis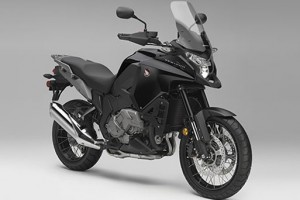 The 2016 Honda's chassis comes with 43-millimeter, inverted telescopic forks, hydraulic damping (plus rebound damping adjustment), and a preload feature. The 1200X's rear suspension also includes a preload in addition to a gas-charged damper and stepless rebound damping adjustment.

Both front and rear brakes have combined, anti-locking brake systems. The front disk is 310 mm in diameter, as compared with the smaller 276-mm rear disk brake. the fuel tank holds up to 5.68 gallons.

Size And Dimensions
The 1200X's rake is 28 degrees on the dot, trail is 107 mm, and the wheel base is 62.8 inches between. A rider will sit comfortably at a height of 33.5 inches.

[vehicle name="2016 Honda VFR1200X DCT" url="http://vehicles.chaparral-racing.com/inventory/v1/Current/Honda/Motorcycle/Adventure/2016-VFR-1200X/DCT--San-Bernardino-California---3601811" img="https://d1j5r50obvimnh.cloudfront.net/wp/wp-content/uploads/2015/10/2016-Honda-VFR1200X-DCT-Side.jpg"]Year|2016$Manufacturer|Honda$Model Name|VFR1200XD$Engine Type|1237cc liquid-cooled 4-stroke Unicam 16-valve 76° V4$Bore And Stroke|81 x 60$Induction|PGM-FI electronic fuel injection$Ignition|Computer-controlled digital transistorized with electronic advance$Compression Ratio|12:1$Transmission|6-speed automatic dual-clutch transmission$Final Drive|Shaft$Front Suspension|43mm inverted telescopic forks with hydraulic damping, preload and rebound damping adjustment$Rear Suspension|Pro-Link with gas-charged damper, preload and stepless rebound damping adjustment$Front Brake|Dual 310mm discs, Combined ABS$Rear Brake|Single 276mm disc, Combined ABS$Front Tire|110/80-R19$Rear Tire|150/70-R17$Rake|28.0°$Trail|107mm$Wheelbase|62.8 inches$Seat Height|33.5 inches$Fuel Capacity|5.68 gallons$Colors|Pearl Black$Emissions|Meets current California Air Resources Board (CARB) and EPA standards.$Factory Warranty|One Year - Transferable, unlimited-mileage limited warranty; extended coverage available with a Honda Protection Plan.[/vehicle]

Noteworthy Updates To Honda's NC700X and CB500X
Honda has also given its wildly popular NC700X a few stylistic upgrades. The 2016 NC700X will feature a larger, 70-mm windscreen to further reduce rider fatigue at cruising speeds. The taillight was upgraded to a more contemporary LED, in addition to a major upgrade in terms of luggage storage (previously 0.25 gallons, now up to 5.8). The 2016 NC700X will be offered with Honda's third-generation DCT transmission as well.

The lightweight Honda CB500X model has also been given LED head and taillights for next year's model. The CB500X's windscreen was lengthened vertically as well, and its transmission has been improved to allow for smoother gearbox changes. Both 2016 NC700X and CB500X models will be unveiled at the 44th annual Tokyo Motor Show, in addition to the 1200X's reveal Oct. 29.

[vehicle name="2016 Honda NC700X DCT ABS" url="http://vehicles.chaparral-racing.com/inventory/v1/Current/Honda/Motorcycle/Adventure/2016-NC700X/DCT-ABS--San-Bernardino-California---3643281" img="https://d1j5r50obvimnh.cloudfront.net/wp/wp-content/uploads/2015/10/2016-Honda-NC700X-DCT-ABS-Side.jpg"]Year|2016$Manufacturer|Honda$Model Name|NC700XD$Engine Type|670cc liquid-cooled parallel-twin$Bore And Stroke|73mm x 80mm$Induction|PGM-FI, 36mm throttle body$Compression Ratio|10.7:1$Valve Train|SOHC; four valves per cylinder$Transmission|Six-speed$Final Drive|Chain$Front Suspension|41mm fork, 5.4 inches travel$Rear Suspension|Pro-Link® single shock; 5.9 inches travel$Front Brake|Single 320mm disc with two-piston caliper, ABS$Rear Brake|Single 240mm disc with single-piston caliper, ABS$Front Tire|120/70ZR17 radial$Rear Tire|160/60ZR17 radial$Rake|27.0 degrees$Trail|110.0mm (4.3 inches)$Wheelbase|60.6 inches$Seat Height|32.7 inches$Curb Weight|500 pounds. Includes all standard equipment, required fluids and full tank of fuel-ready to ride$Fuel Capacity|3.7 gallons$Miles Per Gallon|64 MPG$Emissions|Meets current EPA standards. Models sold in California meet current CARB standards and may differ slightly due to emissions equipment.$Colors|Silver Metallic$Factory Warranty|One Year - Transferable, unlimited-mileage limited warranty; extended coverage available with a Honda Protection Plan.[/vehicle]

[vehicle name="2016 Honda CB500X ABS" url="http://vehicles.chaparral-racing.com/inventory/v1/Current/Honda/Motorcycle/Adventure/2016-CB500X/ABS--San-Bernardino-California---3643411" img="https://d1j5r50obvimnh.cloudfront.net/wp/wp-content/uploads/2015/10/2016-Honda-CB500X-ABS-Side.jpg"]Year|2016$Manufacturer|Honda$Model Name|CB500XA$Engine Type|471cc liquid-cooled parallel-twin$Bore And Stroke|67mm x 66.8mm$Compression Ratio|10.7:1$Induction|PGM-FI with 34mm throttle bodies$Ignition|Computer-controlled digital transistorized with electronic advance$Valve Train|DOHC; four valves per cylinder$Transmission|Six-speed$Final Drive|O-ring-sealed chain$Front Suspension|41mm fork; 5.5 inches travel$Rear Suspension|Pro-Link single shock with nine-position spring preload adjustability; 4.7 inches travel$Front Brake|Twin-piston caliper with single 320mm wave disc; Combined ABS$Rear Brake|Single caliper 240mm wave disc; Combined ABS$Front Tire|120/70-17 radial$Rear Tire|160/60-17 radial$Rake|26.5 degrees$Trail|109mm (4.29 inches)$Wheelbase|55.9 inches$Seat Height|31.9 inches$Fuel Capacity|4.5 gallons$Emissions|Meets current EPA standards. Models sold in California meet current CARB standards and may differ slightly due to emissions equipment.$Colors|Matte Brown Metallic[/vehicle]