Product Spotlight: SSV Works Glove Box Sub Box
Chaparral Motorsports
|
October 29, 2015
[caption id="attachment_56145" align="alignright" width="300"]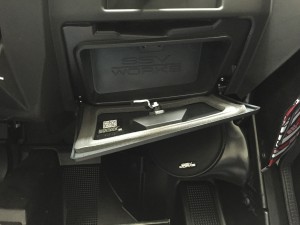 Made of custom-molded fiberglass the Sub Box Glove Box is a direct replacement for the stock RZR glove box and comes with a hard-hitting, marine-grade, 10" subwoofer.[/caption]

You like getting squirrely in a side-by-side? You like whipping waves of sand across the lips of dunes? You like skimming four tires over the top of a six-pack of whoops at 50 miles an hour? You like your music loud? Of course you do! Why because you're a UTV junky and you like everything turned up to 11!

The problem is, unless you bought some kind of special edition vehicle with a ton of extra factory parts UTVs don't typically come stock with an audio system. So that means if you want to rock out while you roll out, you'll have to add a UTV audio system.

One company that has a great selection of top-quality audio components is SSV Works. They offer a full line of speakers, sub woofers, Bluetooth controllers, and just about everything else you'll need to turn your side by side into a mobile concert. The product we've really been impressed with is one of their latest to the hit the market, the Glove Box Sub Box ($349.94).

SSV Works Glove Box Sub Woofer
[schema type="chaparralproduct" url="http://www.chaparral-racing.com/product/ssv-works-glove-box-sub-woofer/ssv-rz3-gbsb10.aspx" name="SSV Works Glove Box Sub Woofer" image="SSV-RZ3-GBSB10" imagesize="125" price="349.95" alignment="right" ]Exactly as the name implies, it's a replacement Glove box with a 10" sub-woofer built right into the side. Designed to fit the Polaris RZR XP 1000, XP4 1000, and the 2015 RZR 900 and RZR4 900, the housing is a custom-molded enclosure made out of durable fiberglass.

The exterior of the sub box features a black texture coat to match the interior of the RZR cab and can be custom painted to match any color scheme. The box has nearly the exact same shape as the stock unit but the overall dimensions are slightly larger. However, the box isn't so big that you notice it or that it hinder the passenger's leg space. The left side of the sub box has a cut out in order to house the accompanying 10" sub-woofer. SSV did their homework on this setup and designed the inner dimensions of the enclosure to offer the proper air space and airflow to get the best sound quality from the speaker.

In order to achieve premium bass sound SSV did have to make a sacrifice; the actual glove box portion is significantly smaller than stock. Whereas the interior of the stock glove box is about 8-1/2" deep on the bottom left side and 10" deep on the bottom right side. The Sub Box is about 1-1/2" deep on the left side and 2-1/2" deep on the right side. So basically that means where you could once store some goggles, a small tool kit, a couple of water bottles, along with some other small miscellaneous items, with the Sub Box you could fit a pair of glasses, some paper work and a pair of thin gloves.

[caption id="attachment_56143" align="alignright" width="300"]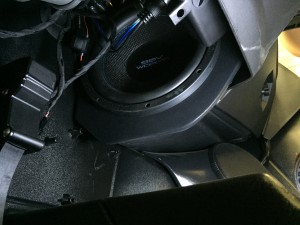 The SSV 10" Sub Box Glove Box lets you pound the sound while you roll around. Not much space, but plenty of bass![/caption]

What the Sub Box lacks in storage space it greatly makes up for in sound quality via SSV's premium marine grade 10" 600watt (300w RMS) subwoofer. With about .68Cu Ft. of airspace inside the enclosure it's just the right amount to allow the 10" sub to hit a nice solid bass note. Tucked up under the dash, hidden away from prying eyes and out of reach of most flying debris, SSV's sub speaker is optimized to withstand the rough and rugged conditions associated with off roading, basically the speaker can take a beating while delivering a smooth and deep beat.

Aside from excellent build and sound quality the other great benefit is that the unit is relatively easy to install and doesn't require any cutting or permanent modifications to your machine. It's a straight bolt-in application and should take about 1-1/2 hours (longer if you're installing an amp and additional speakers). SSV provides a detailed set of instructions and all you need is a basic set of hand tools, along with a drill and small drill bit to make a hole to run the speaker wires. Basically you just need to remove the hood, dash assembly, right side fender, drop the stock glove box, install the new glove box and subwoofer, run your wiring and then reinstall everything.

SSV Works Speaker Kits
[schema type="chaparralproduct" url="http://www.chaparral-racing.com/product/ssv-works-3-speaker-complete-kit/ssv-rzr1k-3.aspx" name="SSV Works 3 Speaker Complete Kit" image="SSV-RZR1K-3" imagesize="125" price="909.95" alignment="right" ]Now, if you don't already have an audio system with an amp and some smaller speakers to cover the mids and highs then one of SSV's 3 or 5 Speaker Complete Kits is definitely the way to go. These kits include everything to get your RZR blasting. The 3 Speaker Complete Kit ($909.95) comes with two 6-1/2" front or rear speakers, a 10" sub, 4 channel amplifier, wiring kit and iPod/mp3 input and USB charge kit. The [mageProductLink sku="ssv-rzrf-5" title=""]5 Speaker Package[/mageProductLink] ($1,159.95) is the exact same but include two sets of 6-1/2" speakers for both the front and rear.

This video below is quick demo of a three piece kit with front kick panel speakers and the Glove Box Sub Box installed in a 2015 RZR XP 4 1000

SSV Works Glove Box Sub Box Demo Video
http://www.youtube.com/watch?v=I4BGgefbc9k

SSV Works Audio Systems Image Gallery