My First Chopper: A Beginner's Guide To Buying A Motorcycle
Chaparral Motorsports
|
October 21, 2015
|
Last Updated: August 7, 2020
Entering into the world of high torque and freeway freedom can be a little bit daunting if you've never owned a bike before. The following motorcycle buying guide offers some great questions to ask yourself before making the big purchase.
1) What Type Of Rider Are You?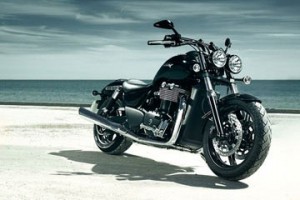 Be honest with yourself about your abilities. If your friend or family member taught you how to ride and you've been out only a couple of times, you probably aren't quite an advanced rider yet.
If you're starting off fresh, there's a bit of prep work you should engage in beforehand. The Department of Motor Vehicles strongly advocates that newbies first take a learner's class and buy all of their safety gear before purchasing a bike. The Motorcycle Safety Foundation offers a basic rider course that will teach new riders everything they'll need to know for around $300. The MSF provides bikes and helmets for the class as well, so new riders have no excuse not to educate themselves before buying a bike.
A common mistake beginner riders make is buying a bike with too much power for them to handle. One common thread of advice that is often recommend is that new riders should stay away from inline engines larger than 500cc.
2) What's Your Scene?
Are you planning to tour Historic Route 66 cross-country, or just ride around town on weekends? Are you an adrenaline junkie who wants to eventually get into the sport bike racing scene, or looking to strap on leather and hop on a Harley to head out to a motorcycle rally with some Lynyrd Skynyrd fans?
3) Where Do You Live?
Location is everything. You'll need to consider riding terrain and seasonal temperatures in your biking range. North or Midwest winter weather stops all but the most hardened bikers from November to March each year. However, in milder West Coast climates, riders typically enjoy year-round riding conditions.
Terrain is another important consideration. If you'll be on primarily winding, back country roads - a cruiser might be your best option. In urban areas, riders tend to prefer sport bikes because they are easier to maneuver.
4) What's Your Body Type?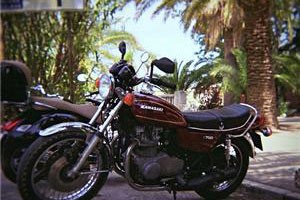 With motorcycles, one size does not fit all. This point is fairly easy to overlook, but is very important to both safety and comfort. The best piece of advice when figuring out what type of bike will fit your body type best is to simply try different models out.
Swing your leg up over the seat and put your hands behind on the handlebars. Could you stay in that position, alert and attentive for several hours? Consider feet placement and the seat - is it comfortable? The seat is arguably the most important part to consider, and a standard configuration typically works best for learners.
Don't forget to consider the rear-view mirrors: Do they allow you to see well around and behind you, or are there giant blind spots?
Used Motorcycle Buying Tips
Buying used is a solid option for most beginners. However, there are a few things to watch out for when purchasing a used bike - the following is a shortened list from American Motorcyclist on what to look for when buying a used bike:
Give the bike a visual check

Look for cosmetic clues of abuse or crash by inconsistencies in paint shade or texture. Cracks in the seat or fiberglass and scrapes on the footpegs and sidecases are also typical signs that the bike has had a hard life.

Chain

The chain should be clean and tight, with just a small dip between the sprockets and bottom rung.

Brake discs

These should be smooth, clean and not blue - a sign of dragging/overheating brakes.

Start the engine

The bike should start easily and may initially emit a little smoke on a cold startup.