Introducing The All-New 2016 Ducati Monster 1200 R
Chaparral Motorsports
|
October 13, 2015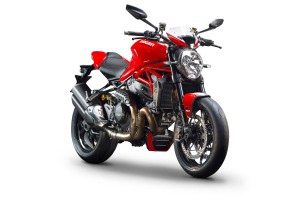 As a grandchild of the original 1992 Ducati M900, the new 2016 Ducati Monster 1200 R is a raw power bike designed for competitive track riding and peak performance.

"The designer wanted to communicate the top performance of the Monster 1200 R with a sport, compact and light design," said Ducati. Their intent with the latest Monster was to create a multi-passenger bike while still retaining "the image of an individualistic model, almost single-seat."

Displaying a classic round front headlight familiar to other bikes in the Monster series, the latest "R" features a "naked" design which was intended for a "less is more" minimalist feel. The entirety of the bike's design took minimalism into consideration - and to a whole new level. From tip to tail, the Monster 1200 R seems to scream power and simplicity.

The 1200 R rides upon a large back tire (a [mageProductLink sku="329-8711053" title=""]Pirelli Diablo Supercorsa SP 200/55 ZR-17[/mageProductLink]), but because of its angle and distance to the bike's tail, the ride won't appear overly large or awkwardly shaped from behind.

Major Upgrades For Monster 1200 R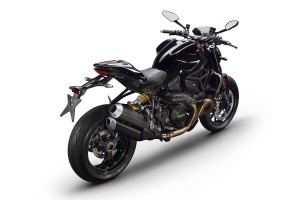 Since the 1200 S, Ducati has outdone itself with some major modifications.

Besides an upgraded engine and compression ratio, the new Monster 1200 R has a much improved braking system. The 1200 R totes the best brakes Brembo has to offer - in the form of two twin radially mounted M50 Monobloc calipers gripping 330mm disks on the front wheel - and 245 millimeter, 2-piston caliper's on the rear.

The 1200 R was designed "for all those who make sports performance their lifestyle and wish to turn each ride into an adrenaline-packed experience without forgoing the essential, practical appeal of a naked model," according to a statement released from Ducati.

2016 Ducati Monster 1200 R Specs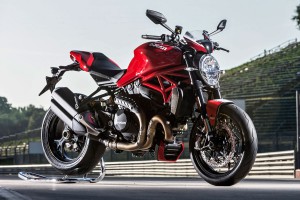 All specifications for the 2016 Ducati Monster 1200 R as provided via Ducati.



Dimensions - The dual-seat sits comfortably at a height of 830 millimeters (32.7 inches). Wheelbase is 1,509 millimeters (59.4 inches), and a rake of 24.3 degrees. Dry, the Monster weighs 180 kilograms (396.8 pounds) - but with the 17.5 liter (4.6 gallon) tank completely full, lubricants, coolants and a batter brings the weight up to 207 kilograms (456.3 pounds).

Chassis - The 1200 R's track-ready frame is built using Tubular steel Trellis attached to a cylinder head. Front suspension is fully adjustable (Öhlins 48 mm usd fork). This design makes the 1200 R more of a contemporary super-bike than any before it.

Engine - Liquid-cooled, 1198.4cc Desmodromic Testastretta 11 degree DS, complete with L-Twin cylinders (4 valves per cylinder), a Synerject-Continental electronic fuel injection system and a 13.0:1 compression ratio. The bike peaks at 158 horsepower and 97 pound-feet of torque.

Exhaust - The exhaust system is a twin aluminum muffler, lightweight 2-1-2 system with a catalytic converter and two lambda probes.

Transmission - Six speed gearbox full of straight cut gears at a ratio of 1.84:1.

Safety - the Monster 1200 R comes packed with standard safety features, including a 9MP multi-calibration anti-lock braking system, Ducati-brand traction control with "sensitivity levels," and the Ducati Safety Pack.

Additionally, Ducati provides a seat cover, riding and power nodes, ride-by-wire throttle, and a 24-month unlimited mileage warranty for new bikes. The 1200 R will be commercially available in 2016, and initially available in Ducati Red with a matching color frame and Thrilling Black with a Dark Chrome frame. Graphic logos will be displayed on the fuel tank, passenger seat cover, mini-fairing and front mudguard.

While there has been no word yet from Ducati as to the total cost of the 1200 R, the BMW S 1000 R - one of the Ducati 1200 R's direct competitors - will go for around $13,500.

Ducati Monster 1200 R Video
http://www.youtube.com/watch?v=UJX1kUsFmqY