Avoiding Deer On Your Motorcycle Through This Fall
Chaparral Motorsports
|
October 10, 2015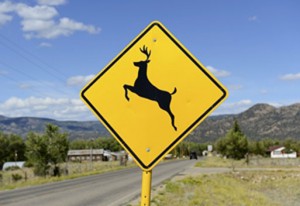 As the summer starts to wind down, the fall season has many motorcyclists gearing up for chillier nights and great autumn rides. While the fall can be one of the most gorgeous times of the year to ride your motorcycle, it can also be one of the most dangerous.

Specifically, for those riding in the Midwest, East Coast and Pacific Northwest regions, the danger in fall riding is due to the influx of deer crossing roads. Wildlife activity on the road tends to pick up during the fall, which is why it's extremely vital to increase your awareness and be on the lookout for four-legged critters.

Many long and winding roads already create visual impairments for riders, but with deer season coming this fall, the risk of a collision increases. Any motorcyclist that has ever hit an animal while riding will tell you it's nothing like the same experience in a car.

Hitting a deer can launch you from your bike, force you to swerve off the road and even cause impalement. According to a report from the Skilled Motorcyclist Association, more than 74 percent of accidents involving a deer and a motorcycle result in an injury. Additionally, over 90 percent of these crashes occur on two-lane roads between dusk and dawn.

By now, you should understand that motorcycle crashes involving deer can be a serious threat to you. However, there are some tips to follow that will help prevent the chances of a accident with a deer:

1) Ensure Your Headlights Are Bright Enough
Depending on how much motorcycle riding you do at night, it's best to invest in a powerful headlight bulb for your bike. According to the SMA, riders should use a bulb with a high-beam of 100 watts or more. Having a powerful high-beam is critical for night riding, especially on a motorcycle. Brighter lights will help you spot deer further down the road even when the sun is not fully down.

2) Watch Your Speed
During this time of the season, it's not a good idea to crank your bike through country roads at night. Instead, simply watch your speed. Ride at a speed that you know you can safely brake and control your bike without having to fully slam on the brakes. Additionally, when you see a deer, it's best to slow down because there could be more nearby. If you're riding at a low speed, you can catch other deer around you more easily and take off to get away. However, you should always expect to see more deer once you spot a strangler in the road.

3) Practice Swerving And Braking Techniques
You can practice swerving and braking techniques in a large parking lot to help get you prepared for deer this season. Swerving practice should be taken lightly since many recommend braking hard is better before point of impact with deer because it's less damaging. While practicing won't make you invincible of deer accidents, it will help improve your reflexes so you don't overreact on your bike. Also, it's wise to keep your hand on your brake lever and your foot on the brake pad so you'll have a faster reaction time while riding during low visibility periods.

4) Up Your Protective Gear
You're completely vulnerable while riding at night during deer season, which means you should increase your protective motorcycle gear. Switching to a full-face helmet, adding a back protector and wearing knee and arm pads could significantly protect you in the event of an accident. Always consider what gear can help you stay warm and safe this fall riding season.