Single-Row Seating For 2016 Kawasaki Mule Pro-FX
Chaparral Motorsports
|
October 8, 2015
2016 Kawasaki Mule Pro-FX Side-By-Side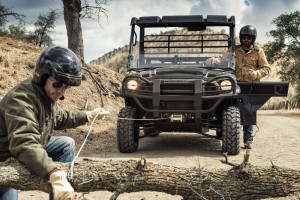 A lot of high expectations come with Kawasaki and its line of utility task vehicles. For the manufacturer's 2015 model year, the company released the Kawasaki Mule Pro-FXT, which was highly regarded as one of the best UTVs on the market - ATV.com even ranked the vehicle as the best utility UTV of the year.

However, Kawasaki went back to the drawing board to see what it could do for the next model year. For 2016, Kawasaki will release the Mule Pro-FX, which is most notably different with only a single row of seating.

The Pro-FX and the Pro-FXT are actually very similar in design and total capacity, but simply made with fewer seats. The Pro-FX has a 1,000-pound carrying capacity and the UTV can tow up to 2,000 pounds with the optional hitch fitted on the vehicle.

With an 812cc three-cylinder engine with Digital Fuel Injection and 48 pound-feet of torque, the Mule Pro-FX has some of the most strength in the UTV class. According to Sam Bendall, a contributor for Ride Apart, the Mule was first created in 1988 and the line of UTVs continues to be at the top of its market.

"The foam bench style seats were quite comfortable all day driving and the adjustable three-point adjustable seat belts felt snug and capable of holding me in the vehicle in the event it were to roll over (this is not something I tested)," Bendall explained in his review of the Pro-FX for Ride Apart. "All buttons and readouts were easily readable and straightforward, but my favorite feature was the adjustable steering column."

Mule Powered Accessories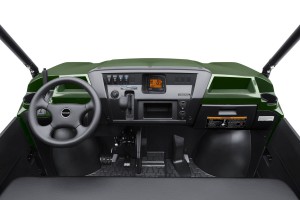 One of the best features of the Kawasaki Pro-FX is its 60.8-amp high-output alternator at 2,000 rpm. This allows workers, farmers and other various crew members to keep their devices charged all day long through a pair of built-in 12-volt outlets.

The Pro-FX is perfect for those riding on hills and slopes as the engine hold-back allows drivers to have natural engine braking. This means hills and slopes won't seem as steep while descending. Additionally, with electronically selectable 2WD/4WD system capabilities, the UTV can easily switch between either modes.

"Not only does it have excellent pulling power when fully loaded, but the MULE has excellent acceleration and hill-climbing ability when combined with its four-wheel drive system," Kawasaki stated about the Pro-FX according to ATV.com.

The Kawasaki Pro-FX is available in an EPS and non-EPS version for $11,999 or $12,999, respectively.

[vehicle url="http://www.chapmotors.com/inventory/v1/Current/Kawasaki" name="2016 Kawasaki Mule Pro-FX" source="chaparral" img="https://d1j5r50obvimnh.cloudfront.net/wp/wp-content/uploads/2015/08/2016-Kawasaki-Mule-Pro-FX.jpg"]



2016

Kawasaki

Mule Pro-FX™

Base

Utility

4-stroke, 3-cylinder, DOHC, Liquid-cooled

812cc

72.0mm

66.5mm

9.5:1

48.0 lb-ft @ 3500 rpm

DFI® w/34mm throttle body

Battery and coil

Continuously Variable Transmission (CVT) with high and low range, forward, neutral and reverse

Shaft, selectable 4-wheel drive with dual-mode rear differential

75 amp

Double wishbone

8.7in

Double wishbone

8.5/8.7 in

26 x 9.00 R12

26 x 11.00 R12

Rack-and-pinion

Hydraulic dual 212mm discs with two-piston calipers

Hydraulic dual 212mm discs with single-piston calipers, mechanical parking brake

16 ft

ROPS meets the performance requirements of ISO 3471

54.1 x 53.3 x 11.0 in

1,000 lb (where state law permits) 600 lb maximum capacity for California models

1649 lb

3 person

2000 lb

(2) 55/60W sealed-beam headlights

Steel tube ladder type

133.3 in

64.0 in

77.4 in

10.4 in

1786.1 lb

7.9 gal

92.3 in

Multi-function display includes digital speedometer, fuel gauge, odometer, hour meter, clock, dual trip meters, 2WD/4WD indicator, water temperature warning indicator, oil pressure warning indicator, fuel injection warning indicator, CVT warning indicator, neutral, reverse and parking indicators, seatbelt reminder lamps

Super Black

Kawasaki Strong 3 Year Limited Warranty

[/vehicle]

Image Gallery


[vehicle name="2016 Kawasaki Mule Pro-FX EPS LE" img="https://d1j5r50obvimnh.cloudfront.net/wp/wp-content/uploads/2015/08/2016-Kawasaki-Mule-Pro-FX-EPS-LE-Red.jpg" url="http://www.chapmotors.com/inventory/v1/Current/Kawasaki" source="chaparral"]



2016

Kawasaki

Mule Pro-FX™

EPS LE

Utility

4-stroke, 3-cylinder, DOHC, Liquid-cooled

812cc

72.0mm

66.5mm

9.5:1

48.0 lb-ft @ 3500 rpm

DFI® w/34mm throttle body

Battery and coil

Continuously Variable Transmission (CVT) with high and low range, forward, neutral and reverse

Shaft, selectable 4-wheel drive with dual-mode rear differential

75 amp

Double wishbone

8.7 in

Double wishbone

8.5/8.7 in

26 x 9.00 R12

26 x 11.00 R12

Electric power assisted rack-and-pinion

Hydraulic dual 212mm discs with two-piston calipers

Hydraulic dual 212mm discs with single-piston calipers, mechanical parking brake

Steel tube ladder type

133.3 in

64.0 in

79.7 in

10.4 in

7.9 gal

16.0 ft

ROPS meets the performance requirements of ISO 3471

Cargo: 54.1 x 53.3 x 11.0 in

Bed: 1,000 lb (where state law permits) 600 lb maximum capacity for California models

1649 lb

3

2000 lb

(2) 55/60W sealed-beam headlights, (2) LED auxiliary lights

1801.5 lb

92.3 in

Multi-function display includes digital speedometer, fuel gauge, odometer, hour meter, clock, dual trip meters, 2WD/4WD indicator, water temperature warning indicator, oil pressure warning indicator, fuel injection warning indicator, CVT warning indicator, neutral, reverse and parking indicators, seatbelt reminder lamps

Timberline Green, Dark Royal Red

Kawasaki Strong 3 Year Limited Warranty

[/vehicle]

Image Gallery