USA Fights Well In KTM RC Cup World Finals
Chaparral Motorsports
|
October 6, 2015
Five Young North Americans Represent MotoAmerica at KTM RC Cup Series in England
[caption id="attachment_56607" align="alignright" width="300"]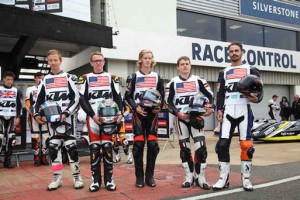 2015 KTM RC Cup World Finals USA Team[/caption]

In early October, five North American youths crossed the Atlantic to fight for the RC Cup Series.

Anthony Mazziotto, 15, Braeden Ortt, 15, Gage McAllister, 20, Hayden Schultz, 18, and Justin McWilliams​, 22, performed well during the RC Cup Series in England from Oct. 2 - 4. The MotoAmerica team competed against six other countries on the iconic Silverstone Circuit, a nearly 4-mile track located in East Midlands, England.

The team was nearly as excited as they were nervous to compete in England and on an unfamiliar track, and each member dealt with preparations differently.

"Heading to Silverstone is going to definitely be a game-changer," Mazziotto told MotoAmerica before the race. "I may have to learn to ride the DOTs​ [tires] in the wet as it goes on, but I hope us Americans can make a good group and learn the track fast and maybe we can make a gap on everyone else - show that USA Proud and that we do it well over here."

[caption id="attachment_56606" align="alignright" width="300"]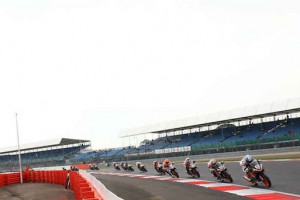 2015 KTM RC Cup World Finals[/caption]

Mazziotto's preparation tactics included reviewing several race tapes and playing a few video games.

McWilliams coped by reviewing race tape: "Just some on-board videos," he told MotoAmerica. "That's normally what I focus on if I don't know the track."

MotoAmerica's President Wayne Rainey didn't hesitate to express his support for his team.

"There's nothing like going overseas for your first race," Rainey said before the trip. "They get to ride on a really nice Grand Prix track and they get to race against other kids from around the world to see how they stack up. It doesn't get much better than that ... I know they will represent MotoAmerica in the best way possible."

[caption id="attachment_56605" align="alignright" width="300"]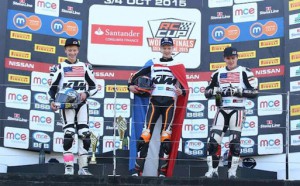 2015 KTM RC Cup World Finals Race 2 Podium[/caption]

Ortt preformed best of the five across both weekend races, according to MotoAmerica. Ortt stole third place in the World Finals Race 1, and bumped himself to second in Race 2, finishing only 0.008 seconds behind the winner, Dijm Ulrich from the Netherlands.

On Sunday Hayden Schultz also raced well, placing third overall. Schulz, who led late in the race but got passed on the last lap, said that he ended up on the podium at the end, and said he couldn't complain with the result.

Mazziotto of New Jersey finished fifth in Saturday's race. Unfortunately, due to an accident in which he got rear-ended, Mazziotto didn't race on Sunday due to several broken fingers.

"I had a lot of fun, and hopefully next year we can move up and ride something bigger," Mazziotto said in a statement released by MotoAmerica. "Superstock 600 with MotoAmerica is the plan. Maybe the KTM again, as well."

2015 KTM RC Cup World Finals Race 1 Highlights Video
https://youtu.be/Go6BEOks2AY