Polaris Announces 4-Seater RZR XP 4 Turbo EPS And Expands 4-Seat Line-up
Chaparral Motorsports
|
October 6, 2015
[caption id="attachment_54584" align="alignright" width="300"]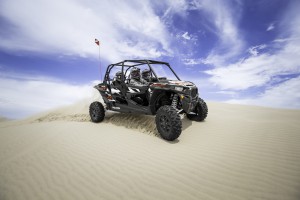 2016 Polaris RZR XP 4 EPS Graphite Crystal[/caption]

Polaris® Industries Inc. (NYSE: PII) today introduced two new Polaris RZR vehicles that fuel the RZR lifestyle and allow people to share the off-road experience with family and friends. The new RZR XP® 4 Turbo EPS and RZR XP® 4 1000 EPS High Lifter Edition offer extreme performance for the desert, trail, mud and dunes.

Three months ago, Polaris introduced the all-new 2016 RZR XP Turbo EPS which was completely re-engineered to translate industry-leading power into unmatched performance and durability. Today, RZR is introducing this same breakthrough level of extreme performance for four, to share the off-road with friends and family.

The new RZR XP 4 Turbo EPS is the ultimate combination of extreme performance in a side-by-side, with all of the features of the RZR XP Turbo EPS. Both are completely engineered, front to back, to translate industry-leading power into unmatched performance and durability. The vehicle brings significant innovations to each of the hallmark Power, Suspension, Agility, Comfort and Customization aspects of RZR to provide the ultimate off-road experience for four.

The Polaris ProStar® Turbo engine provides an industry-leading 144 horsepower-, 30 percent more horsepower and 45 percent more torque than the RZR XP 4 1000 EPS. The ProStar Turbo effortlessly carries a full load of thrill seekers over the most power-robbing terrain. The new engine was developed for extreme performance and features all new, high performance parts including forged pistons, an upgraded 270-degree firing order forged crankshaft, high strength connecting rods, a closed deck cylinder, sodium filled exhaust valves and a new oil lubrication system. For consistent performance at all temperatures, the vehicle also includes a new liquid charged air cooler with front-mounted, dual radiators with high-capacity fan and high-flow electric pump. To control the massive power delivered by the ProStar Turbo, the engine management system has also been updated to include knock detection, boost control and a high-flow return style fuel system ensuring that the engine delivers maximum power under all conditions, altitudes and temperatures.

To deliver maximum durability and performance, Polaris performed substantial testing on the engine with enough test miles to travel around the world more than nine times. The engine also is paired with an all-new stronger driveline to ensure all the power gets to the ground reliably. The fully-automatic PVT variable transmission ensures optimal power delivery in all conditions, with the ease of operation that suits riders of all types.

[caption id="attachment_54583" align="alignright" width="300"]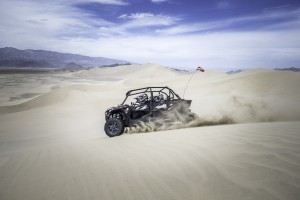 2016 Polaris RZR XP 4 EPS Graphite Crystal[/caption]

Similar to the RZR XP Turbo EPS, the RZR XP 4 Turbo EPS boasts the most precisely-tuned suspension due to the vehicle's exclusive FOX Podium® Internal Bypass Shocks. The shocks offer the plushest ride and best handling on a side-by-side to conquer the harshest trails and terrain. Paired with a long wheel base, dual A-arm front suspension with 16 in/40.6 cm of front travel and race-inspired, 3-Link trailing arm rear suspension with an incredible 18 in/45.7 cm of rear travel, RZR XP 4 Turbo EPS occupants will experience one of the smoothest rides in a side-by-side whether riding alone or with up to three passengers.

The RZR XP 4 Turbo EPS also provides unmatched agility in every condition. The vehicle's front sway bar dramatically decreases body roll in cornering for a more confidence-inspiring ride while the vehicle's durable High Performance True On-Demand All-Wheel-Drive system provides the ultimate in responsiveness to the terrain. The vehicle also offers industry-leading braking performance with upgraded brakes featuring triple piston front calipers, dual piston rear calipers and large 248mm ventilated stainless steel rotors on all four corners, for durable and highly-responsive braking power.

RZR vehicles have been thoughtfully designed to provide occupants with the most exhilarating and comfortable ride on the market. From the exclusive, patented design that places the engine behind the seat to the placement of the occupants comfortably towards the middle of the vehicle, RZR's design provides a low center of gravity for a more comfortable and stable ride. For driver and passenger comfort, the RZR XP 4 Turbo EPS offers adjustable seat sliders up front, adjustable seat belt heights for the rear occupants and a natural seat angle for enhanced comfort for a more enjoyable ride with friends and family.

[caption id="attachment_54591" align="alignright" width="300"]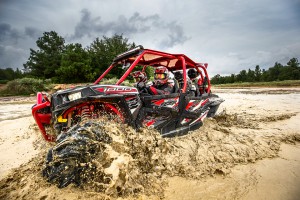 2016 Polaris RZR XP 4 1000 EPS High Lifter Edition Titanium Matte Metallic[/caption]

RZR enthusiasts love to customize their vehicles and the RZR XP 4 Turbo EPS provides revolutionary accessory options with more than 110 exclusive accessories available. Polaris Engineered Accessories™ are designed with the vehicle to ensure the highest quality of design, integration and function. With integrated mounting points situated along the vehicle frame and pass-through areas for routing wires, accessories can be attached with minimal installation time. Additions, such as rock sliders and bumpers, easily attach and fit securely to the vehicle's frame due to Polaris' innovative Expanding Anchor technology; a revolutionary piece of hardware that expands as it is inserted into a mounting point. Lock & Ride® windshields, rear panels, roofs and doors work seamlessly with each other and install directly onto the vehicle frame's designated mounting points, making installation simple, and providing superior fit and finish. Polaris Engineered Accessories™ come with a one-year factory warranty and do not jeopardize the vehicle warranty.

The RZR XP 4 Turbo EPS retails for retails for $27,499 U.S./$32,399 CAN, will be offered in Graphite Crystal and Spectra Orange, and will be available at Polaris dealerships in October.

If your friends and family prefer tackling the mud, the RZR XP 4 EPS High Lifter Edition provides performance-hungry, mud-thirsty, off-road enthusiasts an option to share their love of the mud with three other family members or friends.

"We needed to find more ways to get people dirty, and that's exactly what we did with the new RZR XP 4 EPS High Lifter Edition," said Scott Smith, owner and President of High Lifter Products, Inc. "Now, I can share my love of the mud with more of my family and friends."

Similar to the RZR XP 1000 EPS High Lifter Edition, the RZR XP 4 EPS High Lifter Edition has a 110 horsepower ProStar® 1000 H.O. engine with mud-specific cooling and gearing. The high-mounted engine intakes, clutch intakes and exhaust keep the water out while providing an ample amount of fresh air. The vent lines are integrated into the cab frame to keep them free of debris for ultimate mud performance. To optimize power and torque for maneuvering through the mud, the vehicle offers reduced gearing for more torque and a larger reverse chain.

Suspension is incredibly important when cruising muddy trails and the RZR XP 4 1000 EPS High Lifter Edition delivers a suspension to handle the thickest and nastiest mud. High-clearance lower A-Arms and rear radius rods max the vehicle out at 15 in/38.1 cm of ground clearance to keep the vehicle riding high above the sticky stuff. The vehicle's new, stiffer springs fight back when the mud piles up by helping maintain ground clearance as mud collects on the vehicle and the overall weight increases.

To stay agile in the mud you need traction and the RZR XP 4 1000 EPS High Lifter Edition offers 29.5 in/74.93 cm High Lifter Outlaw 2 tires for exceptional handling and plenty of grip to plow through the mud. When things get sticky, the standard 4,500 lb/2041.17 kg winch, with integrated in-dash switches and synthetic rope for more durability, ensure you'll get through the most challenging mud hole.

Powering through mud can be tiring but the RZR XP 4 1000 EPS High Lifter Edition ensures all occupants are having a comfortable mud-conquering experience. Dryseat technology on the seats and factory-installed half doors keep the mud where it belongs. The doors feature a secure latching system with sealed contact points around the rocker panel and front fender for a drier ride. Standard Electronic Power Steering (EPS) means less strain on the driver and the standard rear-view mirror helps with keeping an eye on the trail instead of turning around to check on rear occupants or people following. When the ride is over, the removable floor drains make washing out mud and debris quick and easy.

The RZR XP 4 1000 High Lifter Edition was designed in tandem with one of the leaders in mud riding, High Lifter Products, and offers premium mud features from the factory at a MSRP of $25,699 U.S./$30,199 CAN, so the vehicle can go from the showroom to that favorite mud hole in a matter of minutes. Polaris Engineered Accessories also has more than 110 accessories, including a wide variety of audio, lighting, and storage for the mud enthusiasts who love to customize their RZR to maximize their mud-riding experience.

The RZR XP 4 1000 High Lifter Edition will be available in dealerships in October.

For off-road enthusiasts looking for a value high performance or premium trail vehicle 2-seat model, Polaris also has added a RZR S 900 with Blue Fire premium paint without Electronic Power Steering (EPS), retailing at $15,499 U.S./$17,799 CAN. The vehicle will continue to offer a 75 horsepower, ProStar 900 engine; optimized 60 in/152.4 cm track width; dual A-Arm rear suspension with FOX Performance Series 2.0 Podium X Shocks; True On-Demand All-Wheel Drive; and enhanced accessory integration and customization with more than 90 Polaris Engineered Accessories available. The vehicle will be available in dealerships in October.

More information about Polaris' whole line of Off-Road Vehicle offerings and Polaris Engineered Accessories can be found online at Chaparral Motorsports.

2016 Polaris RZR XP® 4 Turbo EPS Image Gallery
2016 Polaris RZR XP 4 EPS High Lifter Edition Image Gallery


[vehicle name="2016 Polaris RZR XP 4 Turbo EPS Graphite Crystal" url="http://vehicles.chaparral-racing.com/inventory/v1/Current/Polaris/Utility-Vehicle/Multi-Passenger/2016-RZR-XP-4-Turbo-EPS/Graphite-Crystal--San-Bernardino-California---3542421" img="http://cdn.dealerspike.com/imglib/v1/800x600/imglib/trimsdb/3542421-0-12093861.jpg"]



2016

Polaris®

RZR XP® 4 Turbo EPS

Graphite Crystal

Side by Side

4-Stroke DOHC Twin Cylinder Turbocharged

925 cc

Electronic Fuel Injection

Liquid

Automatic PVT P/R/N/L/H

High Performance True On-Demand AWD/2WD

Dual A-Arm with 2.5" FOX Podium Internal Bypass Shocks (comp adjust/res.) with Stabilizer Bar 16" (40.6 cm) Travel

Trailing Arm with 3.0" FOX Podium Internal Bypass Shocks (comp adjust/remote res.) with Stabalizer Bar 18" (45.7 cm) Travel

4-Wheel Hydraulic Disc with Triple-Bore Front and Dual-Bore Rear Calipers

Park in Transmission

29 x 9-14; Maxxis Bighorn

29 x 11-14; Maxxis Bighorn

Cast Aluminum

117.0" (297.2 cm)

146" x 64" x 73.75" (370.8 x 162.6 x 187.3 cm)

13.5" (34.3 cm)

28 x 22 x 7" (72 x 57 x 17.8 cm)

Standard/1.25" Receiver

4

9.5 gal (36 L)

N.A./300 lb (136.1 kg)

740 lb (335.6 kg)

1,500 lb (680.4 kg)

1691 lbs (767 kgs)

White LED, High/Low & Red LED Tail/Brake Lights

Lock & Ride

Standard

Digital Gauge, Speedometer, Odometer, Tripmeter, Tachometer, Coolant Temperature, Volt Meter, Hour Meter, Service Indicator, Clock, Gear Indicator, Fuel Gauge, Hi-Temp Light, Seatbelt Reminder Light, 2 DC Outlets

Graphite Crystal

[/vehicle]