Essentials Kawasaki KLR 650 Upgrades For Longevity
Chaparral Motorsports
|
October 2, 2015
|
Last Updated: June 1, 2020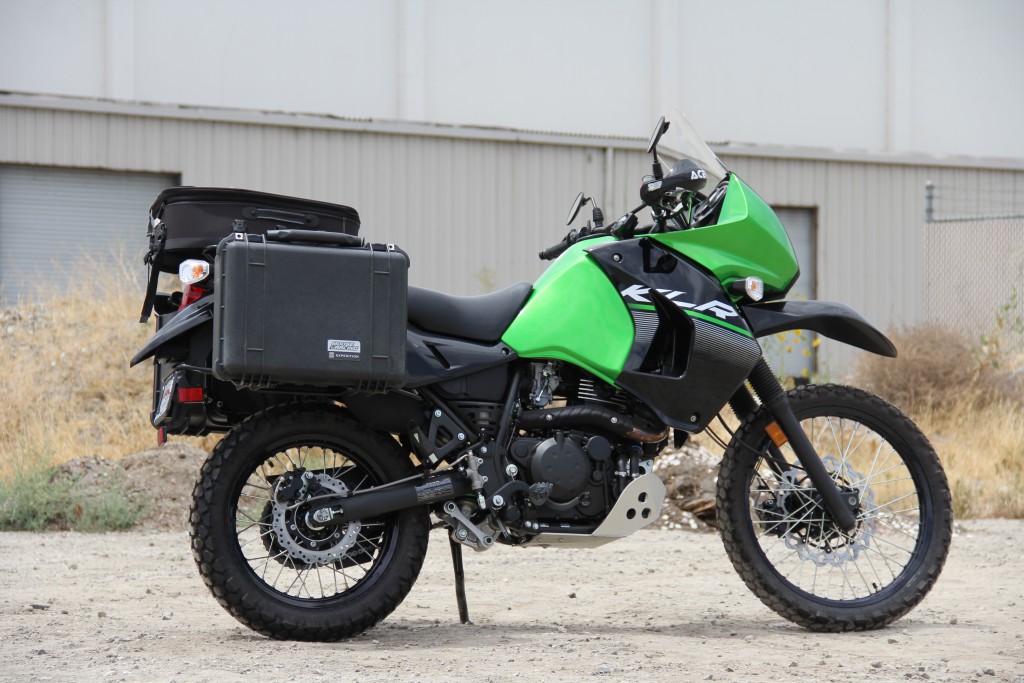 How To Get Your Kawasaki KLR 650 Ready For A Long Haul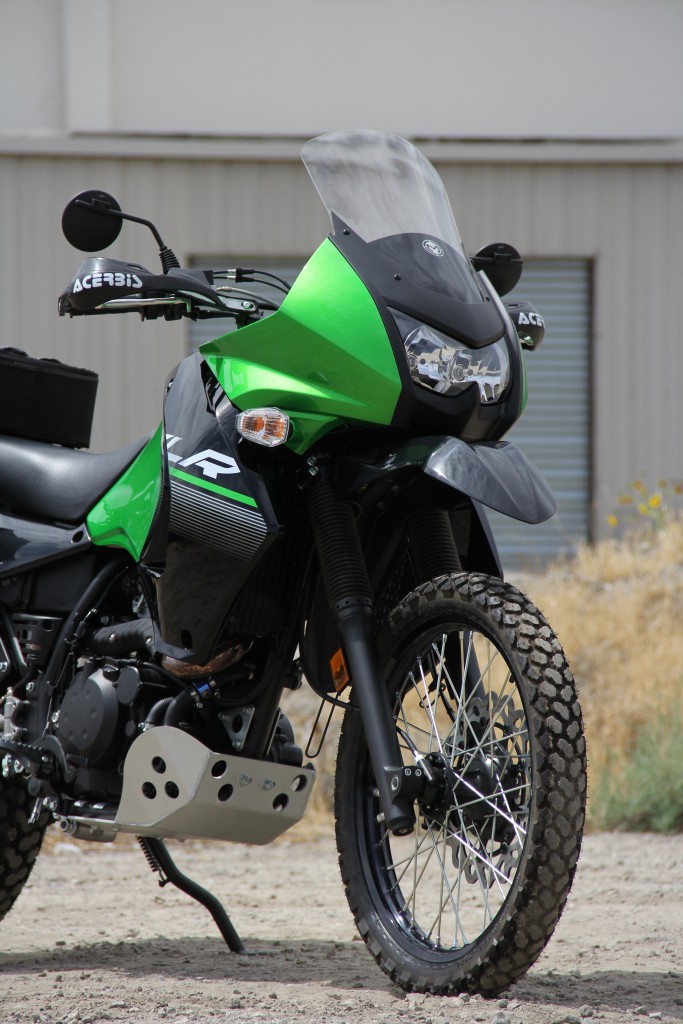 Remember those old Timex commercials that touted the watch's toughness with the tag line "Takes a licking and keeps on ticking"? Well, the same could be said for the venerable Kawasaki KLR 650. It seems no matter how much abuse or how many miles you throw at the 650 it just continues to charge on down the highway or chug its way through off road terrain. For nearly 30 years the KLR has been a dependable motorcycle that has enough oomph to cruise at highway speeds and is light enough for just about any offroad newbie to feel comfortable riding on a fire road or beginner trail.
Depending on who you talk to some may call classify it as a dual sport while others will call it an adventure bike. While it does have the same displacement of the other dual sports like the Suzuki DR650 and Honda XR650L, it features more of an adventure bike look with its full front fairing and windshield.
However you label the KLR, dual sport or adventure bike, you can easily list other bikes in those segments that do things better than the KLR. There are plenty of things the KLR is not; it's not the fastest, it's not the most technologically advanced, and it's not the best at offroading. While the KLR may not be the top performer in certain aspects it does well enough in all of them to earn its reputation as a go anywhere, do anything bike. In fact, the combination of its longevity in the market place and worldwide popularity, make the KLR the ideal bike for worldwide travel as it's easy to ride, relatively easy to fix, and aftermarket or replacement parts are so plentiful that you can often find a solution to get you out of any situation. Best of all, it does it all at an extremely affordable price. When you compare it to the KTM 690 Enduro R ($10,499) you can almost buy two KLRs ($6,599). Even when you load up the KLR with a ton of aftermarket parts and accessories like hard bags, improved protection, and an onboard computer/GPS it can still roll in less than the price of a 690 Enduro R.
KLR 650 Upgrades
Motorcycle Luggage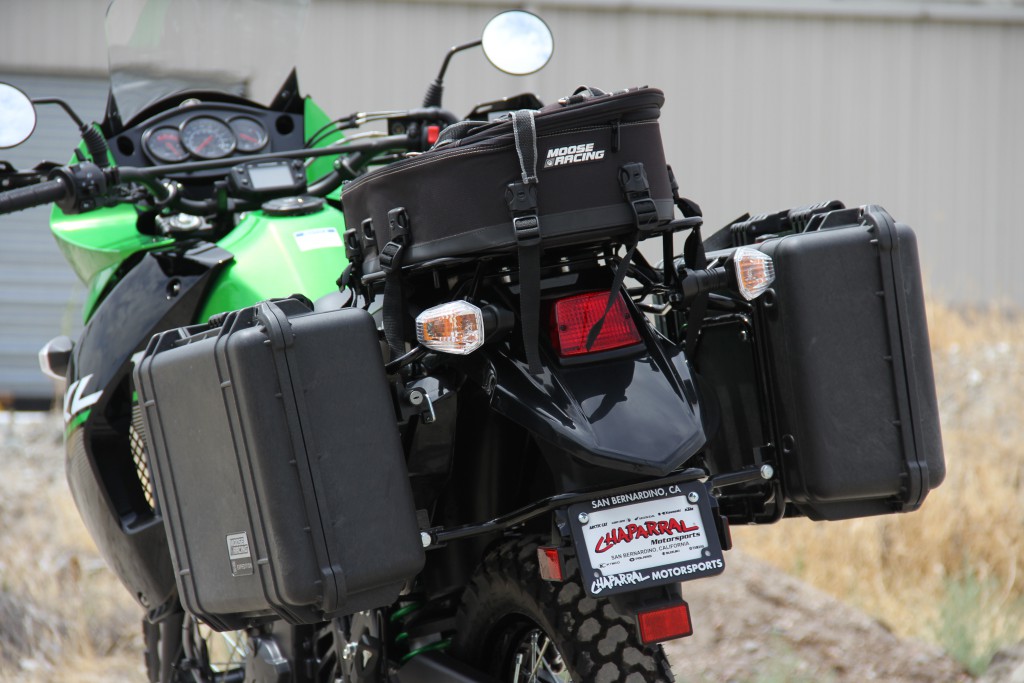 Chaparral had several bone-stock 2015 KLRs on their hands and decided to use one of them to expand upon the recent improvements Kawasaki had made in the suspension and seating departments with some simple bolt-on upgrades to make the bike an even better long distance hauler, city commuter, and tough off roader.
To easily haul all the necessary clothing and gear for cross-country treks, the KLR was outfitted with a Moose Racing Expedition Luggage Rack and quick release Expedition Side Cases. For more options, check out ChapMoto's selection of motorcycle luggage and backpacks.
The Expedition Luggage Rack is a full rack system, meaning it covers both rear sides of the bike as well the top of the rear fender. Made out of heavy-duty steel, the rack has multiple mounting points making it easy to secure a variety of items and evenly distribute the weight for a balanced feel. The rack features a quick disconnect spring and pin system to easily install/remove side cases and comes with universal mounting brackets to use with a variety of side cases. The Moose Racing Expedition Side Cases are water tight, crush proof, and feature double throw latches. They measure 19.78" x 15.77" x 7.41" and only weigh 8lbs each. Outfitted with stainless steel padlock protectors the cases provide a secure place to keep your clothes or valuables dry and safe when adventuring across the globe.
For even more storage and to allow for off bike wandering with camera equipment, laptop, a picnic lunch etc., a Moose Racing Adventure Series Pillion and Rear Rack Bag was tossed into the mix. The bag comes with multiple mounting straps to secure it to the Expedition frame, top of a rear fender, passenger seat, or just about any other way you want to mount it to a motorcycle. Featuring a double zip compartment the bag expands to accommodate a good amount of clothing or gear. The top of the bag has multiple quick release buckles which you can use to strap down a tripod, tent, or jacket. Best of all, the bag doubles as a backpack so you can comfortably tote it with you when off the bike.
Upgrade Those Stock Handguards and Engine Guard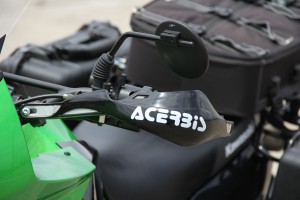 The KLR comes stock with handguards and an engine guard, and while those components do a decent job at providing protection there are definitely better options. The stock handguards are made of lightweight plastic and don't have a backbone to protect your hands against hard impacts or protect the levers against drops. So to fix that, the stock guards were replaced with Acerbis Rally Pro X-Strong Handguards. The guards are made of durable injection-molded nylon composite, and wrap around anodized aluminum frames. The outer ends of the frames are solid-mounted into the end of the handlebar via a steel bar-end insert that won't allow the guard to rotate in a crash.
To go along with the new handguards, the mirrors were replaced with Bikemaster Folding Mirrors. With a long 8" stem the round 4-1/2" mirrors can be adjusted to varying heights to accommodate a wide range of rider heights and preferences. As a safety and money saving feature, the stems are designed to fold rather than break in the event of a major impact.
Engine protection was improved by removing the stock plastic engine guard and installing an aluminum Moose Racing Skid Plate. Made from strong, lightweight, aircraft-grade aluminum, the skid plate has been shaped and welded to perfectly fit the KLR frame. The skid plate has large holes in the top front and sides to allow for plenty of airflow to the engine while the smooth bottom helps slide over logs and rocks without catching. There is also an oil drain hole which makes servicing your bike a breeze.
Footpegs And Brakes Fit For An Offroad Adventure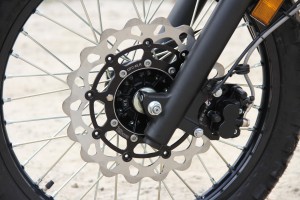 The KLR comes with rubber footpegs, which help to reduce vibration but for offroad situations the rubber doesn't often deliver the best footing. So to help get better grip a set of IMS Super Stock Pegs were installed. The new pegs are made from 17-4 stainless steel and are covered with durable grey powdercoat. The pegs measure 2" x 3" which is a good platform size to offer long distance comfort without being too big to get in the way during offroad riding. The tall, rounded teeth provide a good bite on the bottom of boots to ensure consistent control when riding aggressively.
Braking was improved at the front of the bike with an oversized rotor kit from Galfer. The key component in the kit is the 320mm Wave cut brake rotor. 40mm larger than the stock rotor, the Galfer unit offers the benefit of a floating rotor laser cut from high carbon 420 SS/8 composite. Even though the rotor is noticeably larger it's significantly lighter than stock. The larger size, material, and floating nature helps with heat dissipation and delivers more powerful and smoother braking. Included with the kit are a relocation bracket, steel-braided brake line, Galfer's Green Brake pads, and all necessary mounting hardware, making installation quick and straightforward. To match the front brake line a Galfer Stainless Steel Rear Brake Line was installed as well.
Computer And Lithium Battery For The Win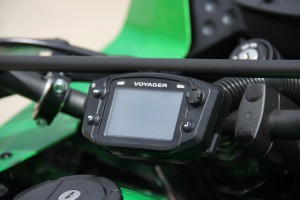 Knowing that KLR owners are the explorer type, the Chaparral team added a Trail Tech Voyager Computer. Sure the KLR has a speedometer/odometer gauge, but the Voyager offers a wealth of detailed information along with being a very handy GPS device. The Voyager has a 2.7"screen that is compact yet provides a large enough display to quickly glance and see what's going on-even in direct sunlight. The Voyager GPS can create maps and log the trails/routes you ride and when you are finished you can share them with friends. The computer also logs/monitors engine temperature, ambient temperature, distance, voltage, compass, elevation, and engine RPM so that you can review the data and see how your bike was reacting at different points along the journey. The RideLeader software that comes with the kit allows you to create, edit, and save your rides as well as upload them onto the computers' 2GB Micro SD card. An extremely powerful piece of equipment the new owner of this bike will be thrilled with how useful the Voyager will be on trips.
Earlier I mentioned the weight savings gained by installing the Galfer Wave Rotor, well, even more weight was saved by ditching the stock battery and replacing it with a Western Powersports Featherweight Lithium Battery. The new lithium ion battery is several pounds lighter than the stock lead acid battery and significantly smaller. The weight difference may be minimal in the overall weight of the bike but can still help contribute to a slightly more balanced and easier to handle motorcycle. In addition to being smaller/lighter, WPS claims this battery will deliver a faster charger (up to 90% in about 6 minutes), increased cranking amps, and longer shelf life.
Wind Protection For All Sizes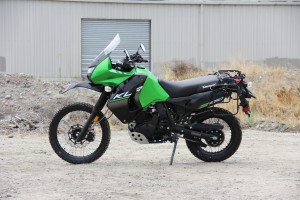 Taller riders or those that like more coverage from their windshield will appreciate the Moose Racing Adventure Windscreen. Measuring in at a little more than 16" tall the Moose Windscreen is a full 4" taller than stock. The additional height provides better wind protection, less buffeting, and better wet weather protection. The windshield is made from Lucite aircraft quality acrylic is more durable than stock and provides a more optically clear/distortion free view.
All these parts and accessories were easy to install, required basic hand tools, and only took a little more than half a day to install. Pretty much anyone with basic mechanical skills and the ability to follow step-by-step instructions could handle a project like this and improve the protection, long-distance comfort, and performance on their KLR and make it an even more capable do-it-all, go anywhere machine.
Kawasaki KLR 650 Parts
Acerbis Rally Pro X-Strong Handguards Anodized aluminum guard for maximum strength. Nylon composite material injection molded in and around the aluminum guard for increased protection. Indexed steel bar end insert mounts.
IMS Super Stock Foot Pegs Made from 17-4 stainless steel with a gray powder coat finish. Roughly 2" by 3" in dimension. The tall rounded teeth are perfect for all riding levels, making a significant difference in.
Bikemaster Folding Mirror Pivoting base protects the mirror from breaking by heavy brush or in a fall. Folds away and protected from damage when not needed. Universal stem fits left or right side. Mirror diameter.
Moose Racing Expedition Luggage Rack Mounting System Complete luggage system with rear top rack, side mounts, and universal mounting brackets. System has multiple mounting points to distribute the load equally around the rear sub frame of the.
Moose Racing Adventure Windscreen Made from .118 and .177 Lucite aircraft quality acrylic. Material is more rigid and optically clearer than O.E.M windscreens. Shorty version available for some models for reduced buffeting.
Moose Racing Expedition Side Case by Pelican Moose Racing has teamed with Pelican Products to bring you the ultimate luggage for adventure touring. Watertight, crushproof, and dust proof. Easy open double throw latches. Open cell.
Moose Racing Aluminum Skid Plate Made from ultra-strong yet lightweight aircraft aluminum. Protects vital engine parts from rocks and debris. Smooth underside won't snag when crossing logs. Custom fit provides maximum.
Western Power Sports Featherweight Lithium Battery Lithium Ion Polymer motorcycle battery technology. No hazardous acid or heavy metals, non-explosive and non-combustible. Extremely lightweight, 50% to 70% lighter than standard batteries.
Trail Tech Voyager Computer Kit Features GPS, speed, distance, compass, altitude, temperature, and maps. Model specific integrated kit with rugged 7/8 and 1-1/8 inch handlebar mounts. Waterproof, crash resistant off road design.
2015 Kawasaki KLR 650 Specs
| | |
| --- | --- |
| Year | 2015 |
| Manufacturer | Kawasaki |
| Model Name | KLR 650 |
| Trim Name | Base |
| Generic Type (Primary) | Dual Sport |
| Engine | Four-stroke, DOHC, four-valve single |
| Displacement | 651cc |
| Bore | 100.0 mm |
| Stroke | 83.0 mm |
| Compression Ratio | 9.8:1 |
| Fuel System | Keihin CVK40 |
| Ignition | Electric CDI |
| Cooling System | Liquid |
| Transmission | Five-speed |
| Final Drive | Sealed chain |
| Front Suspension | 41mm telescopic fork |
| Rear Suspension | Uni-Trak® single-shock system with 5-way preload and stepless rebound damping |
| Front Travel (in./cm.) | 7.9 in |
| Rear Travel (in./cm.) | 7.3 in |
| Front Tire | 90/90x21 |
| Rear Tire | 130/80x17 |
| Wheelbase | 58.3 in |
| Front braking system | Single 280mm petal-type disc, two-piston caliper |
| Rear braking system | Single 240mm disc, single-piston caliper |
| Frame Type | Semi-double cradle, high-tensile steel |
| Rake/trail | 28.0° / 4.4 in |
| Overall Length | 90.4 in |
| Overall Width | 37.8 in |
| Overall Height | 53.1 in |
| Ground Clearance | 8.3 in |
| Seat Height | 35.0 in |
| Curb Weight | 432.0 lb |
| Fuel Capacity | 6.1 gallons |
| Warranty Duration | 12 Month Limited Warranty |